If you have been to Koh Lanta before, please share your experiences, ideas and feedback (Hotel, Excursions, General Feeling,…) in the comments section below, by doing so you will help fellow travellers to plan their next trip

Ko Lanta Yai is a very scenic Island on the Andaman coast of Thailand. It is part of the Ko Lanta Marine National Park. There is also Ko Lanta Noi but the island is mainly covered with mangrove and doesn't attract a lot of interest by tourists.
The Island is magnificently covered with lush tropical forest with many waterfalls. It offers pristine white sandy beaches surrounded by crystal clear water.
Scuba diving in Ko Lanta is excellent and among the best sites in Thailand with 2 world class dive sites (Hin Muang and Hin Daeng). It is suitable for beginner divers as well as more experienced ones with challenging dive sites. Ko Lanta is a good destination to observe the superb Manta rays and even Whale Sharks if you are lucky!
For a long time Ko Lanta has been home of the Backpacker crowd but in recent years things have changed with the construction of upmarket resorts and hotels. However, you can still find plenty of cheap accommodation, mostly bamboo bungalows by the beach

The night life is also alive with many bars lining the island but Ko Lanta is still a relaxing and peaceful place to stay!
In this page you will find practical information to plan a scuba diving trip to Koh Lanta:
Where to stay?
I usually use this website to book in advance my hotels in Koh Lanta as they usually have the lowest rates I find. I like it because it's free to cancel and change the dates.
Activities and excursions in Koh Lanta
Ko Lanta is a very good diving destination if you are travelling with your family and non divers. They will have plenty of activities to enjoy. Ko Lanta is also much quieter and less of a party place like the nearby Phi Phi Island or Koh Phangan on the East coast of Thailand. Non-diving activities include:
Sailing on a day trip on the Andaman sea
Explore the Old town and the Sea-Gypsy village
Go hiking and discover caves and waterfalls
Kayaking around wonderful beaches
Big game fishing in deepwater
Excellent and easy Snorkelling
Cruise around the islands on a long tail local boat
Take Thai cooking courses
Safari tour to see elephants and monkeys
Enjoy a massage and a spa
Just relax on the white sandy beaches!
All the excursions can be arranged by your diving resort or your hotel. There are also numerous small travel agencies that can arrange for you any day trip you want.
Photo Credit: http://www.flickr.com/photos/chenchei/5595012557/
Best time to visit Koh Lanta
There are 2 seasons on Ko Lanta:
The wet season runs from May to December. From June to October, there is heavy rainfall and just about everything is closed on Ko Lanta. Only a few resorts and hotels remain open. A few dive centres are also open. Moreover the transportation from Krabi and Phuket will be difficult.
The dry and hot season runs from January to April and is the best time to visit Ko Lanta.
The air temperature ranges from 25 °C to 32 °C and water temperature is about 29 °C all year round.
Photo Credit: http://www.flickr.com/photos/39891373@N07/4395011380/
Health and Safety
If you are planning an upcoming dive trip or travelling to Koh Lanta, it is a really good idea to invest in travel insurance for scuba diving, because you never know what could happen and when you might need it (because accidents do happen!). I recommend this diving insurance as they offer worldwide coverage and focus on providing scuba divers a quality insurance and medical assistance service.
Where is Koh Lanta located in the world?
Koh Lanta is located on the South West coast of Thailand not far from Phuket and Koh Phi Phi Islands.
See the map below.
Koh Lanta Map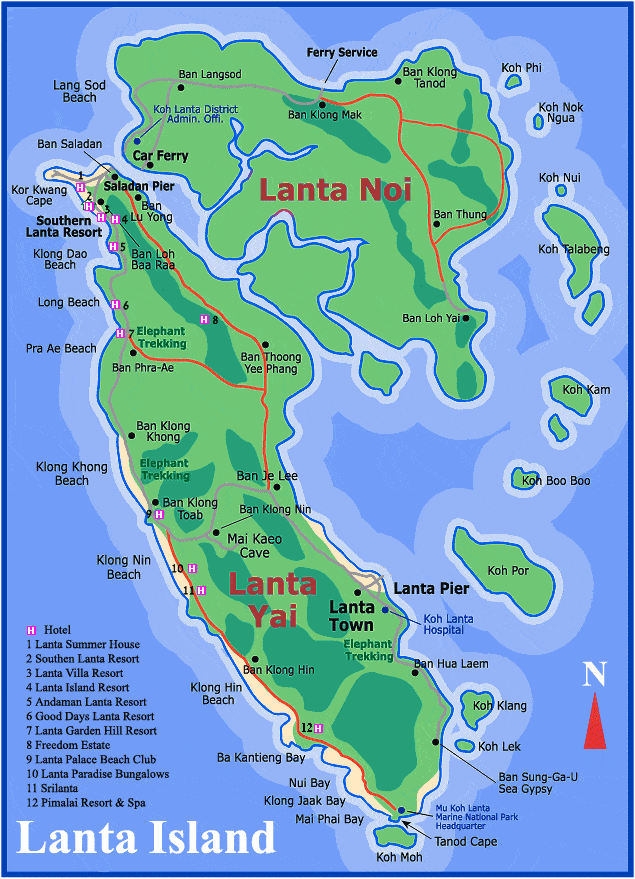 How to get to Koh Lanta?
The first step is to fly to Phuket or Krabi airports. They have connections with all the major cities in South East Asia. Flying to Trang is also a good choice if you arrive from Bangkok. You can also take the train or the bus from Bangkok. Travel time is about 12 hours.
From Phuket
Once you are in Phuket you can reach Ko Lanta by several options:
Charter a tourist minibus (Maximum 9 personns), about 4 hours.
Take a private fast boat. Better to book in advance in a travel agency.
Catch the public ferry. It runs from October to May. You can take the ferry at Rassada pier, 15 km away from the airport. It takes about 3 hours and cost 600 Baths. There is a stop on Phi Phi Islands on the way.
Take the public minibus. The trip is 4 to 5 hours and cost around 600 Baths. It can be book in any travel agency. There is normally a bus change in Krabi.
Rent a car at the Phuket airport and drive yourself to Ko Lanta!
From Krabi
Once you are in Krabi, you have several choices to reach Ko Lanta:
Charter a tourist minibus (about 2600 Baths for one way for 6 persons, Maximum 9 persons, about 2 hours).
Catch the public ferry. It runs from November to May from Tharua Road. It will cost you 300 Baths and takes 1,5 hour. Departures at 8 am and 1 pm.
Take the public minibus. Travel time from 2 to 3 hours and cost around 300 Baths.
Rent a car at the Krabi airport and drive yourself to Ko Lanta!
It is also possible to reach Ko Lanta from Phi Phi islands, Trang and Ko Samui.
Hot Tip
Try to get a flight early in the day to make the transfer to Lanta. If you arrive too late you will have to spend a night in Phuket or in Krabi.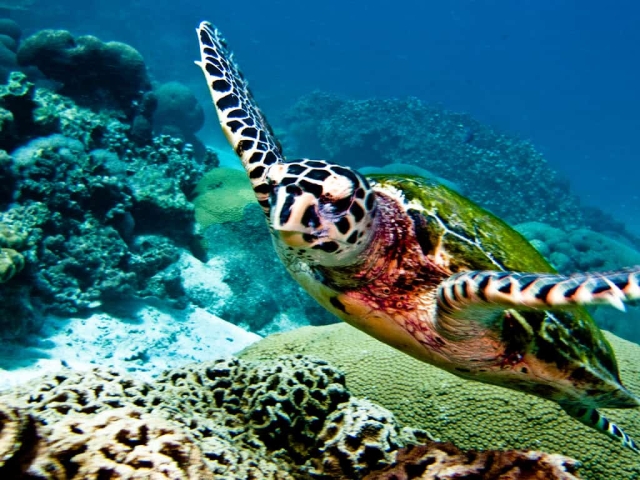 Getting Around
The best way to get around Ko Lanta is to rent a small scooter or motorbike. You can find one easily in any shop, hotel or guesthouse. It will cost you around 250 B per day. Always ask for a helmet!
You can also rent Jeeps and small 4WD to go around the bumpy roads. It cost around 1200 Baht a day. Don't forget to ask for insurance and the papers of the vehicle.
Most resorts will pick you up directly from the ferry for free. If not you can take a motorcycle taxi to get to the place you want to stay (from 50 Baht to 150 Baht depending on where you go).
Photo Credit: http://www.flickr.com/photos/quinet/5420933605/
Koh Lanta Photos
previous

next
Scuba diving
You will find all information about sea life, best time to visit, top dive spots, etc. in our review: Koh Lanta Diving

Diving Reviews for this region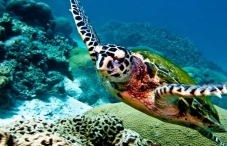 Excellent Marine life with good chances to spot Leopard sharks, Manta Rays and even a Whale Shark!
Liveaboard Reviews in Koh Lanta
Cruise ship Reviews in Koh Lanta