If you have been to Koh Phi Phi before, please share your experiences, ideas and feedback (Hotel, Excursions, General Feeling,…) in the comments section below, by doing so you will help fellow travellers to plan their next trip

Koh Phi Phi is one of the most beautiful islands in Thailand and on Earth. It features outstanding white sandy beaches surrounded by breathtaking rock formations and crystal clear water!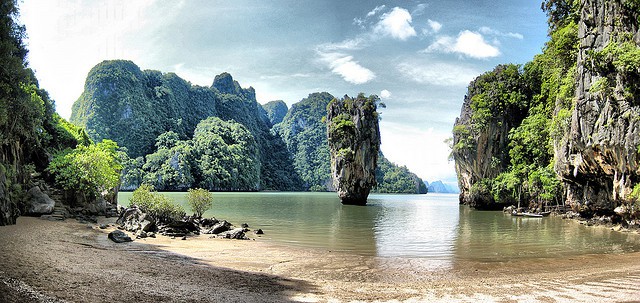 Beach Photo Credit: http://www.flickr.com/photos/joanet/4018009010/
It has been a backpacker destination for a long time but in the last decade the place has got more and more famous and many luxurious resorts have been constructed.
Nightlife has also rapidly increased with many bars and places to party all night long. The island has been made famous by the movie "The Beach" with Leonardo Di Caprio in 2000.
However, Koh Phi Phi is still a much quieter version than the nearby Phuket or Ko Samui on the East coast. You will still find hidden beaches to relax and chill out.
With its central position, Koh Phi Phi is a perfect gateway to dive some of the best sites of Thailand and can also act as a starting point for a liveaboard trip. Dive spots of Ko Lanta, Phuket and even Similan Islands are possible to dive in day trip from phi phi.
Reefs are teeming with coral and the marine life is abundant. Some of the dive sites are world class with a good chance of spotting Manta Rays and even a Whale Shark if you are lucky!
In this page you will find practical information to plan a scuba diving trip to Koh Phi Phi:
Where to stay?
I usually use this website to book in advance my hotels in Koh Phi Phi, Thailand as they usually have the lowest rates I find. I like it because it's free to cancel and change the dates.
You will find all types of accommodation on Phi Phi Island, from bamboo bungalows, to luxurious resorts and hotels with superb pools and luscious gardens. Prices tend to increase during the high season from October to April and to be very low during the rainy season.
The archipelago was devastated by the Tsunami in 2004 and most of the infrastructure was destroyed but everything has now been reconstructed.
Activities and excursions in Koh Phi Phi
Apart from Scuba Diving, there are numerous activities to do during your stay:
Learn Rock Climbing on the superb rock formations
Go Snorkelling and Kayaking around the islands on a day trip
Sailing and cruising on the Andaman sea
Bird watching and deep sea fishing
Relax on Maya Bay, the superb scene from "The beach"
Take a yoga class or relax at a spa
Or… party with new friends on the beach!
All the excursions can be arranged by your diving resort or your hotel. There are also numerous small travel agencies that can arrange any day trip you'd like.
Health and Safety
If you are planning an upcoming dive trip or travelling to Koh Phi Phi, it is a really good idea to invest in travel insurance for scuba diving, because you never know what could happen and when you might need it (because accidents do happen!). I recommend this diving insurance as they offer worldwide coverage and focus on providing scuba divers a quality insurance and medical assistance service.
Where is Koh Phi Phi located in the world?
Koh Phi Phi is a small archipelago of 6 islands. It is located on the South West coast of Thailand in the Andaman Sea in the Krabi Province. The Islands are situated 50km South of Phuket.
It is now part of the Koh Phi Phi National Park. The two main islands are Phi Phi Don and Phi Phi Le which are the most touristic ones. Only the first one is inhabited.
See the map below.
Koh Phi Phi Map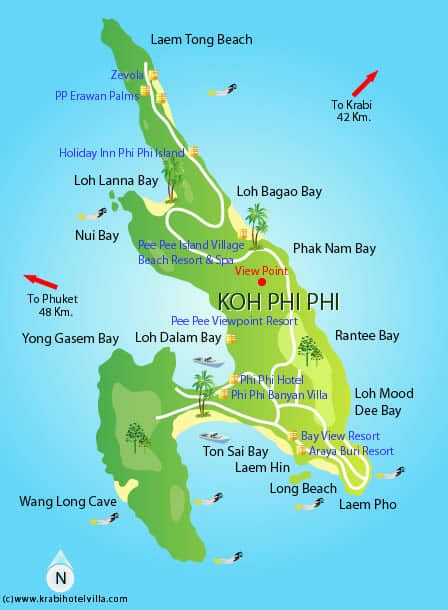 How to get to Koh Phi Phi?
Flight
To reach Koh Phi Phi Don, you first need to fly to Phuket airport, Krabi airport or trang airport. You will find many International flights landing in Phuket airport. When out of the plane, jump into a taxi to Rassada pier. It will cost about 500 baht and takes 45 min. Another option is to reach one of these cities by bus or train, for example, 12 hours long trip from Bangkok.
Hot Tip
Try to get a flight early in the day to make the transfer to Phiphi. If you arrive too late you will have to spend a night in Phuket or in Krabi.
Ferry Boat
You will find ferries going to Phi Phi from Phuket (costs around 600 baht, 2 hours) and Krabi (costs 500Baht, 1.5 hour) all year round. During the high tourist season from October to April, there are also ferries coming from Ao Nang and Ko Lanta (300 Baht, 1,5 hour). Prices can vary depending on the season.
You can buy your tickets directly on the dock, from your hotel/guesthouse or in any travel agency.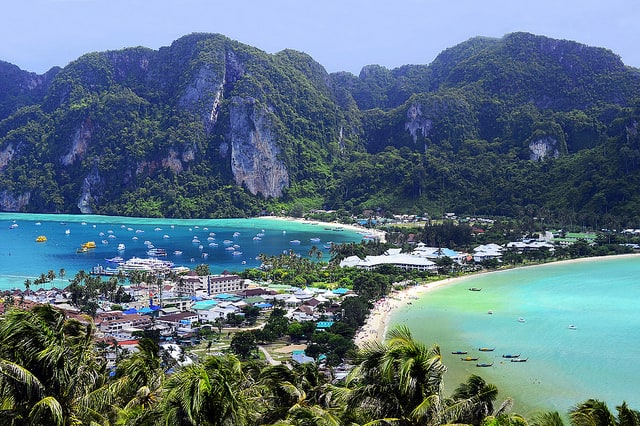 Photo Credit: http://www.flickr.com/photos/mikebehnken/5951595261/
Getting Around
There are no roads on the Island on Koh Phi Phi. The best way to explore the island is simply by foot or bicycle. You can also charter local boats to reach a remote beach, make an island tour or for a snorkelling day trip. Prices are to bargain depending on the duration of the trip and the location.
Koh Phi Phi Photos
Scuba diving
You will find all information about sea life, best time to visit, top dive spots, etc. in our review: Koh Phi Phi Diving

Diving Reviews for this region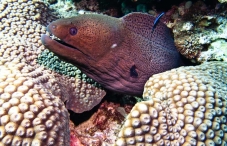 Amazing Marine life in a very scenic surrounding. Perfect starting point to explore the world class dive sites of the Andaman Sea!
Liveaboard Reviews in Koh Phi Phi
Cruise ship Reviews in Koh Phi Phi