If you have been to Koh Tao before, please share your experiences, ideas and feedback (Hotel, Excursions, General Feeling,…) in the comments section below, by doing so you will help fellow travellers to plan their next trip

In this page you will find practical information to plan a scuba diving trip to Koh Tao:
Koh Tao Photos
previous
Koh Tao Underwater Structure

Moray Eel And Sea Urchins

White Orange Shaped Nudibranch

Porcupine Fish Sea Urchin

Amazing Looking Creature Diving
next
Koh Tao is a small island located in the gulf of Thailand, 70 km East from the main land. Over the last decade or so, this tiny jewel has become more and more popular among divers and for diving lessons. Koh Tao is now a huge Padi diving school, with dozens of dive centres and the biggest number every year of Padi certified divers of the world after Cairns in Australia!
Scuba diving in Koh Tao is easy and cheap and is quite good with a small chance to spot a Whale Shark. For experienced divers, Koh Tao dive sites are not as impressive as those in the Andaman sea like in Koh Lanta or the Similan islands. But it offers the opportunity for divers to pass a new Padi certification and learn new skills.
For the last few years, many non divers come to Koh Tao to escape the crazy party islands of Koh Samui and Koh Phangan situated a bit further South in Thailand. Nightlife in Koh Tao is also good but the island is still easy going and a good place to chill out.
Where to stay?
I usually use this website to book in advance my hotels in Koh Tao as they usually have the lowest rates I find. I like it because it's free to cancel and change the dates.
Most of the resorts and hostels are located in Sairee Beach and Chalok Bay.
Sairee Beach is where are all of the restaurants, bars and shops are located and also, the best spot for nightlife. Alternatively, Chalok Bay is more laidback and is a much quieter scene. You will find nice beach bars, restaurants and accommodation ranging from basic guesthouses to superb diving resorts.
Most of the Padi dive centers have a resort attached to it. You will get a discount or even sometimes get free accommodation if you take a diving course. Otherwise, you can choose from a wide range of accommodation from basic beach bungalows to Luxurious resorts and hotels.
If you are planning to stay for a long period, you can also consider renting a house or a villa. Room rates depend of the season, during high tourist season, prices tend to increase and you should book in advance if you don't want to end up sleeping on the beach or in a 5 star hotel!
Activities and excursions in Koh Tao
Over the last few years, Koh Tao has become popular and for the non divers, there is now a good range of activities:
Go Snorkelling and Kayaking around the islands on a day trip
Sailing and cruising in Thailand gulf
Game fishing in deep sea for marlin and sailfish
Enjoy a traditional Thai massage
Take Thai cooking classes
Learn Yoga
Rock Climbing, cliff jumping, wakeboarding
Even Mini golf, Paintball and bowling!
All excursions can be arranged by your local diving resort or your hotel. There are also numerous small travel agencies that can arrange any day trip you want for you.
Photo Credit: http://www.flickr.com/photos/victoriapeckham/3863732598/
Best time to visit Koh Tao
Climate is tropical and the weather is hot and humid in Koh Tao throughout the year. The air temperature ranges between 28 °C to 32°C.
The Peak Tourist season runs from December to March and July, August. During these periods, it is better to book in advance. Especially during Christmas holidays, hotels and resorts are often fully booked months ahead.
The Rainy Season runs from September to November. Water visibility can be reduced by 30 % after heavy rains. Monsoon is mostly short 2 hour downfalls in the late afternoon but there are also rainy days.
The Best time to visit Koh Thao is in May and June when the weather is not too hot and there are less tourists. Accommodation prices depend on the season.
It is possible to dive in Koh Tao all year round. The best diving time runs from May to August when the conditions are excellent. Luckily it is also the off season on the West coast of Thailand. Water temperature is about 29 °C all year round.
Health and Safety
If you are planning an upcoming dive trip or travelling to Koh Tao, it is a really good idea to invest in travel insurance for scuba diving, because you never know what could happen and when you might need it (because accidents do happen!). I recommend this diving insurance as they offer worldwide coverage and focus on providing scuba divers a quality insurance and medical assistance service.
Where is Koh Tao located in the world?
Koh Tao is located of the East coast of Thailand.
See the map below.
Koh Tao Map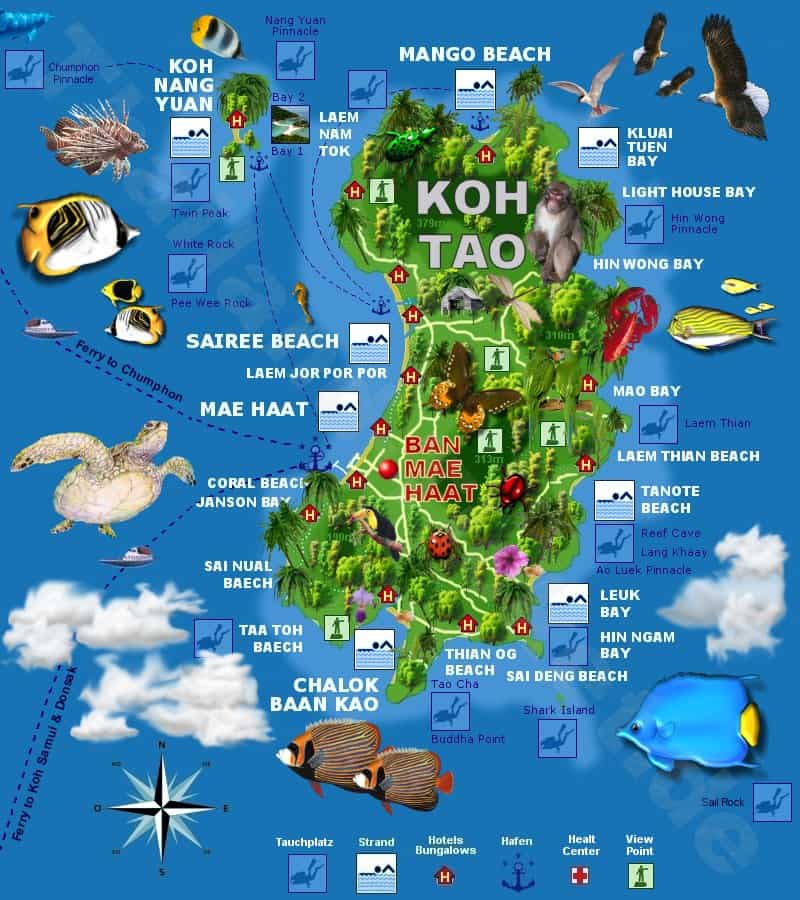 How to get to Koh Tao?
The only way to reach the small island of Koh Tao is by boat. Depending on where you are coming from, there are several possibilities.
Bangkok to Koh Tao
Most people are coming directly from Bangkok. The ferry boats are departing from Chumphon. To reach this city, you can either take a bus or a train. Then from the train station, you will have to get another 1 hour bus to get you to the ferry terminal.
From Chumphon, there are several boat companies. Prices depend on the comfort of the boat you prefer and the length of the trip (from 90 min to 5 hours by overnight cargo). You can purchase the tickets in one of the many small travel agencies. All inclusive packages Bus + Boat or Train + Boat transfer are available in Bangkok, with for example the Songserm, Lompraya and Seatran companies (approx 1000-1200 Baht).
Passengers boats leave at 7am and 1pm. It is also possible to catch a cargo boat leaving around 11 pm for an overnight 5 hour cruise. But the comfort level is very basic.
Recently, Solar Air has opened up a flight from Bangkok to Chumphon on a small plane. There is one daily flight except for Sundays.
Photo Credit: http://www.flickr.com/photos/victoriapeckham/3863693816/

Hot tip
Try to arrive as early as possible in the day in Chumphon, otherwise you will have to stay overnight or take the slow night cargo.
You can book your ferry tickets in advance, and most of the ferry companies can come and pick you up at the train/bus station.
A good solution is to take a night train leaving at 6pm from Bangkok (Hua Lamphong train station) and arrive early in the day to catch the 7 am boat.
Ko Samui / Koh Phangan to Koh Tao
Many people choose to reach Koh Tao via the nearby southern islands of Ko Samui and Koh Phangan. There is an airport in Koh Samui with frequent flights from Bangkok (International airport of Suvarnabhumi). The more reliable companies are Thai Airways, Bangkok Airways and Bangkok Air.
Once you are in Koh Samui, you can take the comfortable high speed catamaran boats to reach Koh Tao in just 1 hour. There are two boats daily.
It is also possible to explore Koh Tao on a day trip. In fact most of the diving centres in Ko Samui are diving around Koh Tao and make the one hour trip every day.
Surat Thani to Koh Tao
If you are coming from the south of Thailand, the best way is to catch a boat from the city of Surat Thani. The ferry ride is about 3 hours. It is also possible to get a slower overnight cargo boat.
You can also reach Surat Thani by plane. The airport is connected with many cities like Bangkok, Singapore and Penang. However this solution is expensive and time consuming compared to the other ones.
To summarize all the possibilities and cost:
| | | | |
| --- | --- | --- | --- |
| Routes | Transportation | Est. Cost | Est. Time |
| Bangkok – Chumphon – Koh Tao | Bus + boat | 1000 THB | 9 to 12 Hours |
| Bangkok – Chumphon – Koh Tao | Night train + Boat | 1200 THB | 12 hours |
| Bangkok – Chumphon – Koh Tao | Plane + Boat | 3250THB | 5 hours |
| Bangkok – Koh Samui – Koh Tao | Plane + Boat | 3700THB | 3h45min |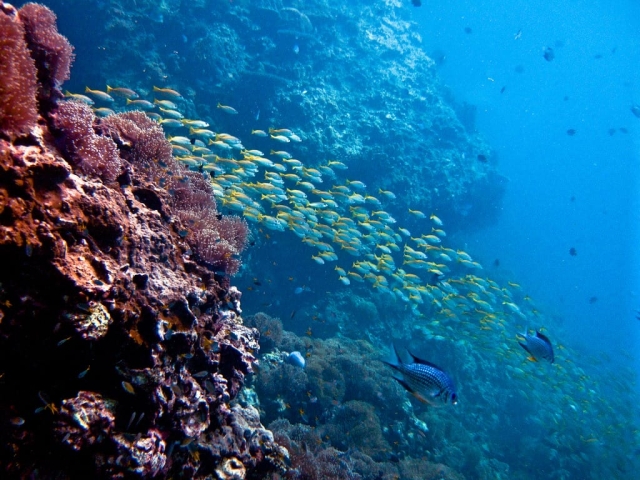 Getting Around
Koh Tao is a small Island of about 21 km². Road infrastructures are very basic. There is one main road running from the South to the North of the island going through Sairee village, Mae Haad and Chalok Bay. The other ones are dirt roads and are often in a bad shape, especially after it's been raining. The ways to get around the island are:
Taxi
There is no public transportation. However many taxis are available in Sairee village and Mae Haad. They are quite expensive compared to the actual distance you cover.
Rent a Car or a Scooter
You can rent an ATV (All Terrain Vehicle) for about 500 Baht a day but these vehicles can be dangerous.
You may be best renting a scooter (around 200 Baht/day) or a bicycle. Always be careful when driving on dirt road as it can be tricky! Always ask for a helmet. It is also better to have an International driving licence. If possible avoid driving at night, when there may be other people on the road driving drunk. There are many shops to rent bikes but the easiest way is to rent it at your bungalow / Hotel.
Boat
You can charter a longtail local boat to go exploring the island. It is a more comfortable way than the dirty bumpy roads. The boat can take you to isolated beaches or for a snorkelling day trip. Prices have to be bargained. It can be from 100 Baht for a short trip to 2000 Baht for a day tour.
Scuba diving
You will find all information about sea life, best time to visit, top dive spots, etc. in our review: Koh Tao Diving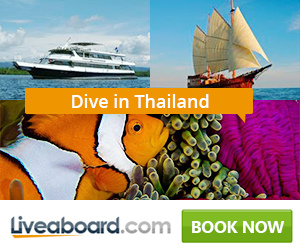 Diving Reviews for this region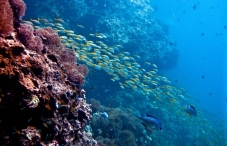 Diving hub of Thailand to learn how to dive. Cheap and easy diving on a beautiful island.
Liveaboard Reviews in Koh Tao