Cost
Simply the best of everything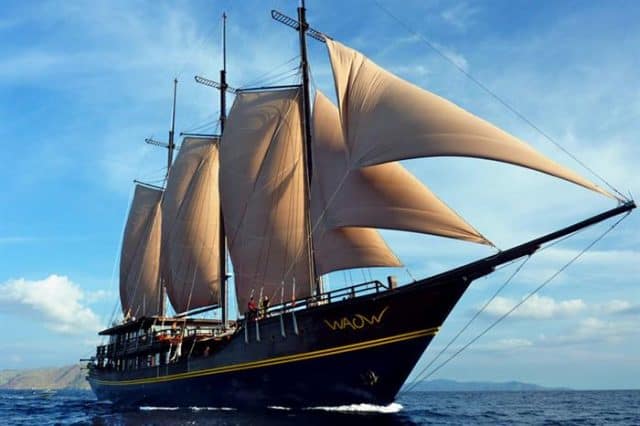 MSY Waow dive boat review
---
Please note…
The Waow does not operate anymore as it caught on fire and sunk in 2018.
You can read the official statement here.
Please view this page to find other liveaboard boats diving and cruising in Indonesia.
---
Waow Charters are a Swiss company based in Indonesia. Originally founded by divers for divers, the sensational MSY Waow is the company's titular flagship.
MSY Waow operates in the beautiful waters surrounding Indonesia where the South China Sea, Indian Ocean and Pacific Ocean converge. Sometimes known as the 'coral triangle'. The scuba diving on offer in the area is nothing short of outstanding. The world's largest archipelago of approximately 18,000 islands, there is exceptional marine biodiversity. Indonesian waters are claimed to be form an ecosystem of more than 3000 fish species. It's on most divers' 'to do' list!
Macro life here may include colourful nudibranchs, seahorses and pipefish for the eagle-eyed. Visibility in the waters here can be up to 50m (depending on conditions) Species sometimes identified in the waters here include moray eels, cuttlefish, octopus, turtles, trevally, groupers, frogfish, sharks and manta rays.
The vessel itself is remarkable. One of the most impressive yachts in the region. Four years in construction. She is wooden-hulled, built specifically to cater to divers. She began commercially operating in 2012.
At 58m long and more than 850 tonnes, this traditional 3-masted schooner is a devastingly beautiful sight as she cuts through the waves. She travels to all the key destinations in the area; Komodo, Raja Ampat, Wakatobi, Triton Bay…the list goes on. She also has a full complement or the latest safety and emergency equipment that belies her traditional silhouette. At her size, layout and prize range, there are no direct competitors. Her nearest rival in price could be Raja Ampat Aggressor which, while an excellent vessel, is a very different experience.
You can check the availability and prices for this Boat here.
Cabins and Boat Layout
The vast size of Waow means that she can easily accommodate 20 guests over 9 cabins.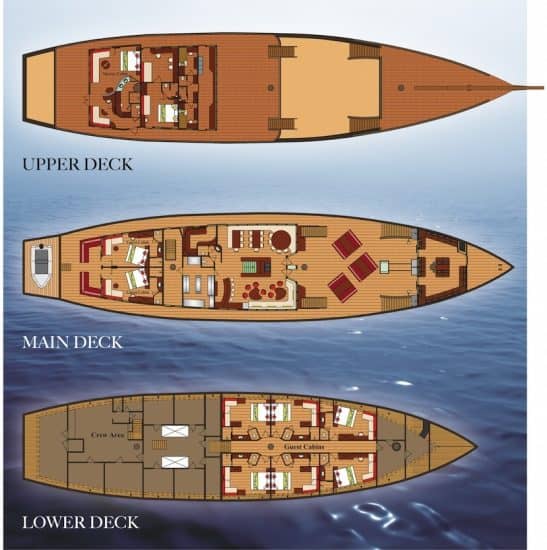 The cabins are all stylishly decorated and the options are as follows:
Deluxe Cabin – approximately 24m/sq in size – much larger than most other liveaboard safari boats, there are 6 deluxe cabins. Each features double/twin occupancy (depending on circumstance) and has an ensuite bathroom and air-conditioning.
Superior Cabin – approximately 25m/sq in size, these 2 superior cabins are located on the stern of the main deck. They include an aft lounging area.
Master Cabin – approximately 45m/sq in size, the single master cabin is spacious and luxurious. It even features it's own private sun-deck!
Each cabin also has a fully equipped bathroom with towels, bathrobes and hairdryer. A fridge, desk and storage space with LED lighting.
There is also wi-fi, flat-screen media facilities and an individual entertainment system in the cabin.
The food available from the restaurant and bar onboard is of the highest standard. The Indonesian chef onboard prepares delicious meals of local food and also of western flavours. There is something on offer to satisfy everyone's taste buds.
There is a dedicated camera room with charging stations, a shaded main deck area of 120m/sq with furniture and showers. For those wishing to relax and tan there an amazing 2 sundecks and a massage service.
For non-divers or those more active there are canoes and stand-up paddleboards for exploring. Or at some locations land tours are available.
Diving onboard Waow
The crew are as passionate about their work as they are experienced and aim to take you to some of the most exotic locations.
Multiple dive speed boats are operated from the main vessel to ensure small dive groups and maximum safety.
There are 12 litre tanks onboard in both DIN and yoke configuration. Or, of you're a heavy breather, 15 litre tanks are available if specified at booking.
Nautilus Lifelines are provided to each diver to ensure safety due to the challenging nature and currents at some dive sites.
Nitrox is available onboard and highly recommended when making multiple dives.
Itineraries
Departing from San Cristobal, there are a choice of nearly 20 itineraries depending on season, which vary in length. Contact us for details or specific requirements. Individual dive site selection is obviously subject to the prevailing conditions.
Expect to pay around EUR5,565 for a 12 day trip. This equates to EUR375/day. Please note that this does not include some extras such as port/marine park fees, alcoholic drinks, crew tips
Where does this liveaboard dive boat go?
Check out the fabulous places where this dive boat travels to.
Note: some destinations may not be listed below, please enquire for more details.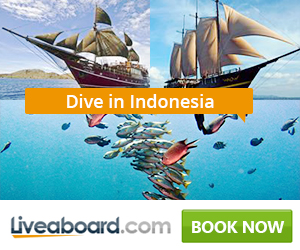 Other Liveaboard Reviews in Indonesia & Komodo Island & Raja Ampat & Sulawesi & Wakatobi
Dive spots reviews in Indonesia & Komodo Island & Raja Ampat & Sulawesi & Wakatobi