Cost
You will not find cheaper!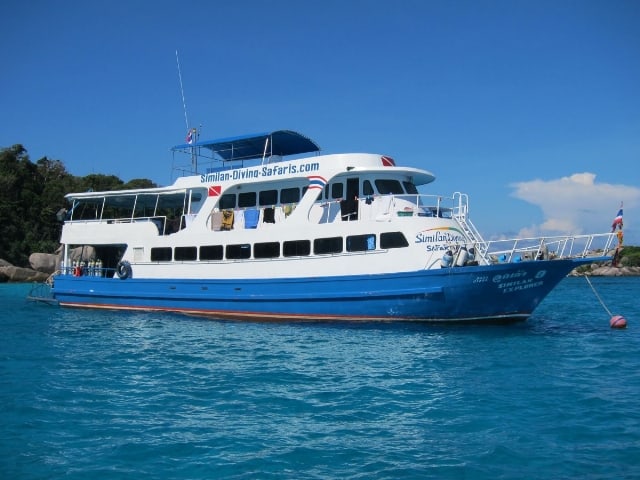 The MV Similan Explorer has been running 4-5 nights tours around the captivating Similan islands and Richelieu Rock for 13 years now.
MV Similan Explorer dive boat review
MV Similan Explorer offers a basic yet comfortable living space, which can accommodate up to 20 divers within 8 comfortable cabins. If you are looking for a cheaper option, this boat still offers a wonderful experience.
You can check the availability and prices for this Boat here.
Guests can choose to socialize in the open-air dining area or on the sundeck while taking in the stunning thai scenery. Various diving books written in various languages are available, along with music to listen to or movies to relax post-dives. Snacks and drinks are available 24 hours a day. Satellite phone & cellphones are also available for use.
Craving bread, omelettes, ham, sausages or maybe corn flakes for breakfast? When on board the MV Similan Explorer, this liveaboard also takes its food seriously. The talented chef serves a delectable menu of Thai and other international dishes, served up in a delicious buffet. Diets are catered for and guests can take advantage of the free drinking water, coffee, tea, electrolyte drinks and biscuits.
MV Similan Explorer on board facilities and services:
Enriched air nitrox
Motorised dive dinghy
13m² dive deck with hot water showers & toilets
9m² dive platform with ladders and rinse tanks
Budget Range/Rate: Starts at US$ 722 for a 5 night tour
Customer Review
"The first contact I had with the Similan Explorer team was through e-mail. Ever since, they have been prompt, friendly and professional. I knew I was in good hands. All the details and instructions they provided were clearly understandable, with no grey zones, hidden fee to anything unpleasant.
My stay on the Similan Explorer was amazing. I shared a cabin with other girls, it was roomy enough, comfortable and clean. The service from the boat crew was always excellent and we had much fun with them. Everybody was extremely knowledgable and competent. The tour manager, also a dive master, was leading the briefings and making sure everybody got everything alright and was fully ready for the dives.
The diving was so incredible. I am still new at diving and I have learned so much during this dive safari around these majestic Similan Islands. I have already booked my next trip with them and I am looking forward to be back on this great vessel."
– Violetta 
"I just came back from my second adventure on the Similan Explorer. I cannot say enough how amazing it was, the first AND the second time.
First, the destination : the Similan Islands. Such a beautiful area of the world with crystal clear waters and the finest sand my feet have ever walked on. You can discover the inside of those beautiful islands between the dives and get to some stunning viewpoints.
Second, the DIVING : absolutely A-MA-ZING!!! The Richelieu Rock is well preceded by it's reputation and sure honours it. All the dive sites are different, unique and every single one has something to offer. I was lucky enough to see many whale sharks, some I could even swim along with them. Manta Rays so large I could not believe my eyes.
Third, the boat : top notch!!! Crew is friendly, professional and efficient. The food is amazing, I even asked for some recipes to be written down for me to take home. I cannot praise the boat and it's crew enough, it was wonderful and I sure will come back for a third time."
–Clayton
Read more about the best Liveaboards in the Similan Islands here.
Where does this liveaboard dive boat go?
Check out the fabulous places where this dive boat travels to.
Note: some destinations may not be listed below, please enquire for more details.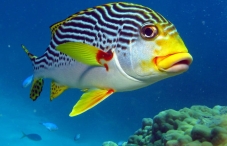 Great Biodiversity and fauna. Excellent chances to spot the giants Manta rays and Whale Sharks. Superb Scenery of tropical islands! Good spot for underwater photography.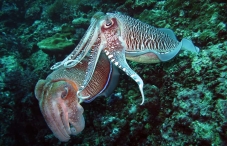 Access to the best diving areas of the Andaman Sea and starting point of many liveaboards to Similans and Surin Islands! Good place for cheap diving courses.
Other Liveaboard Reviews in Phuket & Similan Islands
Dive spots reviews in Phuket & Similan Islands