Cost
You will not find cheaper!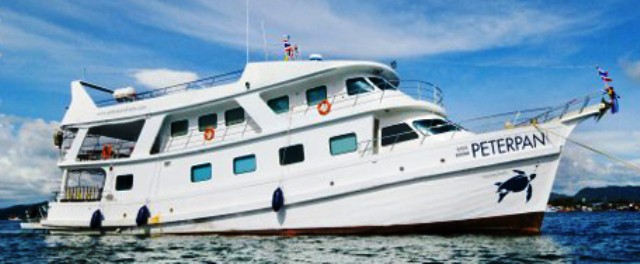 Renovated years ago, MV Peterpan is a 26 m long boat designed with simplicity and comfort in mind.
MV Peterpan dive boat review
MV Peterpan can accommodate up to 22 divers in her 11 roomy cabins. Entertainment facilities such as: TV; DVD player; a wide collection of movies and music, will definitely kill any boredom that may arise. The spacious air-conditioned saloon has battery charging stations – a big plus for divers!
Sun lovers can opt to stay on the sundeck and relax on the comfy mattresses on board. There's also a shaded open-air area where guests can dine and enjoy some refreshing drinks.
You can check the availability and prices for this Boat here.
Should divers want to stay longer and dive further under water, they can utilize the Nitrox blending available provided they are suitably EANx-certified. But wait! There's more! Diving insurance is also included in the standard price of the trip. Amazing, huh?
You can also take some PADI and SSI diving courses while aboard Peterpan. Aside from the standard cabins, there is also a VIP honeymoon suite- perfect for newly-weds who are spending their honeymoon in the turquoise waters of Thailand. To complete this fantastic experience, mouth-watering cuisine is served buffet-style for everyone on board!
MV Peterpan on board facilities and services include:
156m² dive deck and platform with fresh water showers
Camera rinse tanks
Movie library, general & fish ID books
Budget Range/Rate: Starts at around US$802 for 4 nights tour
Check out our article about the Liveaboards in the Similan archipelago.
Customer Reviews
"Amazing; all along the four fantastic days spent on board the Peterpan, it was amazing! The instructors, the captain, the food, the crew and the boat all of it was excellent.
We've booked a package and payed in advance. Everything was fine in processing the payment online. The staff was courteous and prompt in answering our questions by e-mail.
The Similan Seven Sea Is the actual diving crew that is on board the MV Peterpan. I thought it was really smart that they divided the divers in teams of 3 or 4 and selected depending on experience. Everybody was super friendly and so professional. Everything was well organized and they clearly put the focus on safety. We had Kwan for guide for most our outings and he's totally great! They knew very well the diving sites, showing us very interesting stuff.
The vessel had more to offer than what I was expecting. The TV room was great! Everything was kept clean and the boat was spacious enough so you can have your own space sometimes. The sun deck was perfect to get a nice tan between the dives and chill out at night. Rooms are basic but comfy and spotless, you spend so little time in there anyways that the cleanliness and a certain level of comfort is the only thing that really matters I think. As for the meals, it was always good and mostly different and freshly cooked every day. We had 4 meals per day so no you are not there to starve! Fruits and snack were available all the time. When they say, eat dive and sleep and repeat, they weren't joking! Will sure do it again !"
–Jackson and Shanye
"I was travelling solo around Thailand earlier this winter and I had the greatest part of my trip on the Peterpan, diving around the Similan Islands. The boat crew was showing a positive attitude day after day, always smiling, being helpful and cheerful, it was really a pleasure to be around them. I think they enjoy their work and you can tell by the great service they provide! There was always plenty of food and it was tasty and various everyday! The dive guides were amazing as well. I am quite new as a diver and this trip sure has increased my confidence in my skills. It was a beautiful part of the of the world to discover and I sure recommend to dive with the MV Peterpan!"
–Josh
Where does this liveaboard dive boat go?
Check out the fabulous places where this dive boat travels to.
Note: some destinations may not be listed below, please enquire for more details.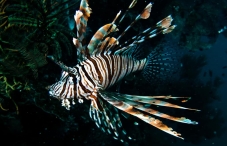 Large Pelagics, Manta rays and Whale Shark if you are lucky all in a superb remote area!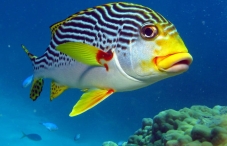 Great Biodiversity and fauna. Excellent chances to spot the giants Manta rays and Whale Sharks. Superb Scenery of tropical islands! Good spot for underwater photography.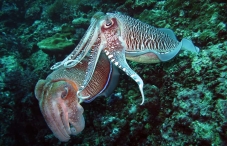 Access to the best diving areas of the Andaman Sea and starting point of many liveaboards to Similans and Surin Islands! Good place for cheap diving courses.
Other Liveaboard Reviews in Phuket & Similan Islands & Surin Islands
Dive spots reviews in Phuket & Similan Islands & Surin Islands