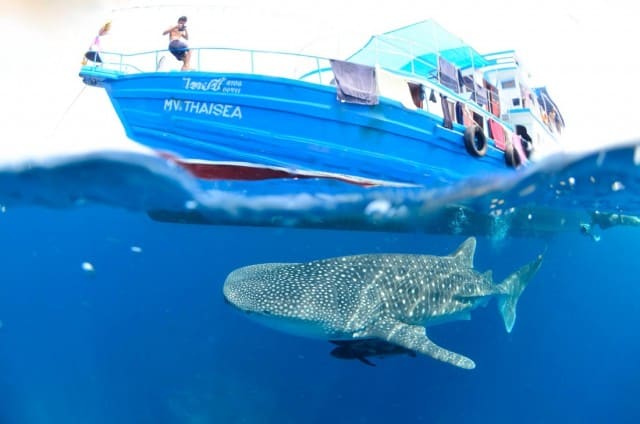 MV Thai Sea dive boat review
MV Thai Sea is owned and operated by The Smiling Sea Horse. The Thai Sea Liveaboard is a contrast to some of the exotic and exclusive vessels seen cruising the Maldives and Red Sea; smaller, more reasonably priced and more intimate. With a more traditional Similans/Thai feel and a personalised service.
You can check the availability and prices for this Boat here.
The MV Thai Sea is 20m long and 6m wide. It is smaller than competition from vessels such as The Junk or the MV Thailand Aggressor. A more realistic comparison would be with MV Giamani – with which it shares part of it's itinerary – which is 24m long. However, where the MV Giamani has berths for up to 18 divers and/or guests, the Thai Sea has berths for only 12 divers and/or guests. This gives each trip a more intimate, friendly and bespoke feel – even on normal scheduled itineraries.
Cabins and Boat layout
The MV Thai Sea liveaboard has been recently refitted and now features 5 twin cabins with bunks. Or, for those wanting to sleep with their partners, there is 1 double cabin. The cabins are clean and simply furnished.
Moving to the upper area of the MV Thai Sea there is an amply sized sundeck with mattresses for those wishing to take on some of the tropical sun.
There is an open dining, communal and relaxing area towards the stern of the vessel on the upper deck. This is a place where you may take shelter from the sun, read a book, or have a cup of tea or coffee in between dives. This is also the area of the vessel where you will find the Barbeque at certain times and the TV, DVD and entertainment.
Other facilities onboard the MV Thai Sea include 2 bathrooms – with hot showers. And there are 3 toilets onboard. For those wanting to quickly wash the salt from themselves après-dive there are 2 sun-heated showers at the rear of the dive deck.
The dive deck has predominantly 12 litre aluminium tanks. Air is used as standard. However, should you wish to maximize your bottom time and feel fresher, nitrox is available for a reasonable extra fee. Also, for those who are heavier consumers of gas, 15 litre tanks are available. Please advise before departure if either of these options are among your requirements.
On all itineraries weights, belts, tanks, drinking water, tea, coffee, meals and the dive guide are included. However, be aware that alcoholic drinks, soft drinks (e.g. coke or sprite), continuing education courses, crew gratuity, equipment rental, dive and travel insurance and marine park fees – as well as Nitrox and larger tanks – all need to be budgeted for. All these potential extra costs are inexpensive and should not detract from the very equitable overall price of booking on the MV Thai Sea Liveaboard.
Itineraries
One of the interesting aspects of this particular diving boat is the variety of different itineraries on offer. There are 5 choices on offer. So, whether you're looking for a shorter 4 days/3 nights trip to the Similan Islands through to Richelieu Rock. Or, alternatively, an 8 day/7 night tour of northern Myanmar (Burma). There truly is something on offer for everyone.
All trips begin and end in the northern Thailand town of Ranong. With prices ranging from THB22,000 to THB60,000 MV Thai Sea really is excellently priced and would suit those on a budget; travelers through Asia wanting to see the best Scuba Diving the area has to offer.
Where does this liveaboard dive boat go?
Check out the fabulous places where this dive boat travels to.
Note: some destinations may not be listed below, please enquire for more details.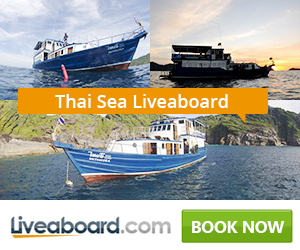 Other Liveaboard Reviews in Burma & Similan Islands & Surin Islands & Thailand
Dive spots reviews in Burma & Similan Islands & Surin Islands & Thailand