If you have been to New Zealand before, please share your experiences, ideas and feedback (Hotel, Excursions, General Feeling,…) in the comments section below, by doing so you will help fellow travellers to plan their next trip


New Zealand is known for its beautiful land and seascapes. It is also known for its cities with their small village feel. As long as hustle and bustle are not what you need, you will find it in New Zealand. From great beaches to downhill skiing, from outstanding casual dining to hiking in the wilderness, from scuba diving and caving under the surface to mount climbing and bungee jump from skyscrapers it is all here.
In this page you will find practical information to plan a scuba diving trip to New Zealand:
New Zealand Photos
Where to stay?
Selecting where you want to visit in New Zealand is likely the most difficult part of your vacation planning process. The country has 29 different regions each with a range of different offerings, many unique to that location.
Trekkers and other outdoors type have 13 National Parks to sort through, those parks cover over 30,000 kilometers of nature. Any of the cities can keep you as busy as you want plus there are many day excursions from each. Below are a few suggestions to get started with.
Auckland has been rated as the third most liveable city in the world. The items that lead to that ranking also make it a perfect vacation destination. Auckland is on the shores of Hauraki Gulf. Giving the city a multitude of water activities. The gulf also has many islands which add to the possible adventures. Scuba diving in the Hauraki Gulf is some of the best in the world. You can head about an hour away to the west coast, for beaches on the Tasman Sea with great surfing. The region around the city includes world famous vineyards.
Hamilton-Waikato region just a short distance from Auckland but a world apart. The coastline here has great black sand beaches and world class surfing. Inland you have rolling pastures that are great for hiking and biking. Under the surface are a network of caves to explore. This area has some movie locations.
Wellington, the capital of New Zealand, was recently named "the coolest little capital in the world" by Lonely Planet. Located on the southern tip of North Island this city is compact with museums and world-class art. The city is known for its culture. Nightlife is outstanding as well starting with more bars and restaurants per capita than New York. Also, Wellington has the nickname of Wollywood, as it is a rapidly growing location for producing movies. Beaches, sea kayaking and other outdoor activities are right here as well.
Christchurch and Canterbury are located on the South Island. This region starts on the Pacific Ocean and heads up to the Southern Alps. It also has the Aoraki Mackenzie Dark Sky Reserve. Light pollution can make it more difficult to really see the night sky. The reserve is far away from locations that generate large amounts of artificially lighting and have regulations regarding the use of artificial lights. Enjoy whale watching off the coast, or head to the mountains for skiing. After either, some time in a natural spring hot tub would feel great. Christchurch has been called the worlds most unique destination.
Activities and excursions in New Zealand
New Zealand offers the visitor such a wide range of experiences it is impossible to list them all, even to just to highlight the major activities. Visit the New Zealand Tourism site for detailed suggestions.
Visit Middle Earth if you are a fan of The Lord of the Rings and The Hobbit Trilogies then you know where we are talking about. These movies as well as others and a few TV series (Xena, the Warrior Princess and Hercules) were filmed in the Waikato region of the North Island. Tours to the movie sets are very popular.
Skiing. The winter brings heavy snow to upper elevations and that means skiing. There are three ski destinations on South Island and one on North Island.
Water activities! There is a wide varied of water activities. Scuba divers will find hundreds of pristine dive sites. Those that like white water rafting will find rapids to meet their level of experience. Sea Kayakers and flat water kayakers will both find perfect conditions. Fishing, surfing, windsurfing it is all there.
Beaches. Indeed, we are adding this point separately from the water sports. New Zealand has many outstanding beaches.
Wines and food. New Zealand wines are of a very high quality. Visit vineyards and explore how these wines are made. Wine needs food to bring out its best and New Zealand has a number of different local culinary styles to explore
Hiking/trekking. New Zealand has often been called the most beautiful country in the world. The landscape is breathtaking. Hikers and trekkers come from around the world to walk in the mountains and along the shores. Make sure you play if safe and always follow bits of advice from local guides and organizations.
Horse trekking! It is not only those that like to walk that enjoy the countryside. Trekking on horseback is very popular.
Caravans. Many people will rent an RV to just explore this wonderful country.
Best time to visit New Zealand
There are three items that must be considered before trying to determine when is the best time to visit New-Zealand.
First, what is the season during which you plan to visit the country? The thing is, New Zealand is a narrow country but very long north to south. Also, being in the South Pacific, you would expect palm trees and a two-season year, wet and dry. However, New Zealand is a four season destination, and being in the Southern Hemisphere is the reverse of Europe and North America.
Summer: December – February
Autumn: March – May
Winter: June – August
Spring: September – November
Secondly, the more precise location where you intend to stay is also a factor. The country is narrow but long. The far north is subtropical often with warm and humid conditions.
As for the far south has no landmasses between it and the Antarctic subjecting it to the prevailing winds during part of the year from there. Also, the altitude must be considered, some of the higher mountains can be snow-capped even in the summer.
Thirdly, this will all wrap-up with the primary activity you wish to do in New-Zealand. In the summer, there is great scuba diving in New-Zealand as well as plenty of outstanding beaches. Hikers tend to like the late spring and early autumn best. Plus, if you enjoy skiing, New Zealand has some of the best skiing in the world – mostly during its winter months!
Furthermore, please note that New Zealand's weather is often described as "four seasons in one day". Indeed, the weather conditions can change drastically with little or no warning.
Health and Safety
New Zealand has a very modern health care system. In many categories, it is often rated in the top ten in the world. Also, emergency care is easy to find not only in the major cities but in most smaller cities as well. While you should have travel insurance that includes medical benefits, you will not be denied medical care in case of an emergency.
Furthermore, travelers from Australia and the United Kingdom should check with their healthcare system before traveling. Both of these countries have a reciprocal agreement with New Zealand allowing emergency care to be covered by the national health systems. In some cases, additional medical events are also covered.
In the issue of public safety, New Zealand is considered a safe country and normal safety precautions should apply.
If you are planning an upcoming dive trip or travelling to New Zealand, it is a really good idea to invest in travel insurance for scuba diving, because you never know what could happen and when you might need it (because accidents do happen!). I recommend this diving insurance as they offer worldwide coverage and focus on providing scuba divers a quality insurance and medical assistance service.
Where is New Zealand located in the world?
New Zealand is an island nation in the southwestern Pacific Ocean. There are two main islands: the North Island (Te Ika-a-Māui), and the South Island (Te Waipounamu). Plus, New-Zealand includes around 600 smaller islands.
New Zealand is about 1,500 kilometers (900 mi) east of Australia across the Tasman Sea and roughly 1,000 kilometers (600 mi) south of the Pacific island areas of New Caledonia, Fiji, and Tonga.
This isolation has allowed New Zealand to develop a distinct biodiversity of animal, fungal, and plant life. The country has a varied topography and its sharp mountain peaks, such as the Southern Alps, owe much to the tectonic uplift of land and volcanic eruptions. Indeed, New Zealand is famous for its rugged landscapes and underpopulated areas. New Zealand's capital city is Wellington, while its most populous city is Auckland.
How to get to New Zealand?
Most international flights arrive into Auckland Airport, located in the northern part of the North Island. There are also international airports in Christchurch, Wellington, Rotorua, Queenstown, and Dunedin. The international flights to these airports are primarily from Australia.
Furthermore, there are many major airlines that offer direct flights to New Zealand from Australia, Canada, Chile, China, Hong Kong, Japan, Korea, Malaysia, Middle East, Singapore, Thailand, and USA. Connecting flights from these countries link New Zealand with the rest of the world.
Do I need a visa for New Zealand?
All travelers to New Zealand will need a passport that is valid for at least three months beyond the expected departure date. Additionally, you will need a return ticket to a location outside of New Zealand. If you are required to have a visa for that destination and/or an outbound ticket from that destination, you must have them as well. You may also be asked for proof of funds.
All visitors traveling to New Zealand for medical treatment must have a special medical visa. If you plan on working, going to school, staying for over three months or that you are not from a visa waiver country, you will need a visa.
You do not need a visa to visit New Zealand if you are:
A New Zealand or Australian citizen or resident,
A UK citizen and/or passport holder (you can stay up to six months), or
A citizen of a country which has a visa waiver agreement with New Zealand (you can stay up to three months).
You will find the complete list of the countries that benefit from a visa waiver program on the New Zealand Government – Visa and Immigration page.
Getting Around
Transportation means within the major cities are modern and efficient. Indeed, you will primarily find buses, with some cities having tram service as well. Shuttle services from the airports are also available in most places.
New Zealand has a well developed network of air travel. In addition to the five airports with international and domestic flights, there are another twenty-two regional domestic airports. This means that every portion of the country is within a reasonable travel distance from an airport.
For those with a tight budget and more time, there is an extensive network of long-distance buses connecting different cities and a limited long-distance rail system.
Also, as New-Zealand includes over 600 small islands, ferries and water taxis are also a major player in the transportation system. Fares are reasonable, boats are safe and operate on time.
If you are in the Northern Hemisphere, getting to New Zealand can be a very long trip. Still what awaits you is truly worth the trip.
Scuba diving
You will find all information about sea life, best time to visit, top dive spots, etc. in our review: New Zealand Diving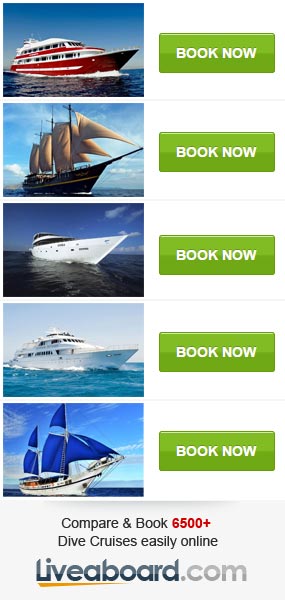 Diving Reviews for this region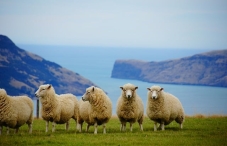 One diver remarked the only marine life he has not seen in New Zealand was a mermaid...
Liveaboard Reviews in New-Zealand
Cruise ship Reviews in New-Zealand