If you have been to South Africa before, please share your experiences, ideas and feedback (Hotel, Excursions, General Feeling,…) in the comments section below, by doing so you will help fellow travellers to plan their next trip


South Africa is a country with a vast array of attractions and a natural beauty that draw travelers from around the globe. Many will say of South Africa that it's a country with a tragic past, but that it enlightens the future.
Between a beautiful coastline with great beaches and sandy desert areas, you will find mountains and savannah plains. Both in its ocean and in-land, South Africa is home to the largest animal species such as the great white sharks, the lions, elephants, etc. Also, bird lovers "flock" here for both migratory birds and those that make their home in South Africa year round. Beach lovers share inbound flights with those going on safari. Looking for a 5-star hotel? Or a tent in the wilderness? Both can be found!
In this page you will find practical information to plan a scuba diving trip to South Africa:
South Africa Photos
Where to stay?
The question of where to stay in South Africa is a complicated one as it largely depends on your interests in term of activities, but also in regard to your budget. No visit to South Africa can really be complete without at least a short beach stay and a safari experience, so we'll start from there!
Johannesburg is one of the main destinations in the country and where most international air travelers enter. You have a range of accommodations that include both homestays and five-star hotels. Also, if you want to enjoy the cosmopolitan city life, Johannesburg is considered to have the best nightlife in the country!
Capetown is perhaps the best-known location by its dramatic landscapes along the coast, just outside of the city. Much of South Africa's wines are produced in this area and wine touts are popular.
Kruger National Park is what most visitors to South Africa associate the country with. Indeed, large herds of animals are found in this huge park from big cats to elephants and not forgetting zebras and many more savannah animals. Even if this is not the focus of your trip, a few days to take on a safari adventure is definitely a "must do"!
Activities and excursions in South Africa
There are many reasons why people visit South Africa. The wildlife is certainly one of the bigger draws. Here are some of the things you can do on your visit to South Africa.
Photography Safari: An increasingly popular form of big game "hunting" are photography safaris where the goal is to take photographs of the game.
Horseback Holidays: Horseback riding tours in South Africa are very popular. Ride out with the wildlife.
Cage diving with Great White Sharks!
Visit the Cango Cave, which is a popular destination for different activities, offering a great time to those experienced in cave exploration!
Whale watching! One of the more exciting destinations in the world to watch whales.
Beach strolling is amazing as some world-class beaches await!
Bird watching is another main draw, both for migratory and non-migratory birds.
Best time to visit South Africa
South Africa offers a wide range of activities and it's a great idea to plan according to the activity you want to do most. Indeed, the county has regional climate variations that can impact some outdoor activities. In other words, there is not one "best time" to visit South Africa. Let's have a closer look!
As the country is located south of the Equator, summer is from November to February while winter is from June to August. Travelers from Australia are used to this, but some northerners may forget the reverse season order!
If you are a scuba diver, then June and July may attract you as this is when the Sardine run happens.
Whale watchers enjoy September as the best month to visit the south-west Cape.
Beach lovers around Cape Town think any of the summer months are best.
Safari lovers find that the dry winters make for easier sightings of big game.
Bird watchers depend on the migratory patterns of the species that are most important to them.
Health and Safety
Johannesburg and Cape Town are renowned destinations for medical tourism. They have been known for breakthrough technologies including the first heart transplant. Tourist needing emergency care will have world-class facilities at their disposal. Outside the major cities, the level of care is not as high but sufficient in most cases. Many doctors are board certified in US and UK.
Our best advice for health and security matters is to always read your country's travel advisories. Indeed, check the website of your country's relevant authority to have all the essential, up to date information.
If you are planning an upcoming dive trip or travelling to South Africa, it is a really good idea to invest in travel insurance for scuba diving, because you never know what could happen and when you might need it (because accidents do happen!). I recommend this diving insurance as they offer worldwide coverage and focus on providing scuba divers a quality insurance and medical assistance service.
Where is South Africa located in the world?
The country of South Africa is very easy to locate on a globe or map as it is literally the southern tip of the African Continent. Off the coast, the Indian and Atlantic Oceans meet.
How to get to South Africa?
O.R. Tambo International Airport (JNB) in Johannesburg is the major international gateway to South Africa. Cape Town and Durban are also international gateways but have fewer flights to long-haul destinations such as Europe, Asia, and the United States.
Do I need a visa for South Africa?
All travelers to South Africa require a valid passport and proof of ongoing transportation. As for the visa, nationals of several countries are granted a visa exemption, mostly getting a stamp at their arrival for leisure stays up to 90 days.
However, the process is more complicated for some countries in order to enter South Africa. Please inquire to the relevant authorities of your country and of South Africa prior to any booking or travel plan. Please visit the Department of Home Affairs of South Africa for all information related to visas such as the list of exempted countries and so on.
Getting Around
Distances in South Africa can be great, with trips that may extend to more than 1,000 miles. Luckily, South Africa has 15 domestic airports that make traveling these distance way more convenient!
Also, the road infrastructure is very good and many tourists will rent cars and drive themselves. Plus, there are three major bus companies, Intercape, Greyhound, and Translux, who cover travel between all the major cities and most smaller ones. The buses are modern, air-conditioned, and many have toilets onboard.
Moreover, the country has a well-defined train network that provides comfortable travel conditions to most cities. They are less expensive than air travel and more comfortable than the buses.
Regarding transportation in the cities, you will generally find extended public transport networks and a fair share of taxis, Uber, etc.
If South Africa is not on your bucket list, it really should be. It does not matter what your interest is in life, you will find it here.
Scuba diving
You will find all information about sea life, best time to visit, top dive spots, etc. in our review: South Africa Diving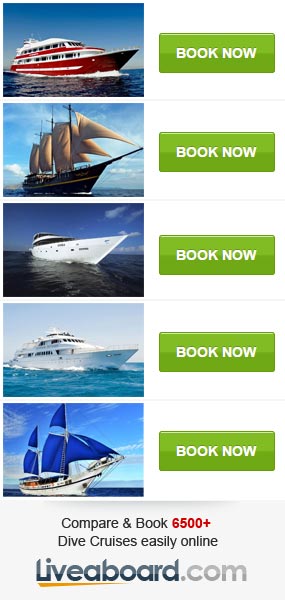 Diving Reviews for this region
The sardine run and diving with Great White sharks is just some of what sets diving here above the rest!
Liveaboard Reviews in South Africa
Cruise ship Reviews in South Africa