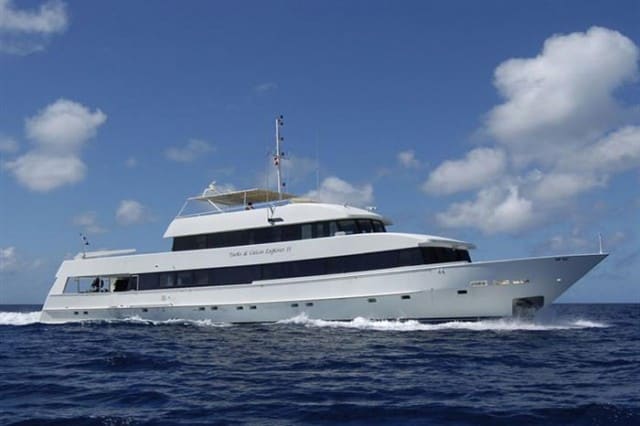 MV Turks and Caicos Explorer II dive boat review
The MV Turks & Caicos Explorer II is from the ground up a purpose built vessel to explore the amazing marine environment and reefs of Turks and Caicos and longer excursions to Silver Bank off the coast of The Dominican Republic.
The electrifying wall dives and drop-offs, reefs and warm, clear, turquoise waters of the Turks and Caicos have for many years attracted divers. Located approximated 575 miles to the south east of the USA coast from Miami, great visibility and nutrient-rich waters attract Jacks, Groupers, Eels and larger pelagic animals in to feed in it's healthy waters. There are corals and sponges in abundance making it great diving for all levels of divers.
Explorer Adventures, who are based in Wyoming, own the impressive and imposing MV Turks & Caicos Explorer II.
At 124ft/38m long is a large ocean going vessel. Marginally longer than even her main rival, the Turks and Caicos Aggressor II. She was put into operation in the Caribbean in 2005. Equipped with the full gamut of safety features, Naiad stabilisers and a heavy keel to maintain her equilibrium, MV Turks & Caicos Explorer II is smooth and stable cruising the Caribbean waters at a speedy 14 knots.
You can check the availability and prices for this Boat here.
Cabins and Boat Layout
Turks and Caicos Explorer II has berths for 20 guests and her 8 crew. There are 10 luxury staterooms, including two 'VIP' staterooms.
Each stateroom has port lights and/or windows, private ensuite bathrooms for your comfort and privacy and, as you may expect, individually controllable air-conditioning. VIP staterooms have even more space to make use of and their own entertainment systems.
The vessel has a spacious and inviting salon which spans the full width of the vessel next to the galley. This offers ample space to relax and unwind in a comfortable chair. Or to make make use of the the CD/DVD entertainment system.
Moving upstairs two levels to the Fly Bridge deck there is a spacious sun deck and loungers for absorbing the vitamin D. Also on the Fly Deck you'll find a wet bar where you can enjoy a drink while simultaneously enjoying the amazing views.
The meals are all, of course, included in the price and the galley produceds a great combination of local delicacies and European/western cuisine. If you have any special dietary requirements these may addressed at the booking stage.
Diving onboard Turks and Caicos Explorer II
The warm, turquoise blue waters of the Caribbean offer some stunning diving.
For those addicted to blowing bubbles there are up to 5 dives available each day. With that in mind, if qualified (or you wish to train to qualify) enriched air nitrox is available onboard and highly advisable to make use of.
On the dive deck you'll find recharging facilties and a camera table for the photographers. And, for all, there are individual gear bins and rinse tanks.
There is the usual diving tenders for pick-ups and a large dive platform at the rear of the main vessel.
Itineraries
The regular itineraries run from Saturday to Saturday and take in the best diving in the area. Special voyages take place at some periods during the season, so please contact us should you require further details.
Voyages are typically 8 days. Expect to pay around EUR2,193 for this length trip. This equates to 228/day making Turks and Caicos Explorer II pricing in line with typical market prices. However, please note that this does not include some extras such as port/marine park fees, crew tips and equipment rental. Please contact us for further details.    
Where does this liveaboard dive boat go?
Check out the fabulous places where this dive boat travels to.
Note: some destinations may not be listed below, please enquire for more details.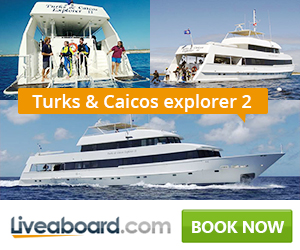 Other Liveaboard Reviews in Caribbean & Turks & Caicos
Dive spots reviews in Caribbean & Turks & Caicos
No dive sites reviews found