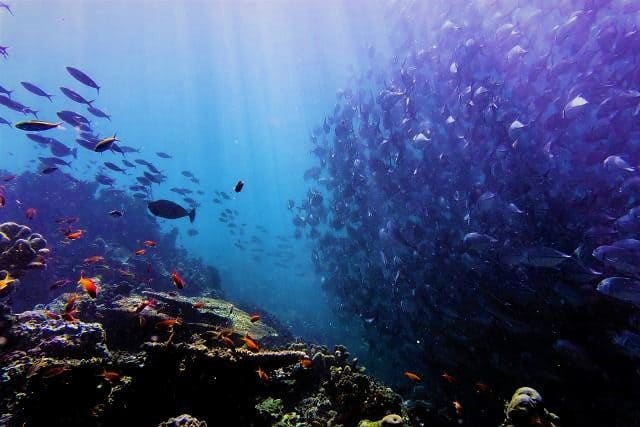 Scuba diving is an amazing sport to us, humans, but what does the marine life think about us invading their habitat? Is it amazing for the fish and corals? Not always. It isn't easy to admit, but it's the truth: we often negatively impact the marine flora and fauna. Actually, our footprint that we leave on earth, above the water, also affects the oceans of the globe (with global warming, the ocean temperatures are rising, for example). Indeed, being a good human and having responsible and environmentally conscious habits is increasingly important. Needless to say, the same advice apply to scuba divers regarding the preservation of the marine life. So, here are 10 steps, or habits, that will make you a better and more responsible scuba diver.
1. have a good, and appropriate, scuba diving certification
Most of the time, divers don't intentionally damage the corals, but this happens accidentally and it is often due to a lack of training, or experience. The point is that we often see seasoned divers that will complain, on Divezone, or other forums, about the "scuba diver factories" that we find here and there in the world. The dive centers that operate this way, having numerous new divers out and about everyday does not insure the quality of their training. Indeed, the new divers are often not well trained, not well informed and less supervised while they learn. This is certainly not encouraging safe and responsible scuba diving habits.
Therefore, it is advised to choose a dive center which prioritize the quality over the quantity. You have more chances then to learn in great conditions and develop safe and responsible scuba diving skills. 
---
2.Do not touch the coral… like ever!
It's simple, corals are not souvenirs that you get to take home. You will probably have videos and pictures to remember these magical moment spent scuba diving the Maldives, or elsewhere. The basic rules of sustainable scuba diving are: (1) don't touch the corals and (2) don't take off any coral. Indeed, the simple fact of touching the coral with your bare hands can have destructive consequences on the reef. We, humans, can actually "infect" the reef only by having different natural bacteria and micro-organism on our skin. The contamination can be deadly for the surrounding reef, and for the fishes living there. Moreover, the hard coral is also at risk of being damaged as it's often covered with a thin layer of live tissue which is responsible for their well-being.
Again, it's simple… you can only look, and not touch… just like in museums! 
---
3.Be in control of your movements
This third point naturally comes after the second one. Indeed, the more control you have on your movement, body and equipment, the least you risk to be in contact with the reef and damage it. This also echoes the first point, which is the importance of having a propre scuba diving training.
---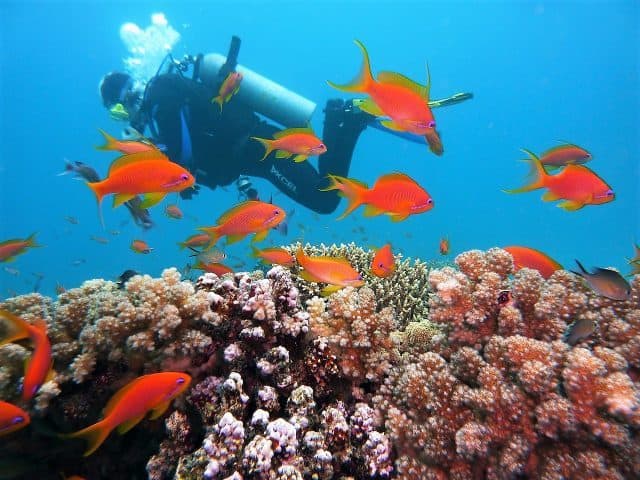 4. Control your buoyancy
Scuba diving on reefs can be done in various conditions, and it often is tricky to control your buoyancy. Make sure you are capable of balancing your buoyancy correctly and breathe accordingly: it's essential in order to be and environmentally-conscious diver. Needless to say that it is the diver's responsibility to stay fit enough to scuba dive, which we sometimes forget, is an extreme sport. If you feel like you may not remember all the best techniques to stabilize yourself in the water and reach optimal buoyancy, ask a professional diver on your boat, he sure will help! Having a great buoyancy makes your dive easier and prevents you from accidentally hitting the reef.
---
5.Wear the appropriate equipment properly
Of course, it's important to properly use the scuba diving equipment in our possession, whether it is ours or rented. It's imperative to wear the equipment that is appropriate for our body size and that attaches safely to us. Nothing should be loose or hanging beneath us while scuba diving.
The following pages can certainly help you choose the best scuba diving equipment for you:
How to choose…
---
6.Do not pollute the water… Nor the earth!
For the sake of both land and marine species, it's increasingly important today to be responsible and try your best to reduce your environmental footprint. Examples of behavior to avoid while practicing an activity in a natural environment, such as scuba diving, are many, here are the most obvious ones regarding scuba divers. First, we should not wear sunscreen when going in the ocean; it's polluting and killing the marine life. Secondly, do not throw any litter or trash, even organic, in the ocean… how about using the trash on the boat? Lastly, pick up any litter or trash you find on the sea surface, or while diving at the bottom… that's twice as helpful as not causing more litter!
As we say, "take only pictures, and leave only bubbles"!
---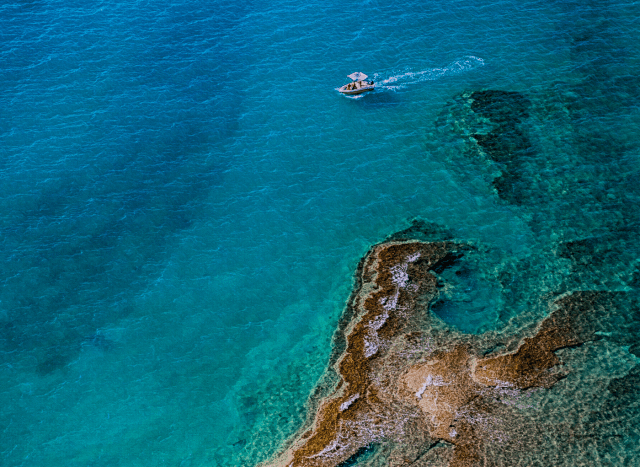 7.Follow the rules and the dive plan
Doing this will mostly help you avoid being in a troublesome situation where you land both fins in the coral, or uselessly hold on the reef, etc.
---
8.Educate yourself about corals and marine life
We say this because we believe that the more you know about something, the greater your interest in protecting it will grow. So, if you are aware of the importance of the marine life in our oceans as well as of the danger it faces, you will more likely adjust your behavior to help save it. Moreover, as we get to know something, we tend to care more about this thing. As a scuba diver, it's critical that you have minimum knowledge of the environment you explore and adopt environment-friendly habits when scuba diving. I promise, you won't see the Great Barrier Reef the same way once you understand how irreplaceable this living structure is to our planet.
---
9.Be aware of your footprint on the marine environment
This echoes the previous point. Knowledge is a start to consciousness, and being conscious about the earth's climate and pollution situation right now, is critical. Indeed, the scientists are becoming only more pessimistic and are raising awareness so we, citizen of the world, reduce our environmental footprint. Regarding the marine life, it's estimated that 1/4 of the world's coral have vanished and that 88% of what's left is in great danger.
If we still want to have a playground later, we need to invest in our playground now, and start taking action now to protect the oceans. 
---
10.Help raise awareness and inspire other scuba divers!
Talk about the situation with scuba divers around you in your everyday life, or on a boat at lunch time. Discuss the survival of the marine ecosystems, the fragility of the reefs and think collectively about how you can make things better. At the very best, dive locally, avoid long/polluting transportation means and dive right from shore whenever you can. This all contributes to reducing your environmental footprint as a human, and as a responsible scuba diver.
Precisely, leave us a comment below, share your thoughts following this reading and/or share this article on your social media. Raising awareness is an everyday job, and Divezone just did a little of it's play in doing so. Let's make the world a better place!
---
Related Posts