Guest post by Austin Tuwiner
In terms of pure aquatic life, Eilat isn't going to be as diverse as somewhere like Indonesia or Thailand.

But don't let that stop you from coming here.

Diving in Eilat was an incredible experience filled with thrilling dives and endless history. I came to Eilat with my cousin in August after visiting the other parts of Israel. July and August are the two hottest ( temperature hovers around 100°F or 38°C) and busiest months in Eilat so keep that in mind. In Eilat, you don't sweat. It evaporates right off of you!
Interestingly enough, while it was extremely warm outside, the water was colder than expected. If you're bringing your own wetsuit here, maybe bring a slightly thicker one. I was traveling light and ended up renting most of my gear. The water isn't crystal clear blue by any means but clears up once you get down.
Dive Centers in Eilat
After browsing popular options on Google, I decided to visit Shulamit's dive charter. They're probably the most well known, but Nautilus is another popular option here. I'd recommend touring some of the popular options and seeing which one dive charter you vibe the most with! Most of the dive centers in Eilat will be surrounding the main promenade and along the coastline.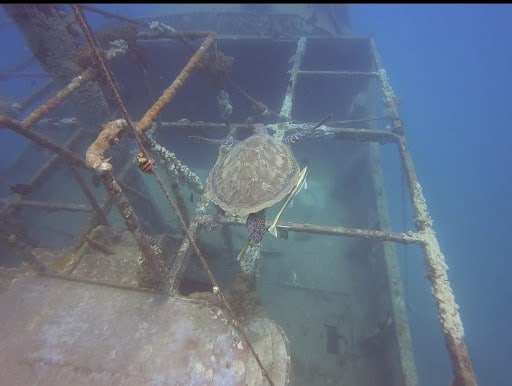 At Shulamit's, I was able to dive the next morning after texting a WhatsApp number the previous night. This was in peak tourist season too, so I'd assume they always have room for you. While Hebrew is the main language in Israel, you get by just fine with English in popular destinations such as Eilat, Tel Aviv, and Jerusalem. Many of the dive charters here also spoke common languages like Spanish, French, and German. Shulamit's was one of the few dive charters that own a boat as move dives can be done from shore.
Best Dives Sites in EIlat
Eilat features dozens of popular dive sites. My two favorite dive sites in Eilat were Sunboat and Neptunes Tables. Satil is another famous dive site, but I didn't manage to make it there on this trip. More on that later!
Diving at the Sunboat dive site
The Sunboat dive site is a must. It's a sunken liveaboard close to shore with several other smaller wrecks creating artificial reefs connected by cables. The cables make the site very easy to navigate. If I got lost, I could just follow them back to the main wreck. While venturing off from the main site, I managed to see a scorpionfish for the first time ever.  
Covered in infinite lionfish and other reef life, it's an unbelievable site to dive. While I had an advanced and deep-dive certification at the time allowing me to go to deeper parts, most of this site can be seen by beginner divers.
One issue I had with this dive site is that it had somewhat poor visibility on the day I went due to the location it rests at.
Diving Satil in Eilat
This is likely the most well-known dive site in Eilat due to the history behind it. This ship is one of the navy boats from the famous Cherbourg project. The short story about the Cherbourg project is that Israel ordered navy boats from the French but after a french embargo the boats were stuck under French control. The Israeli navy launched an operation to bring the boats back to Israel. One of them is sunk in Eilat for you to dive! I wasn't able to dive this site due to scheduling, but I've heard nothing but great things but about it.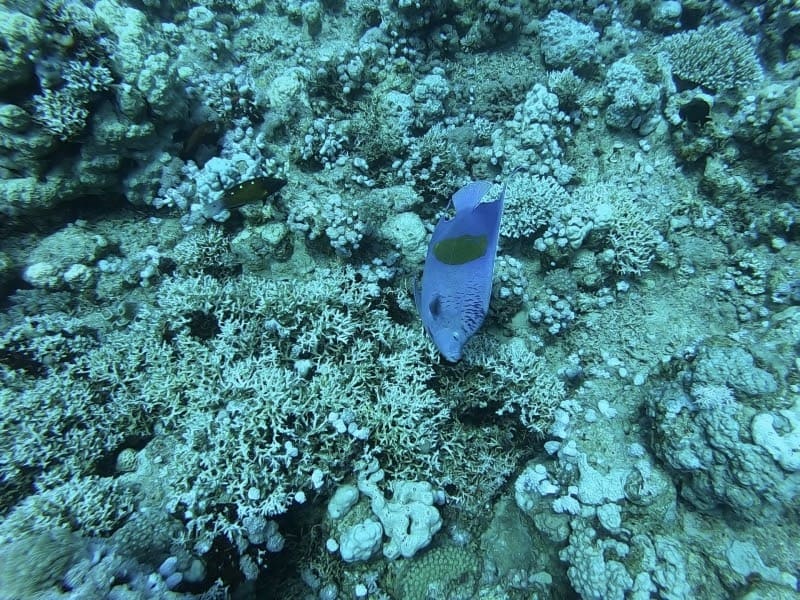 Diving the Neptunes Tables, Eilat
This was another interesting one and was the first place I dove in Eilat. This site varies in depth a lot but is probably best for advanced divers. After taking a 20-minute boat ride towards the Egyptian border, we were dropped off right on top of this site. From what I remember, there wasn't much current present. The first thing I noticed at this site was the tables of Acropora littering the site (hence the name Neptunes Tables). It was unlike any other dive site I've done before.
Overall, Eilat is certainly a place I'll return to. If I were to come back again, I'd make sure to dive the Satil (they offer a night dive for this one) and possibly visit the neighboring countries of Jordan and Egypt. From what I've heard, there's plenty more diving to be done there!

Related Posts