SCUBA diving can be a short-time distraction from the challenges and down moments in life or a lifetime diversion from the corporate world you're living in.
For sure, every SCUBA diver's dream is to go exciting dive places such as Fiji Islands, the Red Sea, Similan Islands and the Great Barrier Reef of Australia. So why not take it to the next level and turn it as your profession for life?
Whatever job you'll get, it is very important to be physically fit, be able to focus on the tasks at hand and above all, to stay calm even when under pressure. There are various opportunities for SCUBA divers. The job can be determined according to the level of certification you achieved and the type of working environment you want. Here are more SCUBA diving careers that you can have:
Repair/Construction Diver
These are underwater construction workers that take interest in constructing, welding, and repairing anything involving the marine industry. This is quite a challenging job but is nicely paid.
Check out this video to see how Construction Divers train to become one!

Underwater Archaeologist
If you have an enthusiasm in marine history and marine science, then you can start dive your way to become the next underwater archaeologist. This job includes exploring shipwrecks, abandoned underwater things and other memorabilia of nature in order to gain an extensive understanding of the past.
Play this video to have an idea on what Underwater Archaeologists usually do.

Police Divers
If you are a Police and want to extend your service not only in the land but also underwater, you can be a Police Diver! This job entitles you to work with other policemen in collecting evidences and do search and recovery missions. After all, crimes don't happen only in land, right?
First hand look at Police Divers in action!

Dive Technicians
Without oxygen tanks and other life-giving breathing apparatuses, a scuba diver can not survive underwater for a long time. A diver entrusts his life in the hands of a dive technician who is responsible for filling up, servicing, maintaining and repairing air tanks, hyperbaric chambers and other dive equipment.
Watch how Dive Technician students trained to operate a multiplace hyperbaric chamber.

Diving Supervisors
They are mainly responsible for the control and safety of any diving operation such as diving activities, overall charge of monitoring the diving equipment, managing diving crew and formulating diving plan and emergency contingencies.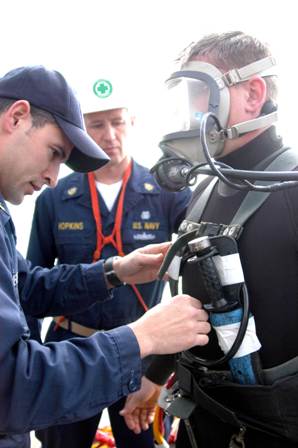 Photo credit: http://upload.wikimedia.org/
Dive supervisors check everything to ensure a diver's safety during the dive.
However, always remember, that while diving for a living can be astonishingly exhilarating, it requires a massive deal of skills, training, hard work and passion. Happy dive job hunting everyone!
Related Posts