Traveling & Scuba Diving in Sodwana, South Africa
Eldene Eyssell from South Africa is telling us about her awesome diving trip in Sodwana Bay, South Africa. If you wish also to publish your article, contact me.
Sodwana is my favourite scuba diving, my happy place, my second home. It is on the northern coast of KwaZulu-Natal province. ('KwaZulu' means 'the place of the Zulu people'.) It is part of a marine reserve and wetland park. Sodwana is the home of living coelacanths (below 100 m). Because of its latitude, topography and other factors, Sodwana is unique. It has hard and soft corals in about equal proportions. Expect to see a minimum of 114 species of marine life on any reef.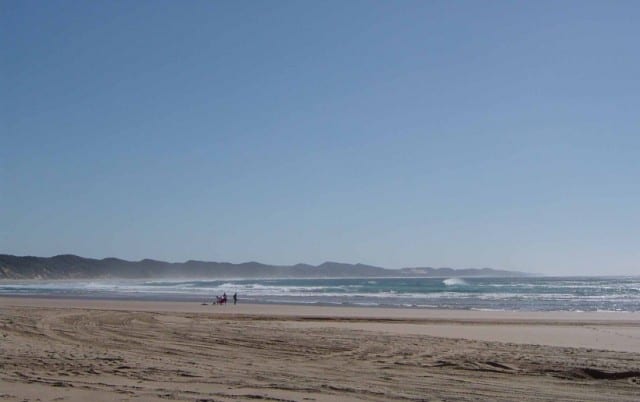 How to get there?
Sodwana is not directly accessible by plane. It is about a 10-hour drive from Johannesburg, even though it is only about 600 km. Most of the journey is on secondary roads, which are tarred by have low speed limits every time you pass a village. Watch out for goats and cows that wander in the road. You don't need a 4X4; I do it in my Mini Cooper. The scenery is beautiful. Piet Retief is about half way and has many B&Bs and guesthouses.
You could fly to Durban, hire a car, and drive up the coast for about 4 ½ hours.  Or you could fly to Richards Bay and try to find a taxi to drive you the hour or so to Sodwana (taxi ride about R700 or 70 euros).
The diving
The diving is sublime and varied. Most reefs are a fairly close boat ride from shore. Knowledgeable divemasters will choose the reef according to the prevailing conditions. So even in rough seas, some reefs are sheltered. Depths vary from 13 m on Stringer (where I dived for 96 minutes on air) to much deeper advanced dives. There are pinnacles and overhangs, sandy patches where I've seen 5 types of rays on one dive, giant plate corals, walls of yellow snappers on Mellow Yellow, endless whales breaching in the bay (October), eels, dolphins, sharks, whalesharks… Just go see for yourself.
Launching is from the beach, in a rubber duck, through the surf. Divers are expected to help get the boat into the water. You are dropped off right on top of the reef. Take your snorkel in case you encounter whalesharks or whales. The Reefteach skippers are very good about going out of the way so you can swim with these or see them fairly close up.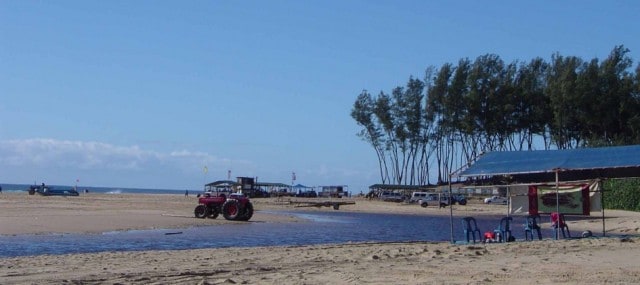 I have dived in pond-like conditions and in 4 m swells. You can dive all year round, though the water does get quite cool in June-August (20°C), but up to about 28°C in the summer months. August is quite windy, over most of South Africa. Diving is in the morning because the wind starts to build up by lunchtime. Visibility can be anywhere from 5 m to 25 m, with an average of about 15 m. You take your chances.
Where to stay
There are various types of accommodation: camping sites, bungalows, lodges, a hotel. My home away from home is Reefteach Lodge (see link below). I stay there because:
I would rather drill holes in my kneecaps than camp.
The rooms are very comfortable, and have their own bathrooms and air-conditioning.
It is self-catering, with communal kitchens equipped to have parties, two braai (barbeque) areas next to the swimming pool, and maids to clean up after you. (There is a shop down the road where you can get supplies.)
They will make you a fabulous breakfast and bring it to the beach, and supper if you arrange it.
The divemasters know their reefs like the backs of their hands.
Their emphasis is on conservation and teaching, so the pre-dive briefings are comprehensive and they show you things under the water.
They don't rush you through dives or call time out at 30 minutes so that they can get the next lot of divers out; mostly you dive until you run out of air and/or bottom time.
They have a fully equipped dive centre, with gear, air, nitrox and re-breathers.
Their boats have big engines and are well maintained.
They make sure your gear is on the beach and on boat, take it off after the dive, and wash it for you.
Their skippers are the best – expert at getting through the surf, alert for lost divers or divers that come up early, and the only ones I know who can smoothly ram the boat into the beach on the return without making divers fall over or fall out.
Other things to do
Sodwana is a small, one-road place. There are some restaurants, bars, and coffee shops, some of which tend to open when they feel like it, especially out of high season. It can get crowded in December and over Easter.
There is a market next to the beach, where local Zulu women sell beadwork, wooden carvings, fruit, hats, baskets.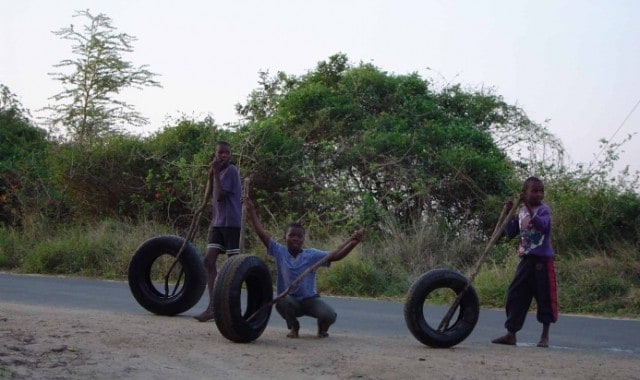 If you're into deep-sea fishing and microlighting, they can be arranged.
There are a variety of game reserves on the way to Sodwana that are apparently worth a day trip or a stopover. For example: Hluhluwe (pronounced, sort of, 'shu-shloo-wee'), big on rhinos; Mkhuze ('mm-koo-zee'), lots of birds, black and white rhino, elephant, giraffe, leopard, buffalo, nyala, blue wildebeest, warthog, impala, kudu and smaller antelope; Phongolo ('pong-go-la'); Phinda ('pin-dah'), a private luxury reserve. (In South Africa it's called 'going to the bush' not 'going on safari'.)
About two hours north of Sodwana is Rocktail Bay, another wonderful dive site. A few more hours north will take you to Mozambique. Five to six hours south is Aliwal Shoal, famous for its sharks. (See separate posts.)
Other things
You need a permit to dive, obtainable from post offices and some dive centres. Costs about R30 (under 3 euros) for 30 days or R95 for a year.
The beach from which you launch is in a marine reserve. There is a daily entrance fee of R30, cash, per person. Or you can buy a Rhino Club card (see link below), which allows up to 8 people in a vehicle to enter the park and pay only R5 each. The card also gives you access to some game reserves and occasional specials on accommodation.
Most of the accommodation in Sodwana is outside the reserve, and behind the sand dunes; so no sea views. Reefteach is about a 7-minute drive away from the beach.
If you are lucky, Bart will be there, visiting from Poland. He is a videographer who will make a video of your dive, at a very reasonable cost, especially if there is a group of you. (See link below and check out his great videos of Reefteach, Sodwana and other dive sites in South Africa.)
Interesting Links:
Coelacanths – http://www.youtube.com/watch?v=xR6YyuDOAbw
Game reserves – http://www.sa-venues.com/game-reserves/kzn-north-game-lodges.htm
Reefteach Lodge – http://www.reefteach.co.za
Rhino Club card – http://rhinoclub.wordpress.com
Bart Lukasik adventure videography – http://bartlukasik.tumblr.com
If you have any question, ask Eldene in the comments below.
Have you also been scuba diving in Sodwana? What did you think about about it? Tell us in the comments!
Related Posts