Most tourists would agree that Europe is a remarkable place for historic landmarks, as well as artwork which spans from classical all the way to the modern era. The land is also known for its stunning natural scenery, ranging from flower-covered plains to glorious peaks.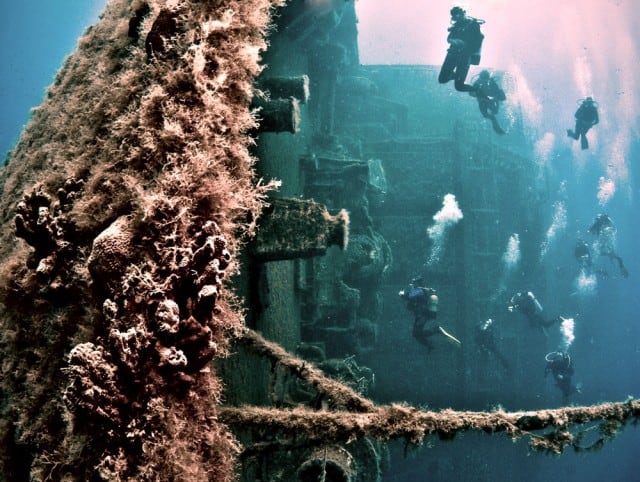 Credit: Jon Milnes
But when it comes to the underwater world however, people even the most avid divers, tend to head for other places like Thailand, the Red Sea or even Indonesia. What many don't realize is that its waters teem with marine life and other unexpected treasures. Here's my personal top 8 dive sites in Europe that will prof that diving in Europe is worth exploring.
1. France
The French Riviera may have clear sand at its bottom, but it is also the home of countless ships wrecks. This is definitely one of the most popular sites in France. The water is warm, visibility is good usually about 20-30 meters so you can easily explore a big stretch for these sunken beauties quite comfortably. Some of the best wrecks here are the Donator, she's an old Freighters located at around 38 meters. Alternative the Rubis is an old WW2 submarine, and a dream dive for any diver interested in wreck diving.
2. Spain
They didn't call it the Caribbean of Europe for nothing. Spain, particularly Costa del Sol, is probably the best place to go diving in the country. The visibility ranges from 15 to 30 meters and water temperatures allows for a 5 mm wetsuit in the summer and a 7-8 mm in spring and autumn. Spain's underwater life is great you'll definitely see an octopus hiding inside a small crack or a moray eel sticking it's head out, besides this grouper, barracudas, scorpion fishes and stingrays inhabits the reef.
Gibraltar (UK territory) is where you will find some of the world's best shipwrecks. It's all the way south, right at the crossing from the Mediterranean to the Atlantic Ocean.
4. Iceland
At Silfra, Thingvellir you will find a narrow crack between the American and European continental shelves. The water is crystal clear, and the sight of the features in these big walls is simply breathtaking. Think of a double wall dive, no corals, no fish, it's just magnificent nature at its best.
Any diver worth their belt weight in gold would jump at the chance to dive in Iceland. It might be a cold dive, so I would suggest you to do it in a drysuit. Don't worry if you don't know how or doesn't have one it's possible to rent one and do a quick drysuite into dive, before you go diving at Silfra.
5. Ireland
Another one of the top 8 dive sites in Europe is Ireland. The Diamond Rocks area in Kilkee is often compared to Yongala, a renowned diving spot in Australia. The water may be cold but the marine life and wildlife in surrounding areas make it worth the chills. This is also one of the spots where you want to dress warm on your dive.
The dive spot has its name from the rocks that glitters in the sun like diamonds. The reef starts at about 6 meters and continues down to a deep valley at about 30 meters. This is where you'll find the highlight of the dive, the "snake pit", a hole full of spider craps. It's really amazing to see this many crabs all in one place and how they run all over each other.
6. Malta
All three islands that consist of the Maltese Archipelago – Malta, Gozo, and tiny Comino, are famous for great diving in the heart of the Mediterranean Sea.
There are countless underwater caves and plenty of shipwrecks to discover in the Malta islands, and the clear blue waters here are well known throughout Europe and the world as being an ideal diving environment. Visibility is excellent down to about 30 meters. Malta is dream dive destination for anyone traveling to the Mediterranean.
7. Scotland
If you love wreck diving, and you are going scuba diving in Scotland, then you won't be disappointed. Scapa Flow has many WW I &II era shipwrecks within your reach. The Blockship Tabarka, for example, sits at 18-meters, and several other shipwrecks at depths ranging from 30 -50 meters. Another overlooked aspect that makes Scotland a desirable dive location are the increasing numbers of quality live aboard vessels that services the region, which can easily accommodate divers and their quests at affordable rates.
8. Isle of Man
Burroo in Isle of Man has one of the most biodiversity aquatic life in Europe, so it's a dive you should never miss if given the chance. It's almost impossible to see an inch of space that doesn't have marine life in it! This is not your typical warm water tropical life, but great life nonetheless. You'll see great colors in the cold water corals sitting all over the rocks and cliffs, and both big and small marine life is thriving here do to the currents and water movement between islands.
Have you dive the underwater wonders of Europe
If you have been diving in Europe you might have another favorite spot? This is just my personal list, but there are loads of other great dive spots for the diver who loves experiencing other than tropical diving.
What is your favorite European dive spot?
Thank you very much Torben Lonne for writing this interesting article. You can follow him on his Google Plus profile.
Torben is an avid diver and a passionate traveler. He started diving back in 1999 and has since then dived many places around the world. His passion for diving made him start a career in diving first as a Divemaster and later as an Instructor.
Related Posts