If you have been to Cairns before, please share your experiences, ideas and feedback (Hotel, Excursions, General Feeling,…) in the comments section below, by doing so you will help fellow travellers to plan their next trip

Cairns is a great city located in the North West of Queensland in Australia. Cairns is famous for its proximity of the Great Barrier Reef, making it an attractive spot for divers. In fact, most of the liveaboards cruises which explore the Great Barrier Reef start from Cairns.
It is also fast becoming one of the hot spots in the world for scuba diving courses and is where the largest number of divers in the world get their Padi Open Water certification!
Photo Credit: http://www.flickr.com/photos/eguidetravel/2920392008/
The Great Barrier Reef is the largest coral reef in the world and stretches over 2000km! It is home of fabulous array of biodiversity, fantastic coral and crystal clear water. That is why it is now one of the Top scuba diving destinations in the World!
In this page you will find practical information to plan a scuba diving trip to Cairns:
Cairns Photos
Where to stay?
I usually use this website to book in advance my hotels in Cairns as they usually have the lowest rates I find. I like it because it's free to cancel and change the dates.
Being a very touristy city, Cairns offers a wide range of accommodation to suit all tastes. Most of them are dedicated to backpackers with numerous hostels and budget hotels where you can get a room for about 15 dollars. There are also comfortable hotels and high end luxury places to stay.
Activities and excursions in Cairns
Cairns is a major tourist destination in Australia and has a wide range of activities to offer. You can for example:
Try White water Rafting, Bungy Jumping or Sky Diving!
Learn Kite surfing
Go trekking in the Jungle
Go see a Rugby or Cricket Game
Visit the Daintree National Park to discover the amazing local Fauna
Health and Safety
If you are planning an upcoming dive trip or travelling to Cairns, it is a really good idea to invest in travel insurance for scuba diving, because you never know what could happen and when you might need it (because accidents do happen!). I recommend this diving insurance as they offer worldwide coverage and focus on providing scuba divers a quality insurance and medical assistance service.
Where is Cairns located in the world?
Cairns is located in North East Australia in Queensland and South of Port Douglas.
How to get to Cairns?
Cairns is very popular with tourists, making it a cosmopolitan city filled with visitors coming from all over the world. It is very easily accessible via the following options:
Plane
Cairns International Airport is an important airport with many connections to the main cities in Australia and in Southeast Asia. It is located only 7km North of the city centre and is easily reachable by bus (7 dollars) and by taxi for 15 dollars (about 10 minutes). A shuttle is also available to reach Port Douglas.
As Australia is so huge (two times the size of Europe!), the most common way to travel is by plane and there are many good domestic airlines like Jetstar, Tiger Airways, Virgin Australia and Quantas offering cheap flights to Sydney, Perth, Brisbane, Melbourne and Darwin.
International airlines include Air New Zealand to Auckland, the excellent Cathay Pacific to Hong Kong and Jetstar with flights to Singapore, Osaka and Tokyo. Continental Airlines also offers flights to Guam.
Train
The Train station is right in the city centre just next to the shore, which is convenient as this is where most of the hotels are. However the distances to cover are huge and travelling by train can be very slow in Australia. For example it takes 32 hours just to get from Cairns to Brisbane!
Bus
The main bus company is Greyhound which offers cheap rates to several destinations in the country.
Car
Travelling by car is an experience in itself in Australia and you can make a superb road trip along the East coast. Many travellers staying in Australia for an extended time actually buy a van and travel throughout the whole country. However, Australia is a really huge country and driving from one place to another can take days! It is possible to rent a car at Cairns Airport.
Photo Credit: http://www.flickr.com/photos/avlxyz/84326652/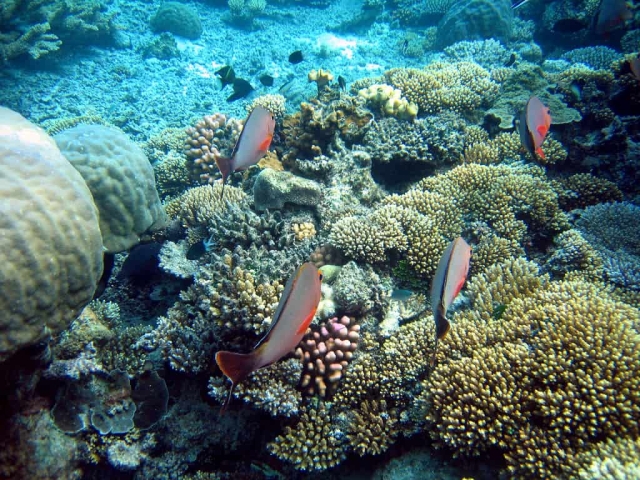 Getting Around
Cairns is not a huge city and if you stay around the city centre you can easily walk everywhere. If you want to go to the suburbs or to the beaches, you should take a Sunbus bus. They usually start at the Market square. If you want to feel more free and visit the surroundings, consider renting a car at the airport or in the city centre.
Scuba diving
You will find all information about sea life, best time to visit, top dive spots, etc. in our review: Cairns Diving

Diving Reviews for this region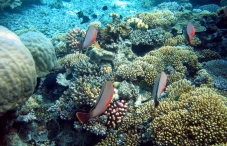 Excellent Place for scuba diving courses and to get your Padi Open Water. Main gateway to the Great Barrier Reef and Liveaboard starting point.
Liveaboard Reviews in Cairns
Cruise ship Reviews in Cairns