MV Scubapro III dive boat review
MV Scubapro III is owned and operated by Pro Dive Cairns. One of Australia's longest established and most experienced dive operations in the area, Pro Dive Cairns have approximately 60 staff to handle their customers' needs. Pro Dive Cairns specialise in voyages to the Great Barrier Reef. And, whether you're a experienced diver with 1000's of dives under your weight belt or, conversely, looking to experience your first dive – they can look after you.
You can check the availability, schedule and prices for this Boat here.
The Great Barrier Reef is one of the most amazing natural wonders. At 2,300km in length it is made of living organisms and, unbelievably, covers over 340,000sq.km.
The Great Barrier Reef is located on the east coast of Australia, next to Queensland. And, although day-trips are available we would highly recommend a liveaboard. It is very likely the best way to discover this immense, bustling hive of aquatic life.
Departing from either Cairns or Port Douglas – the Scubapro III and Scubapro II of Pro Dive Cairns visit offer rewarding, extended liveaboard trips to Cod Hole or Coral Sea. The 3 day itinerary being their most popular.
MV Scubapro Three and her sister MV Scubapro Two liveaboard were are purpose built. Scubapro III diving boat was built in 2004. She is mono-hulled and equipped with all the latest facilities and safety features required to make your voyage a success.
Liveaboard Layout & Cabins
This Great Barrier Reef liveaboard has twin 373KW MTU engines. She is capable of cruising at a speed of 12 knots.
The MV Scubapro III has berths for a maximum of 32 divers; featuring 16 cabins onboard: 14 twin, bunk style, cabins and 2 double cabins. Clean bed linen and blankets are provided and the vessel has central air-conditioning should you wish to cool down away from the Australian sun.
There are not ensuite toilet facilities. However, there are 8 toilet/shower combination 'heads' onboard meaning there are plenty of facilities for the guests – even at maximum capacity.
Scubapro III liveaboard has 2 large decks. The upper deck is the sole preserve of those wishing to sleep, sun bathe, relax or socialise. The lower deck comprises the dive deck and related facilties.
Tea, coffee and water is all complimentary onboard. You will also be provided with hot and cold breakfast, lunch and dinner.
When not diving there is TV, music, board games, books and camera hire to keep you occupied and amused!
Scuba Diving onboard Scubapro Three
Scubapro III is the base for the diving. Please note that a guide is provided only for the guided orientation and night dive only – on other dives you will need to feel confident to work as a buddy team. The popular 3 day liveaboard voyage which includes the following:
All diving equipment including dive computer and torch, diving insurance, 11 dives, corrective lens mask if required, local hotel/accommodation transfers if required, meals and bed linen, double or twin share accommodation and guided orientation and night dives.
If you are not already qualified to do so, we would also recommend making Extras include additional diver training onboard and Nitrox. However, to make the most of this wonderful experience we would recommend taking advantage of completing an Advanced Open Water and Nitrox certification with the instructor onboard for an additional fee. It will extend your depth limit and bottom time.
Priced at EUR155 per day for a 3 day trip without extras, this is an inexpensive way to reach this unique dive location.
Where does this liveaboard dive boat go?
Check out the fabulous places where this dive boat travels to.
Note: some destinations may not be listed below, please enquire for more details.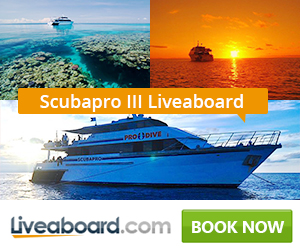 Other Liveaboard Reviews in Australia & Cairns & Great Barrier Reef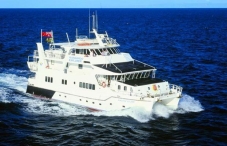 MV Kangaroo Explorer was originally buil
Dive spots reviews in Australia & Cairns & Great Barrier Reef