If you have been to Great Barrier Reef before, please share your experiences, ideas and feedback (Hotel, Excursions, General Feeling,…) in the comments section below, by doing so you will help fellow travellers to plan their next trip

The world famous Great Barrier Reef vastness stretches for over 2000km, located in the Northeast of Australia in Queensland. It is one of THE top scuba diving destinations in the World and should be on the top of every diver's wish list!
Diving on the Great Barrier Reef offers clear water, amazing biodiversity, healthy reef, spectacular corals and big fishes! The best way to explore this underwater heaven is by liveaboard but you can also enjoy it on a day trip from Cairns, Port Douglas, Townsville or from the Whitsunday Islands.
In the area there is also one of the best dive sites in the world, the very famous Yongala Wreck that you don't want to miss

In this page you will find practical information to plan a scuba diving trip to Great Barrier Reef:
Great Barrier Reef Photos
Where to stay?
I usually use this website to book in advance my hotels in Great Barrier Reef as they usually have the lowest rates I find. I like it because it's free to cancel and change the dates.
All the cities in Australia and in particular in Queensland offer a wide range of accommodation from the basic Backpacker hostel to luxurious hotels and resorts.
Please refer to the dedicated pages for more information on the accommodation in Cairns, Port Douglas, Townsville and the Whitsundays.
Activities and excursions in Great Barrier Reef
Queensland is the biggest tourist destination in Australia and has a wide range of activities to offer and many islands to explore. You can for example:
Try Kite Surfing, Bungee Jumping, Sky Diving!
Go on a Whale Watching tour
Enjoy a hot air Balloon flight
Visit the Daintree National Park and Cape Tribulation to trek in the Jungle and discover pristine beaches.
Please refer to the dedicated pages for more information on the activities in Cairns, Port Douglas, Townsville and the Whitsundays.
Health and Safety
If you are planning an upcoming dive trip or travelling to Great Barrier Reef, it is a really good idea to invest in travel insurance for scuba diving, because you never know what could happen and when you might need it (because accidents do happen!). I recommend this diving insurance as they offer worldwide coverage and focus on providing scuba divers a quality insurance and medical assistance service.
Where is Great Barrier Reef located in the world?
The Great Barrier Reef (GBR) is located in North East Australia in Queensland.
See the map below.
Great Barrier Reef Map
How to get to Great Barrier Reef?
You have several possibilities depending from where you want to dive the Great Barrier Reef.
The easiest and biggest gateway is Cairns with its International airport and numerous flight connections making it a convenient base to start your dive trip from.
Townsville, Hamilton Island in the Whitsundays and Proserpine also have airports and are easily reached if you are already in Australia. However if you are coming from abroad the best place to start your trip is Cairns as there are often cheap International Flights on offer.
If you want to go diving in Port Douglas, you will also need to go to Cairns first.
If you want more information about these destinations, please visit their dedicated pages.
Photo Credit: http://www.flickr.com/photos/48722974@N07/5093723696/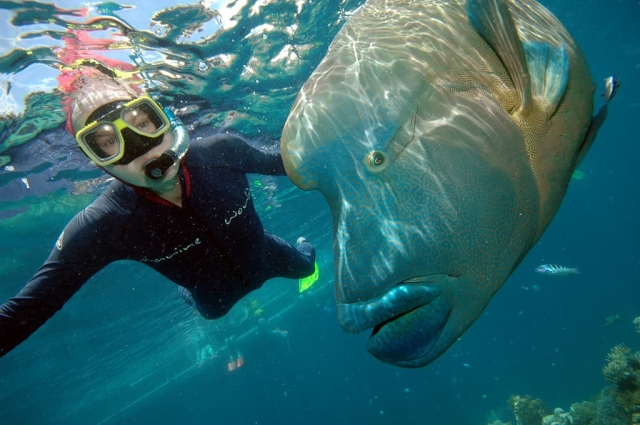 Getting Around
Australia and Queensland in particular are very touristy places with well built infrastructure geared towards the tourist market, making it very easy to travel. You can travel within the Great Barrier Reef area by a few different options:
Plane
Distances to cover are huge in Australia and the fastest way to travel is by air. There are numerous reputable airline companies in the country, and because competition is high, you can find yourself cheap flights throughout Queensland. The main companies operating in the Great Barrier Reef area are: Qantas Airways, and the low cost companies Jetstar, Virgin Australia, Alliance Airlines. They have connections to Canberra, Brisbane, Sydney, Melbourne, Hamilton Island, Mackay and Perth as well as other smaller cities.
Train
You can take the following Trains to travel on the Queensland coast:
From Brisbane to Townsville to Cairns, you can take the Sunlander Train or the Tilt Train.
From Mount Isa to Townsville, you can take the Inlander train.
The distances are often important to consider as travel times within Australia can be very long. For example, it takes 32 hours just to get from Cairns to Brisbane!
Bus
The main bus companies are Greyhound and Premier Coaches. They have cheap tickets to several destinations throughout the country. As with the train, travelling time can be long. Special Backpacker buses are also available between the most popular destinations.
Car
You can always rent a car when you arrive at the airport or in a city centre. The main highway in Queensland is called the Bruce Highway which follows the East Coast from Cairns to Brisbane.
Photo Credit: http://www.flickr.com/photos/icelight/208857633/
Scuba diving
You will find all information about sea life, best time to visit, top dive spots, etc. in our review: Great Barrier Reef Diving

Diving Reviews for this region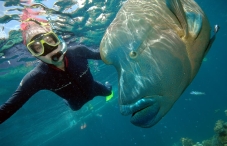 Excellent Diving and liveaboard destination. Amazing spot for Big fishes, Sharks, superb coral and underwater photography. Most popular place in the World to learn scuba diving in Cairns. One of the best dive sites in the World with the Yongala Wreck!
Liveaboard Reviews in Great Barrier Reef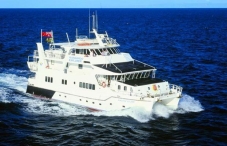 MV Kangaroo Explorer was originally buil
Cruise ship Reviews in Great Barrier Reef