MV Scubapro II dive boat review
So vast that it may be seen from space, the Great Barrier Reef is one of the most amazing natural phenomenon. Stretching over 2,300km in length and covering over 340,000sq.km it is famously the largest structure made of living organisms.
Located off the coast of Queensland, Australia, a liveaboard voyage is one of the best ways to discover this wonderful, living shrine to marine life.
You can check the availability, schedule and prices for this Boat here.
MV Scubapro II is owned and operated by Pro Dive Cairns. Pro Dive Cairns proudly boasts itself to be Australia's premier scuba diving school, comprising approximately 60 staff. Pro Dive Cairns specialise in dive training and voyages on the Great Barrier Reef, offering experiences for everyone from first bubbles to professional training.
Departing from either Cairns or Port Douglas – the MV Scubapro II and Scubapro III of Pro Dive Cairns visit individual day trips or, even more rewarding, extended liveaboard trips to Cod Hole or Coral Sea.
Liveaboard Layout & Cabins
Scubapro Two and her sister Scubapro Three are purpose built mono hull dive vessels. 23.95m long and 7.35m wide. MV Scubapro II was built in 2002 with the sole mission of providing dive experiences on the Great Barrier reef to her lucky customers.
This liveaboard has twin 339KW Scania engines capable of thrusting forward the vessel at a cruising speed of 12 knots.
The Scubapro II diving boat is capable of catering for 32 divers. She features 16 cabins onboard. There are 14 twin, bunk style, cabins. Then 2 double cabins. Being a relatively inexpensive liveaboard experience (compared to Mexico, Maldives, Philippines etc.) there are not ensuite toilet facilities. However, there are 8 toilet/shower combination 'heads' onboard and for the vast majority of divers the facilities are ample. In each cabins sheets and blankets are provided but, please note, towels are not. The vessels are centrally air-conditioned and have a simple, bright and unimposing atmosphere.
MV Scubapro II has 2 large decks. One comprises the dive deck and the upper deck is the sole preserve of those wishing to sun-tan, read a book, relax or socialise.
Onboard hot and cold breakfast, lunch and dinner is provided. As it complimentary tea, coffee and water.
In addition, for those non diving periods, TV, music, board games, books and camera hire are all available onboard.
Scuba Diving onboard Scubapro Two
Scuba Diving all takes place from the MV Scubapro II. The most popular itinerary being the 3 day liveaboard voyage which includes; all diving equipment including, critically, dive computer and torch, diving insurance, 11 dives, corrective lens mask if required, local hotel/accommodation transfers if required, meals and bed linen, double or twin share accommodation and guided orientation and night dives only.
Extras include additional diver training onboard and Nitrox. However, to make the most of this wonderful experience we would recommend an Advanced Open Water and Nitrox certification.
Priced at EUR155 per day for a 3 day trip, this is a very reasonably priced way to see some of the legendary Great Barrier Reef.
Where does this liveaboard dive boat go?
Check out the fabulous places where this dive boat travels to.
Note: some destinations may not be listed below, please enquire for more details.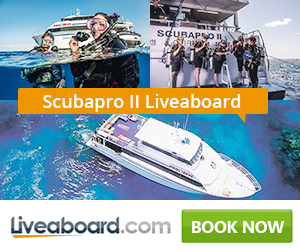 Other Liveaboard Reviews in Australia & Cairns & Great Barrier Reef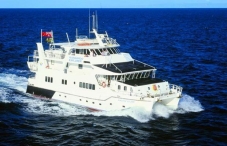 MV Kangaroo Explorer was originally buil
Dive spots reviews in Australia & Cairns & Great Barrier Reef