If you have been to Candidasa before, please share your experiences, ideas and feedback (Hotel, Excursions, General Feeling,…) in the comments section below, by doing so you will help fellow travellers to plan their next trip

Candidasa is a tourist spot a little bit further from the southern crowd. The accommodation here is quite upmarket compared to other popular places around Bali. It is a perfect place to spend a nice relaxing holiday with your family or to spend a romantic moment on your honeymoon.
Photo Credit: http://www.flickr.com/photos/hagwall/10225205/
An important note is that unfortunately, due to erosion, there is no longer any decent beaches around Candidasa however all of the resorts offer large swimming pools if that is what you are after.
Candidasa does however provide excellent diving opportunities with several rocky islands to dive again and again. It is maybe one of the best diving spots around Bali for big pelagic fishes, hunting action and sharks!
In this page you will find practical information to plan a scuba diving trip to Candidasa:
Where to stay?
I usually use this website to book in advance my hotels in Candidasa as they usually have the lowest rates I find. I like it because it's free to cancel and change the dates.
Candidasa has the reputation of an upmarket somewhat classy destination compared to Kuta. Accommodation here offer luxury, often with stunning sea views and splendid Balinese gardens.
Some of the Hotels and diving resorts around Candidasa:
Le 48, Zen & Happy Rezort
Amarta Beach Inn Bungalows
Nirwana Resort and Spa
Candi Beach Cottage
Bali Shangrila Beach Club
Royal Bali Beach Club at Candidasa
D'Tunjung Resort & Spa
Balina Beach Bungalows
Like everywhere in Bali you will also find a large range of guesthouses and homestays to suit every kind of budget and comfort.
Health and Safety
If you are planning an upcoming dive trip or travelling to Candidasa, it is a really good idea to invest in travel insurance for scuba diving, because you never know what could happen and when you might need it (because accidents do happen!). I recommend this diving insurance as they offer worldwide coverage and focus on providing scuba divers a quality insurance and medical assistance service.
Where is Candidasa located in the world?
Candidasa is located on the North side of the Amuk Bay. Padangbai is just a few kilometres more South.
See the map below.
Candidasa Map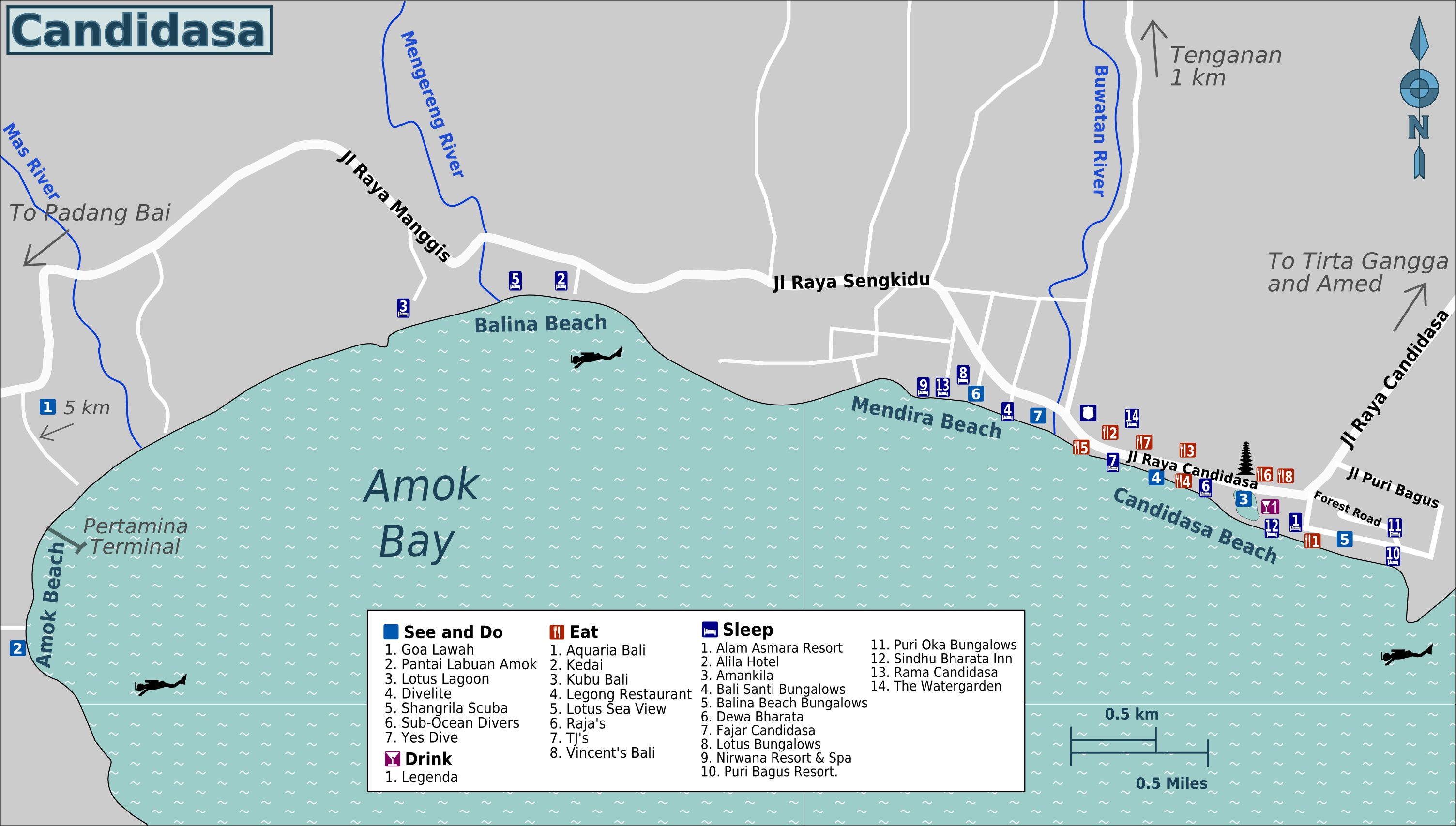 How to get to Candidasa?
Candidasa is accessible via the main road of the island directly from the South of Bali. It takes about 3 hours to drive there from the Ngurah Rai International Airport of Denpasar or South Bali depending on the traffic.
The best way to go there is by hiring a car/van with a driver (about 200000 IDR to 350000 IDR from the Airport/South Bali, but don't be afraid to bargain!). You can also reach Candidasa by local transport but it will take some time (and will make for an interesting journey).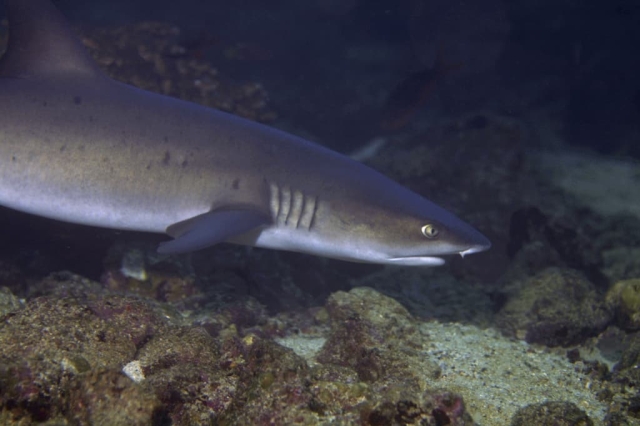 Getting Around
There are four inhabited small islands close to Candidasa easily accessible by diving boats:
These Three islands are terrific scuba dive sites and among the best diving in Bali but is for experienced divers only. See the scuba diving section for more information.
Photo Credit: http://www.flickr.com/photos/zenubud/4239532231/
Candidasa Photos
Scuba diving
You will find all information about sea life, best time to visit, top dive spots, etc. in our review: Candidasa Diving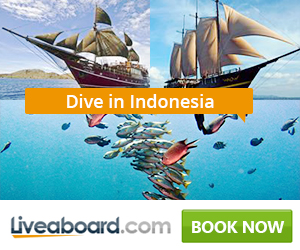 Diving Reviews for this region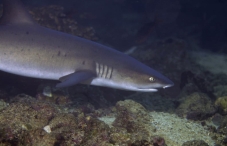 It is all about action! Big pelagic fishes, hunting action in the current, and many Sharks! Regular seeing of Hammerhead Sharks and Mola Mola!
Liveaboard Reviews in Candidasa
Cruise ship Reviews in Candidasa