If you have been to Pulau Menjangan before, please share your experiences, ideas and feedback (Hotel, Excursions, General Feeling,…) in the comments section below, by doing so you will help fellow travellers to plan their next trip

Menjangan Island, also known as Pulau Menjangan, is a small island (1.5 km by 500m) located on the Northwestern side of Bali. Since 1982, it has been part of the huge West Bali Barat National Park. This Northwest part of Bali is very far away from the touristic crowd and you will feel the "real" Bali around you. This area is still quite unspoiled and undeveloped. The surroundings are beautiful with wild nature to explore and ancient temples to visit.
Diving in Menjangan is also a real pleasure with world famous wall diving and for sure the best wall diving around Bali. Diving this island is very relaxing with very clear water and mostly light current perfect for beginners and also very good for more experienced divers with the possibility to dive deep along the walls and on a great wooden wreck. Here you can see and experience a great variety of marine life and very beautiful hard and soft coral.
Menjangan Island is located on the North West Side of Bali Island. It is now part of the great West Bali National Park.
The nearest cities are Gilimanuk where you can take the ferry to Java Island, Permutaran and Lovina where you can get accommodation.
In this page you will find practical information to plan a scuba diving trip to Pulau Menjangan:
Where to stay?
I usually use this website to book in advance my hotels in Pulau Menjangan as they usually have the lowest rates I find. I like it because it's free to cancel and change the dates.
There in one dive resort on Menjangan island: the Mimpi Resort Menjangan but no other hotels.
Otherwise you can stay on the mainland. There are several nice hotels and diving resorts around Labuan Lalang and Permutaran.
Health and Safety
If you are planning an upcoming dive trip or travelling to Pulau Menjangan, it is a really good idea to invest in travel insurance for scuba diving, because you never know what could happen and when you might need it (because accidents do happen!). I recommend this diving insurance as they offer worldwide coverage and focus on providing scuba divers a quality insurance and medical assistance service.
Where is Pulau Menjangan located in the world?
Menjangan Island is 120 km away from Denpasar, where the International airport is located. The journey can be long, around 4 hours or more depending on the traffic. So it is possible to dive there for one day but it will be a long day!
It is better to dive there on a daytrip from Permutaran or Lovina or during a dive safari around Bali. You can also stay on the Mimpi Resort directly on Menjangan Island if you wish to be close to the action.
Diving boats leave from the small harbour of Labuan Lalang situated just 20 minutes by car from Permutaran. Then you have to take the boat for about 30 min to 1 hour depending on what site you are diving.
See the map below.
Menjangan Map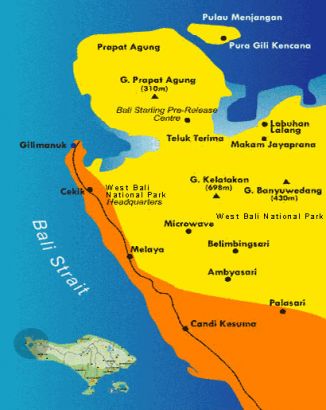 How to get to Pulau Menjangan?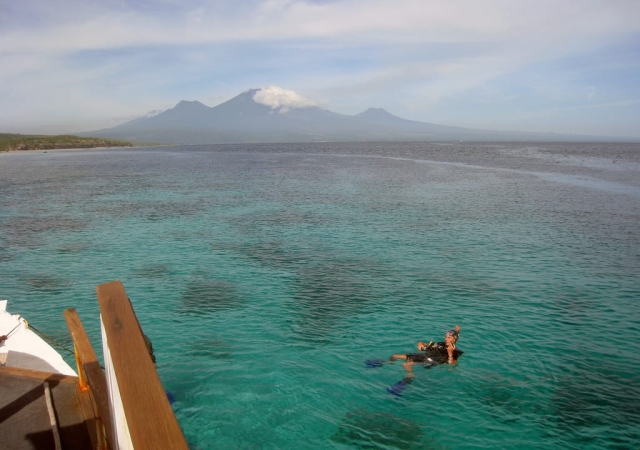 Pulau Menjangan Photos
Scuba diving
You will find all information about sea life, best time to visit, top dive spots, etc. in our review: Pulau Menjangan Diving

Diving Reviews for this region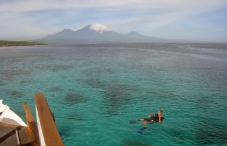 Menjangan Island is famous worldwide for Wall diving with small caverns to explore. The reef and Coral are also great. A very nice wooden wreck from the 19th century: Anker Wreck.
Liveaboard Reviews in Pulau Menjangan
Cruise ship Reviews in Pulau Menjangan