If you have been to Donsol before, please share your experiences, ideas and feedback (Hotel, Excursions, General Feeling,…) in the comments section below, by doing so you will help fellow travellers to plan their next trip

Donsol is located in the Sorsogon Province in the Philippines. It is the best place in the world to swim with Whale Sharks! In fact, from November to June when the waters around Donsol have a high plankton density, Donsol is known as the "Whale Shark Capital of the World" ! While observing these gentle giants, you also have the chance of spotting Manta Rays and gazing your eyes upon beautiful soft coral.
In this page you will find practical information to plan a scuba diving trip to Donsol:
Where to stay?
I usually use this website to book in advance my hotels in Donsol as they usually have the lowest rates I find. I like it because it's free to cancel and change the dates.
You can expect to find a wide range of accommodation in Donsol suiting all tastes and budgets. Backpackers and budget travellers can find cheap home stays in the city centre or basic Bungalows by the beach. There are also comfortable hotels and resorts in Dancalan like the Woodland Beach Resort a bit out of town or the Casa Bianca Beach Resort. Most of the resorts propose "Eco Tours" to spot the gentle giants.
Resorts in Dancalan are only open from December to May during the Whale Shark Season. However, The Giddy's Place PADI Dive Resort located in the city centre is open all year round.
Photo credit: http://www.flickr.com/photos/sindy-mike/4383825553/
Activities and excursions in Donsol
The main activity in Donsol is swimming with Whale Sharks. However there are also interesting other things to do. You can for example:
Go on Firefly watching tour on the river at night!
Enjoy Kayaking on the river.
Go Trekking or Biking in the Mountain.
Discover the local culture and food while walking around in the city.
Best time to visit Donsol
Tourist Season
The Best time to swim with Whale Sharks is from February to May. However they can be seen from November to June too!
If you are there for Scuba Diving, it is good year round as well as Firefly Watching and Kayaking tours.
You can expect a temperature ranging from 26°C to 36°C depending on the season.
Photo credit: http://www.flickr.com/photos/kungfuji/5529012867/
Health and Safety
If you are planning an upcoming dive trip or travelling to Donsol, it is a really good idea to invest in travel insurance for scuba diving, because you never know what could happen and when you might need it (because accidents do happen!). I recommend this diving insurance as they offer worldwide coverage and focus on providing scuba divers a quality insurance and medical assistance service.
Where is Donsol located in the world?
Donsol is located in the Philippines 600km South of Manila in the province of Sorsogon.
See the map below.
Donsol Map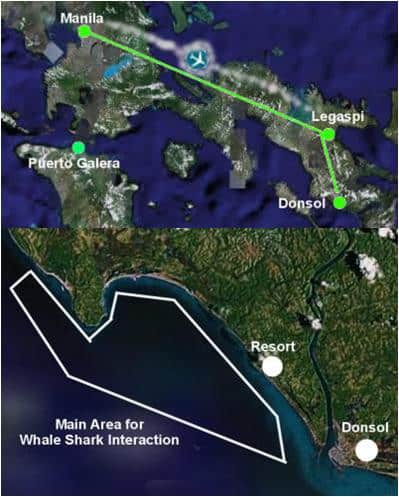 How to get to Donsol?
There are 2 ways to reach Donsol:
Plane:
Step 1: The best way to go to Donsol is to fly with Philippine Airlines or Cebu Pacific from Manila to Legaspi for a 50min flight.
Step 2: From Legaspi Airport, take a public van (around P60) or a private van (P1750) for 1h30min to your accommodation in Donsol.
If you want, your dive operator can come pick you up directly at the airport.
Bus:
There are daily buses from Manila to Donsol. It takes 11 hours and cost about P650.
Hot Tip:
There are no ATMs in Donsol so you should bring enough cash to pay for your dives, your Whale Sharks interactions and for your accommodation.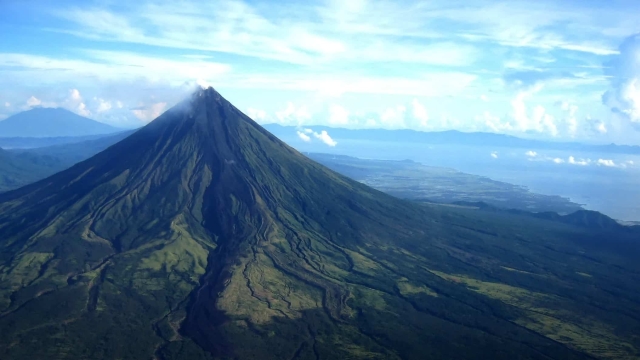 Getting Around
The best for short trips is to use Tricycles. For longer trips it is best to use the colourful jeepneys or to rent a car with a driver. Scooters can also be rented in Donsol.
Donsol Photos
Scuba diving
You will find all information about sea life, best time to visit, top dive spots, etc. in our review: Donsol Diving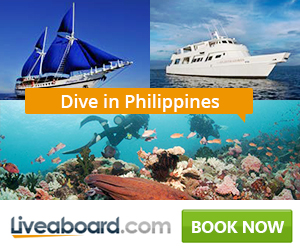 Diving Reviews for this region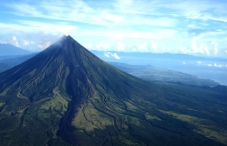 The best place in the World to swim and dive with Whale Sharks! Also a fantastic spot for spotting Manta Rays.
Liveaboard Reviews in Donsol
Cruise ship Reviews in Donsol