Cost
Expensive, and Luxury!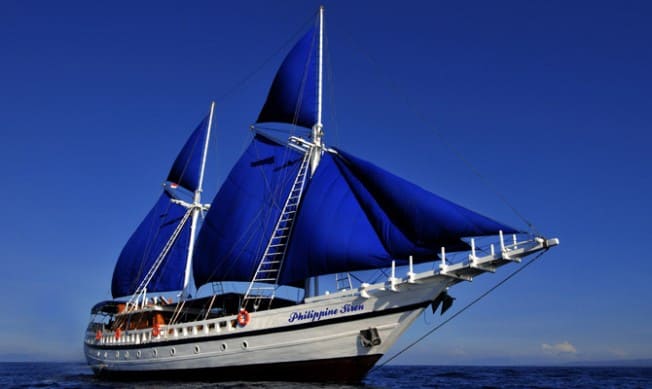 SY Philippine Siren dive boat review
The waters of the Philippines offer some of the best diving in the world. In the heart of the 'coral triangle' there is great bio-diversity and the opportunity to see some of the rarest and most sought after creatures. And one of the best ways to experience diving in this environment is to indulge yourself with one of the luxury liveaboard diving safari tours operating out of this area. SY Philippine Siren is one such vessel.
Owned and operated by Siren Fleet, which is owned by the team of Mark Shandur and Frank Van der Linde, Siren Fleet own 4 yachts which specialise in luxury liveaboard voyages around Palau, Indonesia, Fiji and, in the instance, the Philippines.
You can check the availability, schedule and prices for this Boat here.
Siren Fleet claim that SY Philippine Siren is built by divers for divers. And, it's hard to argue against that claim. Built on the Indonesian island of Sulawesi, at 40m long, this is a substantially sized gaft-rigged Phinisi. A luxurious, traditional, ironwood and teak vessel perfect for these conditions.
Despite the ample size of the Philippine Siren the maximum number of Scuba divers or guests onboard is a total of 16. This means that there is also plenty of space – something often at a premium on dive boats.
Liveaboard Layout & Cabins
Philippine Siren liveaboard has 8 individually controlled, air-conditioned cabins. They are beautifully furnished for your comfort. Each cabin has more than sufficient storage space, it's own entertainment system and reading lights.
Should you not wish to stay in your cabin, there is a comfortable lounge area with 42inch TV and an extensive library of films, books and entertainment.
Outside there is a shaded dining area for meals. Meals are buffet style and of very good quality. However, in the unlikely event you become hungry, snacks are available throughout the day and there is a constant supply of soft drinks.
Sun-worshipers will find they are able to take advantage of one of the eight loungers available. Failing that, if you're still looking for something to occupy your non-diving time, there is a massage service available onboard. Or, while moored, why not take a kayak around one of the secluded bays?
Scuba Diving onboard Philippines Siren
In addition to the luxurious living conditions, the diving facilities, are excellent. Each diver is given a station to work from and basic scuba equipment, including an SMB, is provided within the cost. For additional safety Nautilus Lifelines are employed by the Siren Fleet.
Nitrox, very important in repetitive diving, is provided free of charge on Philippine Siren diving boat. And, should you not be qualified to use enriched air, Instructors onboard are able to provide the required training. Want to go even further? Tek and CCR facilities are available.
The SY Philippine Siren has 2 RIBS with accompany her for safety and picking up divers.
In addition, should you be an underwater photographer, workstations, rinse tanks and charge points are available around the vessel for your ease.
As you would expect on such a vessel, the Philippine Siren has safety prioritized and has all the required facilities and procedures in place to ensure your trip is a safe one.
Itineraries
This Philippines Liveaboard has a range of 5 different itineraries. These may include Southern Visayas, Southern Leyte, Tubbataha and Malapascua Island dependent on the season and prevailing weather conditions.
As you would expect with a luxury liveaboard with such facilities, this is not an inexpensive liveaboard safari. Expect to pay between EUR2,600-EUR3,750 depending on the season and length of voyage.
Where does this liveaboard dive boat go?
Check out the fabulous places where this dive boat travels to.
Note: some destinations may not be listed below, please enquire for more details.
Other Liveaboard Reviews in Anilao, Batangas & Bohol Island & Boracay & Coron, Palawan & Donsol & Malapascua & Philippines & Puerto Galera
Dive spots reviews in Anilao, Batangas & Bohol Island & Boracay & Coron, Palawan & Donsol & Malapascua & Philippines & Puerto Galera