If you have been to Puerto Galera before, please share your experiences, ideas and feedback (Hotel, Excursions, General Feeling,…) in the comments section below, by doing so you will help fellow travellers to plan their next trip

Puerto Galera is a small city on the Coast of Mindoro Island. Actually most people refer to Puerto Galera but the main tourists centers are actually the nearby small towns of Sabang Beach and White Beach. It is a popular scuba diving and snorkelling destination, also famous for its beautiful "pocket" white sandy beaches. The interior is worth exploring too with lush tropical jungle and beautiful waterfalls.
In addition, Puerto Galera still holds a lot of its charm and isn't too over developed (yet!) as with some other diving destinations in the world.
In this page you will find practical information to plan a scuba diving trip to Puerto Galera:
Where to stay?
I usually use this website to book in advance my hotels in Puerto Galera as they usually have the lowest rates I find. I like it because it's free to cancel and change the dates.
Most foreign visitors stay in Sabang Beach. White Beach is more for the nightlife with many bars and restaurants and is also more popular for Filipino tourists. In Sabang you will find a whole range of accommodation from basic Guesthouses to luxurious beach resorts. Many resorts have also their own dive centres attached.
The room rates greatly depend on the season and prices can even double during the peak season in April and May.
Activities and excursions in Puerto Galera
Puerto Galera is primarily a scuba diving destination but there are also many activities for non-divers. If you want to let your hair down, White beach is famous in the Philippines for its nightlife where you can party all night long in the many bars and clubs. In addition, you can for example:
Go Trekking in the Jungle or on a volcano
Discover Tribal settlements in the forest
Try sailing, windsurfing and kayaking around the Islands
Enjoy a deep sea fishing day trip
Relax on the beautiful white sandy beaches
Snorkelling the Coral Garden and Island hopping
Play Golf on a very scenic golf course
Best time to visit Puerto Galera
Tourist Season
November to March is the High Season with a peak for Christmas and New Year's Eve.
April and May is the Peak Season so you should book well in advance as accommodation room prices do increase substantially.
June to October is the "low" season.
Health and Safety
If you are planning an upcoming dive trip or travelling to Puerto Galera, it is a really good idea to invest in travel insurance for scuba diving, because you never know what could happen and when you might need it (because accidents do happen!). I recommend this diving insurance as they offer worldwide coverage and focus on providing scuba divers a quality insurance and medical assistance service.
Where is Puerto Galera located in the world?
Puerto Galera is located on the North Coast of Mindoro Island in the Philippines. It is about 130km South of Manila.
See the map below.
Puerto Galera Map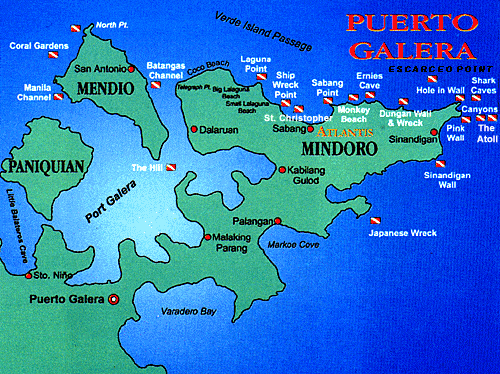 Photo credit: http://www.flickr.com/photos/acullador/2554968401/
How to get to Puerto Galera?
It is quite simple to get there.
Step 1: Take the bus from Manila to Batangas. It takes between 2 to 3 hours depending on traffic and costs about P200.
Step 2: Take the ferry boat for 1 hour from Batangas pier to Puerto Galera Ferry Terminal. You will have to pay P250 for the ferry plus P50 for the Environmental User Fee and P30 for the Terminal Fee at Batangas.
Hot Tip:
The last ferry leaves Batangas at 5 pm so be there in advance or you will have to stay overnight to take the first boat in the morning at 7:30 am.
If you take the "Sikat" tourist service, it will cost you P1400 for the round trip Bus + Ferry.
If you need to, dive operators can arrange your transfer from Manila airport to Puerto Galera by private mini-van and charter boat.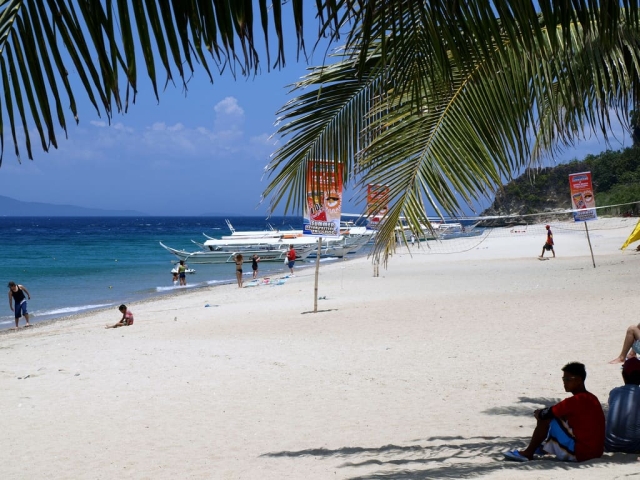 Getting Around
Like anywhere in the Philippines, for short distances trips, tricycles are the main form of transportation. Be careful as they can be sneaky and try to over-charge tourists. It is also possible to rent a scooter which will cost you around P500.
Photo credit: http://www.flickr.com/photos/acullador/2777309779/
Puerto Galera Photos
Scuba diving
You will find all information about sea life, best time to visit, top dive spots, etc. in our review: Puerto Galera Diving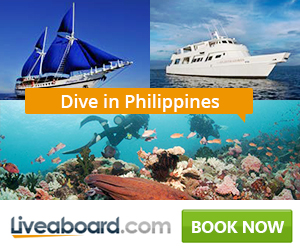 Diving Reviews for this region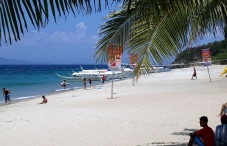 Great spot for Macro Underwater Photography, to take a diving course and for amazing Drift Diving.
Liveaboard Reviews in Puerto Galera
Diving resorts in this area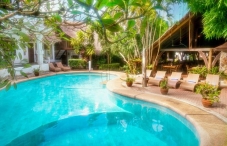 According to UNESCO, Puerto Galera is on
Cruise ship Reviews in Puerto Galera