Cost
Expensive, and Luxury!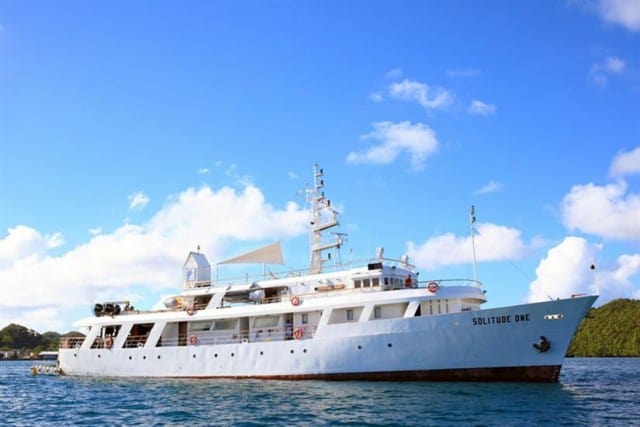 MV Solitude One dive boat review
MV Solitude One is a liveaboard owned and operated by Solitude Fleet and Solitude Liveaboards, run by Andrew Lok.
Both Palau and the Philippines, which offer some of the world's best diving, are on offer with the Solitude One.
Built back in 1979, this diving boat is a vast steel mono-hull ship some 52m in length. The vessel is large, spacious and more than sufficient room for the maximum of 22 guests and/or Scuba divers and 16-20 dive staff and crew. It is an impressive sight as it weaves it's way around the islands of Palau and the Philippines.
You can check the availability, schedule and prices for this Boat here.
Boat layout & cabins
Solitude One liveaboard is spread over 3 decks with an additional 'vessel island' for sunbathing. There are 10 cabins in total. Every cabin has it's own en-suite shower and toilet facilities. The cabins are split as follows:
• 2 x Staterooms (King-Sharing)
• 7 x Deluxe Cabins (4 x Twin or Double sharing, 2 x Double Sharing, 1 x Twin Bunk)
• 1 x Standard Family/Quad Cabin
In addition to toilet and shower facilities, each cabin has as standard it's own air-conditioning system, safety deposit box, bath robes and towels, hair dryer, bedding, storage space and flat screen TV with USB media player platform.
If you're feeling sociable, there is a lounge area with soft, comfortable chairs. Or alternatively tables where you can work or play on your laptop or simply play cards with friends.
There's an outdoor dining lounge where carefully planned meals are designed to enhance your experience during the voyage. There is something for everyone on offer, but the chef is also able to cater for any special dietary requirements if given sufficient notice.
On the very top of this Palau Liveaboard is a comfortable sun-deck for those needing a dose of vitamin D and a breath of sea air. At the end of the day there is also a hot tub to relax in with a drink of your choice.
What impresses most about MV Solitude One is that it's clearly geared for divers. If you're an underwater photographer there is even a digital 'dark room' where you can spend time privately assessing the day's shots, or simply dipping into the library onboard.
The feeling that this offering is really geared towards Scuba divers is underlined by the impressive dive deck. There is space for 30 divers. There are tank racks, storage boxes, camera basins and stowage for the most discerning diver. Equipment rental may also be arranged should you wish to travel light. The only non-rental item being an underwater camera.
Scuba Diving Onboard Solitude 1
Diving takes place from 2 diving 'skiffs'. Each is equipped with powerful 150hp engines and the necessary oxygen, first aid, radio and navigation systems.
Mixed gas and Tek divers may be catered for. Usually a maximum oxygen percentage of 30% is generally provided to Nitrox divers as to provide more of a safety margin to account for potential down-currents. CCR and Tek requirements may be catered for – but bear in mind that Oxygen and Helium are a very expensive additional cost in such a remote location.
Safety is a priority and dive groups are small. Solo diving is not permitted – even is qualified to do so. Dive computers are a must, as are Nautilus Lifelines.
Different itineraries are available dependent on season and requirements. This is a vessel by divers for divers.
Expect to pay around USD2,150 for a typical 5 day trip in a standard cabin. Prices then rise to approximately USD5,115 for a longer trip in a State Room.
Competive with alternatives such as the SY Philippine Siren and MV Atlantis Azores.
More information about the best diving sites in Palau here and about the Palau Liveaboard.
Where does this liveaboard dive boat go?
Check out the fabulous places where this dive boat travels to.
Note: some destinations may not be listed below, please enquire for more details.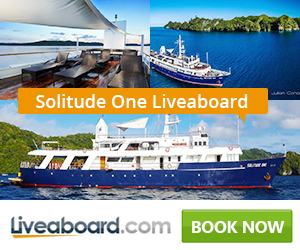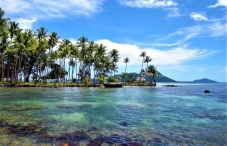 Yap for the Manta Rays or Chuuk for the shipwrecks? So hard too choose!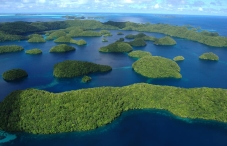 Palau is within the coral triangle and is one of the "Seven Underseas Wonders of the World".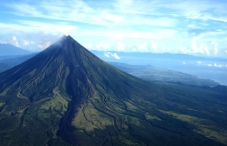 The best place in the World to swim and dive with Whale Sharks! Also a fantastic spot for spotting Manta Rays.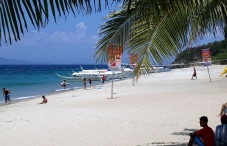 Great spot for Macro Underwater Photography, to take a diving course and for amazing Drift Diving.
The best place in the Philippines for Macro Underwater Photography! A must dive for muck diving and macro photographers. Thriving biodiversity and superb coral.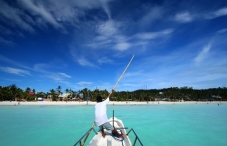 Great place to learn Scuba Diving or to take courses. Some interesting and challenging dive sites and good macro photography opportunities.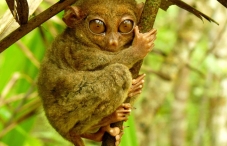 Some of the best scuba diving in the Philippines! Great wall dives, Coral, Macro Pictures opportunities and Reef Sharks.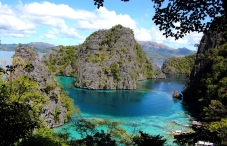 One of the Best places in the World for Wreck Diving!!! Also very interesting lake diving all within a superb tropical scenery setting... ahh bliss!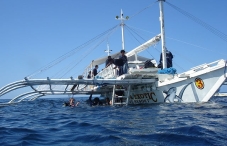 The best place on Earth to see the very rare Thresher Shark! Good chances also to spot Manta Rays and world class macro diving. Very Beautiful pristine Island.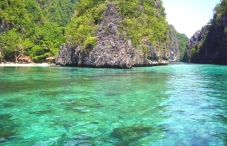 Thousands of stunning Islands with unlimited Scuba Diving opportunities! Some of the best Wreck Diving in the World is in Coron Island and great chances to spot the rare and shy Thresher Shark in Malapascua Island... The philippines will amaze every diver!
Other Liveaboard Reviews in Bohol Island & Boracay & Coron, Palawan & Donsol & Malapascua & Micronesia & Palau & Philippines & Puerto Galera
Dive spots reviews in Bohol Island & Boracay & Coron, Palawan & Donsol & Malapascua & Micronesia & Palau & Philippines & Puerto Galera