If you have been to Sharm El Sheikh before, please share your experiences, ideas and feedback (Hotel, Excursions, General Feeling,…) in the comments section below, by doing so you will help fellow travellers to plan their next trip

Divers and tourist come to Sharm El Sheikh discover this historic city, to enjoy the beach and for excellent scuba diving opportunities with access to some of the best dive sites of the Red Sea.
In this page you will find practical information to plan a scuba diving trip to Sharm El Sheikh:
Where to stay?
I usually use this website to book in advance my hotels in Sharm El Sheikh as they usually have the lowest rates I find. I like it because it's free to cancel and change the dates.
Sharm el-Sheikh is a resort town with many hotels working with all inclusive packaged groups. You will find also lots of accommodation in the near Na'ama Bay. The hotels go from very basic to very luxurious.
If you look for budget accommodation, you will have your best chances in Shark's Bay located about 12 Km North East of Na'ama Bay. However independent travelling is very rare in Sharm and is not really easy as everything is made for package holidays.
Activities and excursions in Sharm El Sheikh
Sharm el-Sheikh is a very popular tourist destination and even if you are not diving, there are many activities and excursions you can do:
Visit the Old Market in Sharm Old Town
Have a day trip in the Desert and to Mount Sinai
Try Camel and Horse riding in the Desert
Enjoy a Quad Bike Excursion
Go to visit Dahab on a day trip
Go on a Snorkelling day tour to some of the best spots
Just Relax on the beach
Health and Safety
If you are planning an upcoming dive trip or travelling to Sharm El Sheikh, it is a really good idea to invest in travel insurance for scuba diving, because you never know what could happen and when you might need it (because accidents do happen!). I recommend this diving insurance as they offer worldwide coverage and focus on providing scuba divers a quality insurance and medical assistance service.
Where is Sharm El Sheikh located in the world?
Sharm el-Sheikh is located in Egypt, in the North of the Red Sea in the Sinai Peninsula.
See the map below.
Sharm El Sheikh Map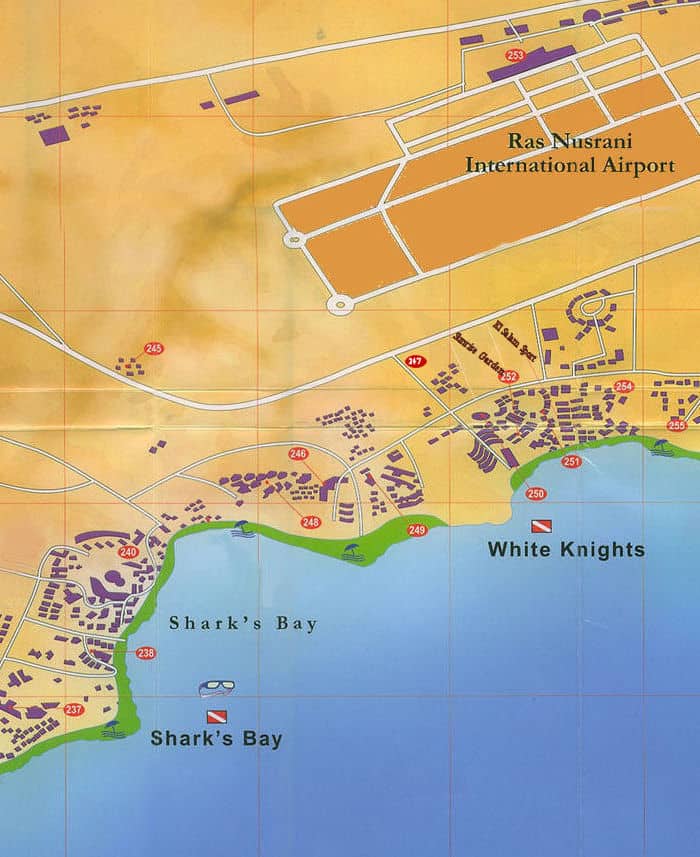 Photo Credit: http://www.flickr.com/photos/womeos/3270918755/
How to get to Sharm El Sheikh?
Plane
There is an International Airport at Sharm El Sheikh located 10km north of Na'ama Bay with many connections to Europe and Middle East.
It takes about 5 hours to fly from Europe to Sharm. Many regular European companies have direct flights to Sharm. In addition to classic flights, there are also charter flights during the high season in Winter. These flights are usually for all inclusive package holiday.
If you are already in Egypt you can also take a one hour flight with Egypt Air from Cairo to Sharm El Sheikh.
Once you are at the airport you will have to take the bus or a taxi for 30 min to reach the center of Sharm El Sheikh. Always ask for the meter when taking the Taxi!
Bus
From Cairo to Sharm El Sheikh, you take a bus or a Taxi for a 7 hours trip! Most of the buses are leaving from the Al Torgoman Station in Cairo.
From Eilat, in Israel, you can also take a bus to Dahab then Sharm.
Boat
You can go by fast boat from Hurghada to Sharm El Sheikh. It takes about 1h30 min and cost around 40 US$ for one way.
Do I need a visa for Sharm El Sheikh?
You need an Entry Visa to enter Egypt. You can purchase it at the Airport for 25 US$. However, there is a 14 Days Sinai Permit that you get for free at the Sharm El Sheikh International Airport when you get out of the plane.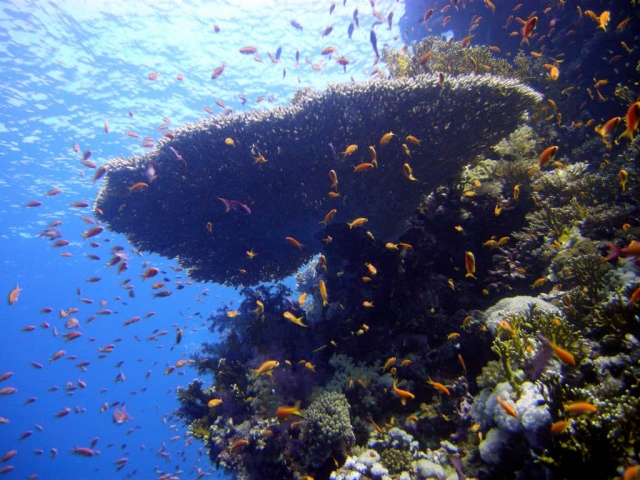 Getting Around
You can get around Sharm El Sheikh by Taxi or Bus. Be careful when taking a taxi as they don't usually put the meter, so insist to put it or bargain before the drive. If you know where you are going you can also take the local small buses. It is much cheaper!
Photo Credit: http://www.flickr.com/photos/womeos/3268537443/
Sharm El Sheikh Photos
Scuba diving
You will find all information about sea life, best time to visit, top dive spots, etc. in our review: Sharm El Sheikh Diving

Diving Reviews for this region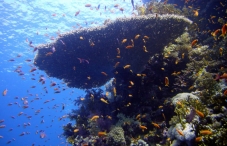 Magnificent Reefs at Ras Mohammed and one of the best dive site in the World, the wreck of the SS Thistlegorm.
Liveaboard Reviews in Sharm El Sheikh
Cruise ship Reviews in Sharm El Sheikh