Cost
You will not find cheaper!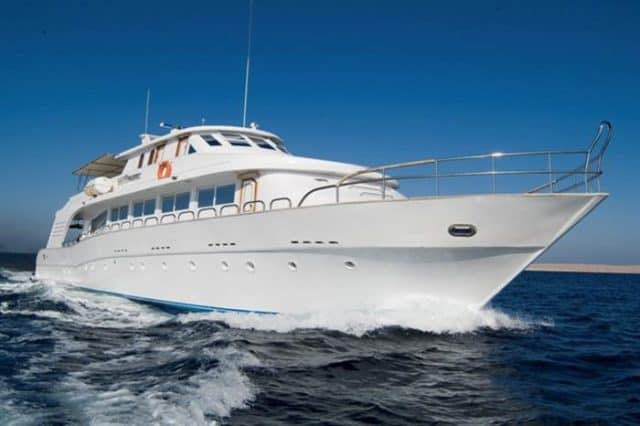 MV Dreams dive boat review
Since 1989, Sea Serpent Fleet, a luxury-class motor yacht diving operation, has operated liveaboard safari vessels in the Egyptian Red Sea. Sister ship to MV Miss Nouran, MV Dreams is one of the prestigious fleet. Sea Serpent Fleet have a wealth of local expertise to ensure you have a safe and memorable holiday.
The northern Red Sea offers stunning diving for all levels of diver; whether you're a relative novice or have 1000s of dives under your weight belt. To the north and around the Sinai Peninsula there are there are secluded reefs. Great visibility. And some world-class wreck diving for those divers who love the romance and challenge of a wreck dive. On dives you'll also find beautiful corals, colourful shoals of reef fish, barracuda, blue-spotted rays, napoleon wrasse, giant moray eels and octopus. In fact, there are over 2000 species of fish and coral in these waters.
MV Dreams was built specifically for the purpose of catering to the needs of modern divers. 28m in length and 6m in beam she is slightly smaller than some rivals such as sister ship MV Miss Nouran. However, Dreams accommodates fewer passengers and has a more intimate, cosy atmosphere for groups of 10-16. Twin 600hp engines allow Dreams to slice through the waves effortlessly between dive sites. She also has two 30hp diving tenders that accompany her. All the modern safety features you would expect are on MV Dreams; including but not limited to radio, GPS, satellite phone, EPIRB distress system, first aid and life rafts.
You can check the availability and prices for this Boat here.
Cabins and Boat Layout
MV Dreams can accommodate up to 16 guest across her 8 cabins.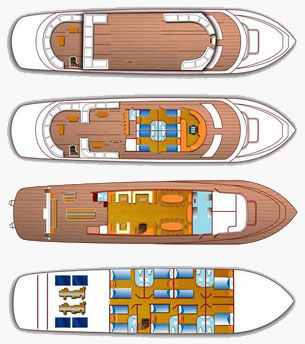 Every cabin has air-conditioning to ensure you're well rested for the following day's diving. There are 12 single beds and 4 bunk beds. Importantly, each cabin also has ensuite bathroom facilities for your privacy and comfort. There is also 1 public/communal bathroom.
There is a comfortable air-conditioned salon/lounge area on MV Dreams separate to the dining area. The salon has an entertainment system, TV and DVD player. It makes an ideal place to sit in comfort and chat with your dive buddies in the evening or inbetween dives.
In the dining area the chef will present a combination of western food and local dishes in a buffet style. When the diving is finished there are also alcoholic drinks available should you hanker for a cold beer in the evening. Snacks, water, tea and coffee are always available throughout the day in the unlikely event you're still hungry.
There is an amply sized sundeck. Complete with mattresses, this is a place where you can top-up your tan on surface intervals
Wi-Fi is available onboard during certain periods for those wishing to stay connected for work or pleasure – depending on your proximity to shore.
Diving onboard Dreams
The dive deck is roomy with plenty of storage space for the majority of divers. Before each dive, one of the professional dive guides onboard will be there to give you a thorough briefing and – if required – guide you in-water.
There are plenty of charging points for photographers as well as rinse tanks. Nitrox is available for those qualified (or those wishing to learn it's benefits with continuing education). Other courses are also available with either PADI or CMAS agencies.
If you're a Technical Diver or CCR diver, Dreams can cater for that – allowing you to spend longer on the stunning wrecks. Please be sure to notify your requirements on booking.
Twin 30hp dive tenders are always on standby for pick-up and drops where required meaning you are sure to be dropped in the optimum spot and picked up if you ascend with your SMB.
Itineraries
Departing from Hurghada, the itinerary is usually one of 8 days/7 nights. Dive site selection is obviously subject to the prevailing sea conditions but aims to take in the best available locations.
Expect to pay around EUR699 for a 8 day trip. This equates to EUR87/day, making Dreams outstanding value for money. Please note that this does not include some extras such as port/marine park fees, alcoholic drinks and crew tips. Please contact us for further details.
Where does this liveaboard dive boat go?
Check out the fabulous places where this dive boat travels to.
Note: some destinations may not be listed below, please enquire for more details.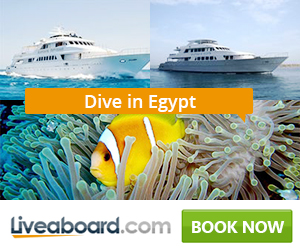 Other Liveaboard Reviews in Hurghada & North Red Sea & Red Sea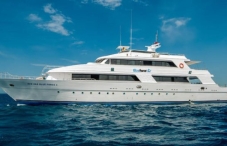 The 40 meters Blue Force 3 is a luxury l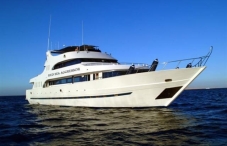 Internationally renowned liveaboard oper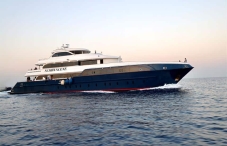 The All Star Scuba Scene Liveaboard is a
Dive spots reviews in Hurghada & North Red Sea & Red Sea