MV Seawolf Dominator dive boat review
The Red Sea is a well-known diving destination to most Europeans and the quality of it's diving is renowned globally. MV SeaWolf Dominator is comfortable and salubrious way to tour the Red Sea region; offering tours from the Northern Wrecks to the Southern marine parks and walls.
The Red Sea is home to a broad spectrum of marine life and diving. To the North near the Sinai Peninsula there are world famous wrecks, such as the SS Thistlegorm. Teeming with life and always a treat for history buffs getting to see the wreck complete with locomotives and motorcycles. There are also the wonderful clear blue waters in the Straits of Tiran.
To the south closer to Marsa Alam are the stunning islands and reefs such as Elphinstone where, on lucky days, you may have a hammerhead encounter.
SeaWolf Dominator was originally built for purpose in 2007 and then underwent a thorough re-fit during 2015. At 36m long and 8.5m in beam she's a large and imposing vessel. Fast and comfortable, with two 750hp Daewoo motors powering you smoothly from wreck to reef at rapid 12 knots.
You can check the availability and prices for this Boat here.
Cabins and Boat Layout
SeaWolf Dominator is large and spacious. She is able to cater to 24 guest in comfort over 9 double cabins and 3 suites.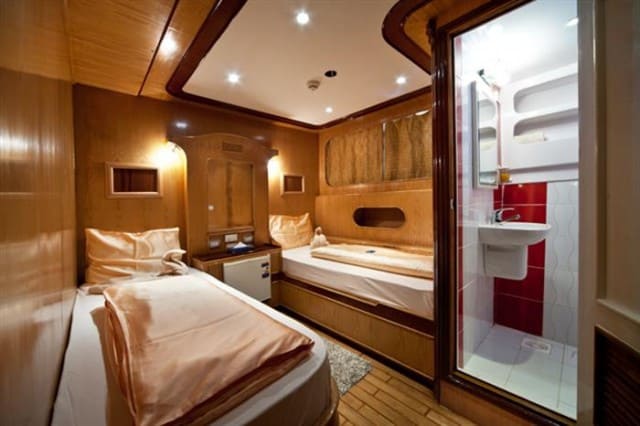 The double cabins are approximately 9m2 in size and have ensuite bathroom/shower facilities.
Upper deck double cabins are marginally larger and, being on the upper deck, offer more natural light.
Both of these options are 'twin' occupancy with single bed.
Also on the upper deck, the 'suite' is approximately 10m2 and in addition has a double bed and better storage facilities. All cabins are air-conditioned and benefit from daily housekeeping and a mini-bar.
Leaving the spacious and comfortable cabins, there is a soft and inviting lounge area. Tastefully trimmed with soft seating, you may choose to relax in air-conditioned luxury on a sofa, read a book or watch a movie on the entertainment system. There is also wi-fi onboard for those who need to stay connected.
From the galley the onboard chef will serve a combination of western and local cuisine three times a day to keep you nourished and ready for the next dive! Beers are available in the evenings or for non-divers and snack are available throughout the day.
If you're the sort of person who prefers to relax outdoor, there is a large sundeck and outdoor leisure deck where you can soak up the sun and chat with fellow divers.
Being such a large vessel, it never feels cramped and there is lots of space for you to truly unwind and enjoy your holiday.
Diving onboard SeaWolf Dominator
The experienced dive crew, who speak English, German and Russian, will take you to the best diving spots. Once thoroughly briefed you will have the option of either buddying-up and completing your dive within safe parameters or following one of the experienced dive guides who will be able to take you on some of the best routes around the various dive sites.
For those qualified, there is Nitrox available onboard at a small addition cost. Absolutely essential for those wishing to stay a little longer at depth.
The vessel has 2 diving zodiacs equipped with 40hp outboards to assist with pick-ups and drops at some sites and – for the photographers – there are camera stations, charging points and rinse tanks.
Itineraries
Itineraries vary on Seawolf Dominator. So whether you're the sort of diver who prefers drifting along a reef or wall or, alternatively, you're a wreck-head – there's something for you!
Voyages are typically 8 days. Expect to pay around EUR1,250 for this length trip. This equates to 140/day. However, please note that this does not include some extras such as port/marine park fees and equipment rental. Please contact us for further details.
Where does this liveaboard dive boat go?
Check out the fabulous places where this dive boat travels to.
Note: some destinations may not be listed below, please enquire for more details.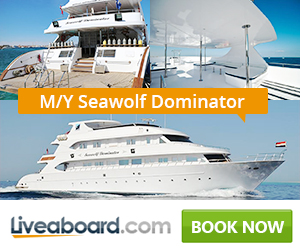 Other Liveaboard Reviews in Hurghada & Marsa Alam & Red Sea & Sharm El Sheikh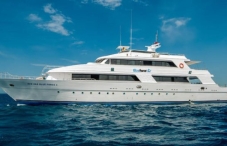 The 40 meters Blue Force 3 is a luxury l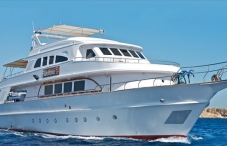 The 28 meters Blue Force 2 liveaboard of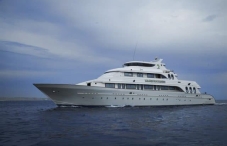 The stunning 41 meters luxury liveaboard
Dive spots reviews in Hurghada & Marsa Alam & Red Sea & Sharm El Sheikh