Cost
Expensive, and Luxury!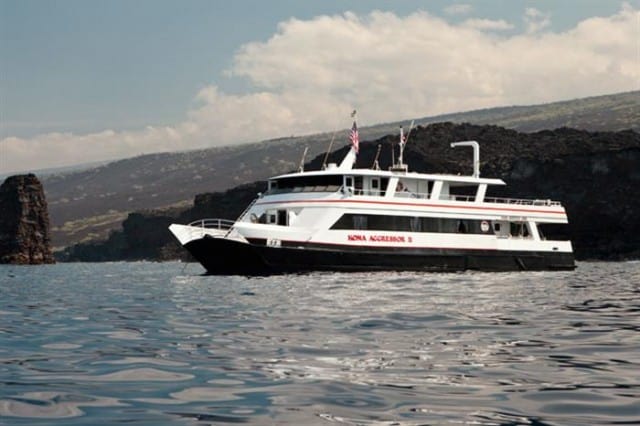 MV Kona Aggressor dive boat review
Owned by the long-standing international liveaboard company, Aggressor Fleet, MV Kona Aggressor II is the company's offering in the wonderful waters of Hawaii.
Hawaii is to a certain extent a less well publicised diving location. However, it offers some spectacular diving all year round due to it's tropical location. It's an amazing 3200km/2000m from the closest continental mainland. There's no shortage of marine life, with the opportunity to see hordes of schooling reef fish, small critters and lobsters, moral eels, white-tip reef sharks, giant green sea turtles and – for some lucky divers – dolphins and whales.
The MV Kona Aggressor II is 80ft/24m long and 20ft/6m in beam. This makes her one of the smaller vessels in the Aggressor fleet. However, don't feel that safety has been compromised due to her more modest dimensions. She is built to U.S. Coastguard standards. Kona Aggressor is built specifically for divers in accordance with Aggressor Fleet requirements. She has a full compliment of safety equipment onboard – everything from first aid kits to fire extingushers – and she is amply equipped and laid out to meet the needs of scuba divers.
You can check the availability and prices for this Boat here.
Cabins and Boat Layout
Kona Aggressor, in common with her sister vessel Bahamas Aggressor, offers berths for 14 guests.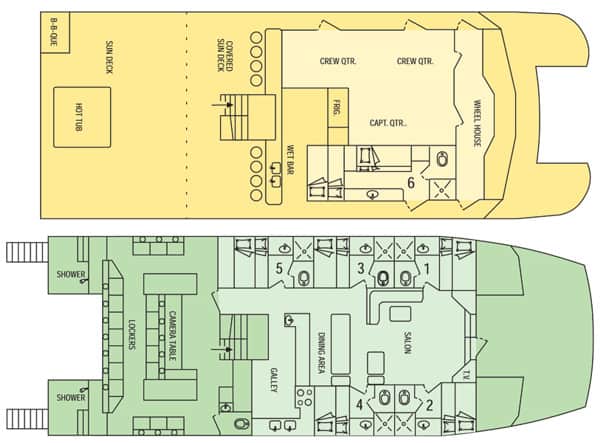 Each of the 5 Deluxe Stateroom features a lower double bed and has an upper single bunk above. All of these cabins have a private head, shower and port window. In addition there is individual air-conditioning and TV/DVD. The Deluxe Staterooms are all almost identical in size are a comfortable size and well-appointed.
A great choice for a family or group of friends, the Quad Stateroom is slightly more generous to accommodate two sets of twin bunk beds but, otherwise, has identical facilities.
Moving around Kona Aggressor there are numerous other facilities and amenities to enhance your trip and make your stay more palatable.
On this vessel there are only 2 decks as opposed to the more common 3. However, due to the twin-hulled-style layout of the Kona Aggressor there is lots of living space in the centre of the vessel.
When not diving there's a dining area where you can enjoy a combination of local and western/American cuisine prepared onboard. There's snacks throughout the day should you still feel hungry as well as water, tea, coffee and soft drinks.
The Salon is also on this deck and has a full entertainment system on which you may watch one of your favourite movies or chat with friends and fellow guests from the comfort of a soft chair.
Outside on the upper deck is there's a partially covered sun deck, a hot tub and 'wet bar'. This a great place to while away the surface intervals and share stories and photos with fellow divers while having a drink. There are also alcoholic drinks available onboard for when you're soaking up the sunset and have finished diving for the day.
Diving onboard Kona Aggressor II
Almost unbelievably, the Kona Aggressor II offers up to 5 dives a day. So, with this in mind, the vessel has a nitrox membrane system which provides gas mixes cutting down nitrogen exposure; allowing those qualified to extend bottom time and stay fresh.
Kona Aggressor II also has support dinghies which trail the main vessel. These come in useful to ensure safety of divers and assist with shore excursions.
The boat has a spacious dive deck and swim platform. Here, for all divers, there is a camera station, charging points, rinse tanks for your more sensitive equipment and warm water showers.
Itineraries
Itineraries vary depending on the season but are usually 7-8 day voyages departing from Kona and heading out of the range of day boats to more exclusive dive sites such as Tubestria Tunnel, Turtle Pinnacle and The Hive.
Expect to pay around EUR1,900 for a typical length trip. This equates to around 217/day. However, please note that this does not include some extras such as port/marine park fees, nitrox and equipment rental. Please contact us for further details.
Where does this liveaboard dive boat go?
Check out the fabulous places where this dive boat travels to.
Note: some destinations may not be listed below, please enquire for more details.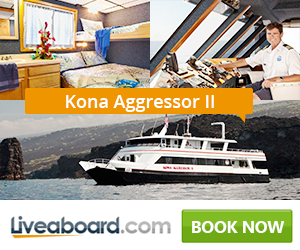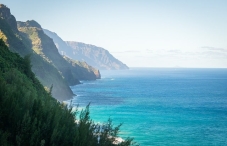 The tropical island paradise of Hawaii extends to the surrounding waters offering divers untold excitement.
Other Liveaboard Reviews in Hawaii & Kona
Dive spots reviews in Hawaii & Kona
No dive sites reviews found