Cost
Simply the best of everything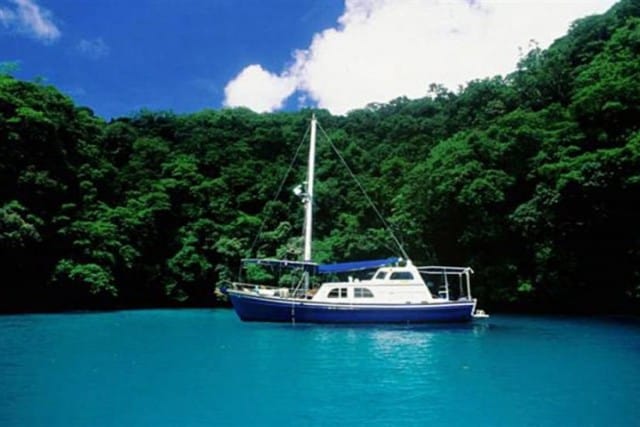 MV Ocean Hunter I dive boat review
For smaller groups and a bespoke, more intimate diving experience in Palau, MV Ocean Hunter I is an excellent choice.
A chain of approximately 200 islands in the western Pacific Ocean makes up Palau. Nearly 650 miles southeast of the Philippines, Palau is a diver's paradise offering some of the most diverse aquatic life in the world. Palau is a habitat to schools of fish, wonderful reef systems and home of the legendary Jellyfish Lake and Blue Corner dive sites.

MV Ocean Hunter 1 is a smaller liveaboard vessel for groups of up to 6 divers. The vessel is the brainchild of Navot Bornovksi and Francis Toribiong. Made by divers for divers she was originally built in Holland in 1979 but has been continually updated since. Ocean Hunter I is 20m long and with a beam of 5m. She is powered by twin 175hp engines and effortlessly cruises the picturesque islands and reefs of Palau at a cruising speed of 7 knots.
You can check the availability and prices for this Boat here.
Cabins and Boat Layout
There are only 3 cabins onboard Ocean Hunter 1 for the 6 guests.
Cabin 1 is a twin occupancy cabin with bunk beds and ensuite shower and bathroom facilities.
Cabin 2 is twin cabin but instead features a king size double bed with a single bunk above. This makes Cabin 2 suitable as either a double/couple occupancy or as a twin single cabin. It also as ensuite shower and bathroom facilities.
Cabin 3 is the most spacious on the vessel and, as with Cabin 2, has a king size double bed and a single bunk. This is an ideal cabin for family use.
All cabins have air-conditioning to ensure you have a comfortable night's rest.
Outside of the cabins there is a cosy saloon/lounge area where you can relax. Next to this is the galley where there are snacks available all day. It's also where resident chef, Roy, prepares the main meals with the locally sourced and freshest ingredients ensuring that you're well-fed for the dives ahead!
Diving onboard MV Ocean Hunter 1
Diving onboard is of course the focus of the amazing diving on offer. Ocean Hunter I offers diving suitable for all levels. So, whether you're a seasoned diver with thousands of dives under your belt or, alternatively, you're an Open Water or Advanced Open Water diver, there's something to meet your experience and skill level.
One of the main advantages of Ocean Hunter I over her peers is that the diving takes place from the main vessel where possible, rather than the zodiac, dinghy or chase-boat. This means divers can enter and exit the water directly from the dive platform and explore Palau's wonderful, untouched reef systems.
You'll also find excellent facilities for photographers with a large facility to work from, ample power points and overnight E-6 processing.
From the diving point of view – it's a case of diving as much as you wish to within safe recreational limits – the diving is unlimited! With that in mind, enriched air (Nitrox) is also available for those suitably qualified to use it.
The Divemaster onboard will thoroughly brief you before each dive and, as would be expected, a 'safety sauasage' (DSMB) and the ability to safely deploy it is a must.
Itineraries
Itineraries vary with voyages on Ocean Hunter 1 around Palau between 8 and 11 days on offer. As well as trips to some of the famous locations such as jellyfish lake! Expect to pay between EUR3,324 for a typical 8day/7night trip depending on the season and itinerary.
This equates to a reasonable 415/day. However, please note that this does not include some extras such as equipment hire, alcoholic drinks and entry into some marine parks. Please contact us for further details.
More information about the best diving in Palau here and about the best Palau Liveaboard.
Where does this liveaboard dive boat go?
Check out the fabulous places where this dive boat travels to.
Note: some destinations may not be listed below, please enquire for more details.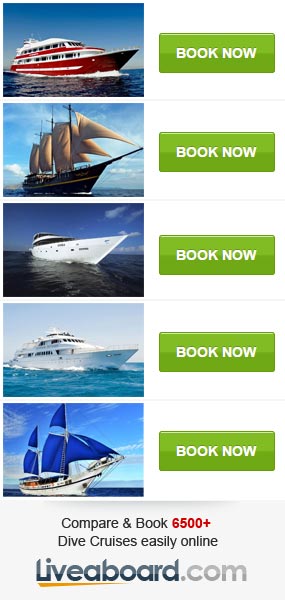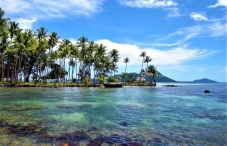 Yap for the Manta Rays or Chuuk for the shipwrecks? So hard too choose!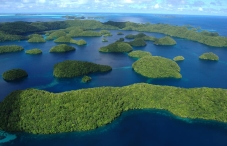 Palau is within the coral triangle and is one of the "Seven Underseas Wonders of the World".
Other Liveaboard Reviews in Micronesia & Palau
Dive spots reviews in Micronesia & Palau
No dive sites reviews found