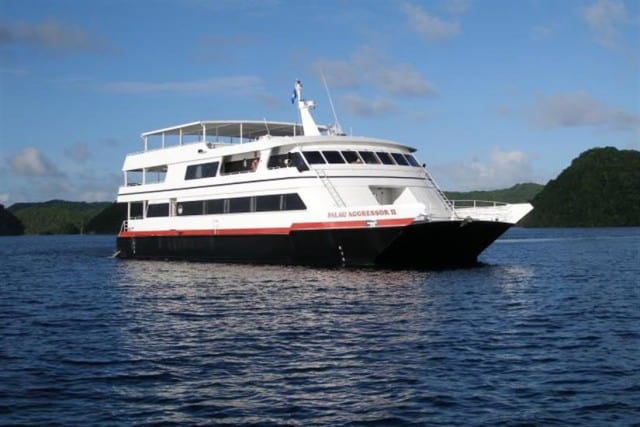 MV Palau Aggressor II dive boat review
The MV Palau Aggressor II is one of the imposing vessels of the worldwide Aggressor Fleet of vessels. The company, based in the USA, has worldwide facilities and experience.
Diving in Palau is known to be some of the best on the planet and offers year-round diving. The marine life is some of the best available. So, even for the most experienced and seasoned diver, there are breathtaking encounters on offer. The 250 islands that comprise Palau are home to intricate macro-life, lush corals and huge schools of sweetlips and unicorn fish. Hoping to see something larger? There's always a chance of some shark or ray action.
The MV Palau Aggressor II is 32m long and designed specifically for purpose in accordance with Aggressor Fleet Standards.
Palau has been an Aggressor Fleet destination since 1990. With a dive crew of 6 people to attend to your needs and a vessel built to comply with the stringent US Coast Guard standards you're assured of a safe voyage.
Palau Aggressor II is slightly larger than her immediate peer, Ocean Hunter III, which is 29m long. However, she also accommodates 2 more guests.
You can check the availability and prices for this Boat here.
Cabins and Boat Layout
Palau Agressor II is able to comfortably accommodate 18 guests.
There are no less than 8 Deluxe Staterooms on the vessel. And a marginally smaller 1 Double Stateroom.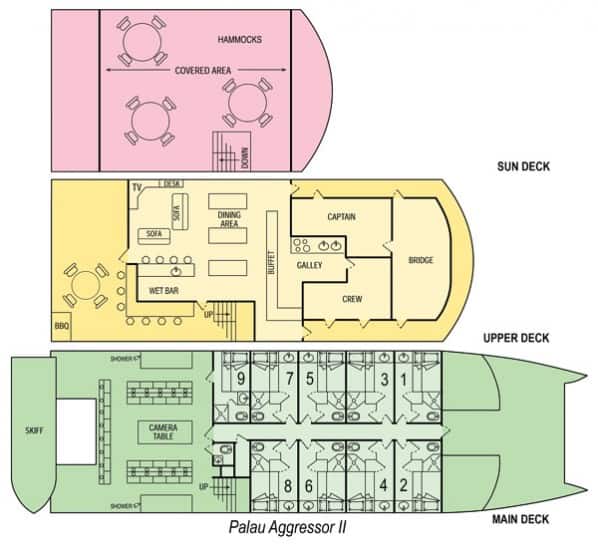 Each Deluxe Stateroom features a queen-sized double bed with single bunk above, a private shower, head and wardrobe. In addition there is climate control and a hair dryer.
The Double Stateroom has similar features and is located adjacent to the dive deck.
All cabins are located on the main deck. Moving upstairs to the upper deck you'll discover a wet bar where you can relax, chill and enjoy a cold beer or cocktail at the end of a day's scuba action.
There is a soft and inviting saloon area where you may choose to relax on a sofa, read a book or watch a movie on the TV. There is a spacious dining and buffet area next to the galley where the onboard chef will serve a combination of western and local cuisine. There is no danger of getting hungry! Also, snacks, soft drinks, tea, coffee and beer are complimentary.
Moving to the top deck there are sun loungers and hammocks for those relaxing surface intervals. The sun deck is partially covered and you have the option to nap in the shade or simply take in the view as you cruise to your next destination.
Diving onboard Palau Aggressor II
The diving all takes place from the accompanying dive skiff that acts as a chase boat. Following you briefing it will drop you in exactly the right place at the right time – allowing you to maximize your diving experience.
The vessel has a nitrox membrane system which provides gas mixes to qualification and dive site; allowing those qualified to extend bottom time and stay fresh.
There can be strong currents in Palau. We highly recommend divers bring safety items such as a Dive Alert and DSMB. Dive computers are mandatory to ensure safe repetive diving.
Itineraries
Itineraries vary depending on the season and the prevailing conditions – taking in reefs, wrecks and even, sometimes, the famous jellyfish lake!
Palau Aggressor II Voyages are typically 8 days. Expect to pay around EUR2,512 for this length trip. This equates to 245/day. However, please note that this does not include some extras such as port/marine park fees and equipment rental. Please contact us for further details.
More information about the diving sites in Palau here and about the Palau Diving Liveaboard.
Where does this liveaboard dive boat go?
Check out the fabulous places where this dive boat travels to.
Note: some destinations may not be listed below, please enquire for more details.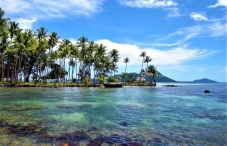 Yap for the Manta Rays or Chuuk for the shipwrecks? So hard too choose!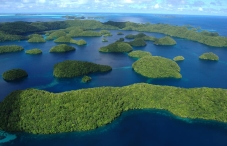 Palau is within the coral triangle and is one of the "Seven Underseas Wonders of the World".
Other Liveaboard Reviews in Micronesia & Palau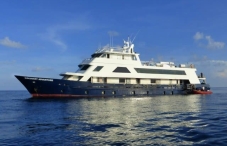 The MV Discovery Adventure is a liveaboa
The 'Rock Islands Aggressor' is one of t
Dive spots reviews in Micronesia & Palau
No dive sites reviews found