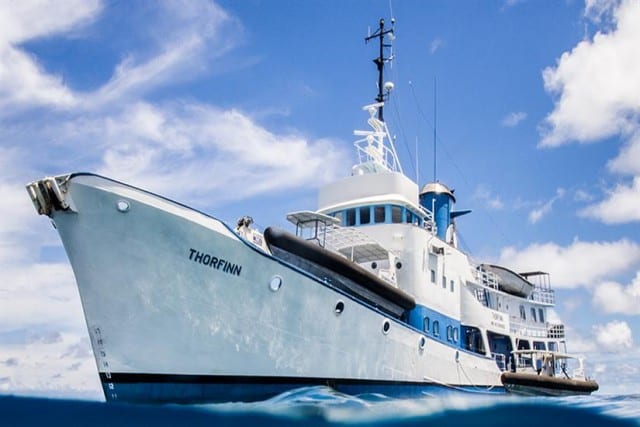 SS Thorfinn dive boat review
One of the most imposing and impressive liveaboard vessels in the world, SS Thorfinn is a highly impressive ship taking it's lucky divers to discover the historic wreck diving site of "Truk Lagoon".
You can check the availability, schedule and prices for this Boat here.
Whole books have been written about Chuuk Lagoon, or 'Truk' as it is commonly known. 50 miles by 30 miles in length and breadth, it became home to the Empire of Japan's naval base during WWII. During 1944 an attack by US forces was launched on the base and dozens of warships and aircraft were sent to a watery grave. The wrecks – and an abundance of amazing marine life – now wait beneath the waves to be discovered by divers lucky enough to make the journey.
The SS Thorfinn liveaboard is big. Very big. Built in 2005 and a whopping 58m long, Thorfinn is as spacious as any diver could possibly need. She is without comparison or peer in size and facilities. Able to power through the waves at a maximum of 16 knots, but with a cruising speed of 11 knots, she is a large behemoth of a liveaboard able to comfortably cater to 20 Diving guests.
Cabins and Boat Layout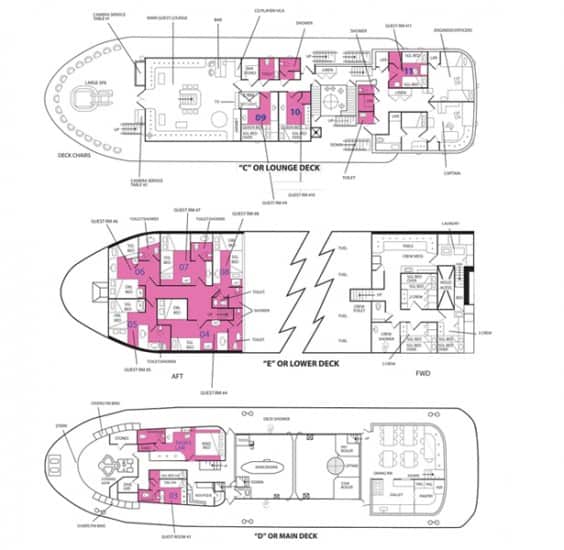 There are 10 air-conditioned staterooms to accommodate 20 guests in double occupancy. All have subtle, indirect lighting, full length wardrobes and TV/DVD facilities. Eight of the rooms on 'D' and 'E' decks have queen-sized beds plus an adjacent single berths. These cabins have their own private toilet and shower facilities.
In addition, there are 3 additional cabins on 'C' deck with two shared showers and two shared toilets.
For those wanting even more exclusivity and privacy, "Thors Lair" is available for a supplement. An exclusive luxury suite with king-sized bed, settee, large TV, PC and table/chairs, fridge, bar and a walk-in wardrobe. It also offers four windows with a view to the panorama outside.
The facilities on the rest of the ship include a spacious guest lounge with 50inch multimedia LED system. So, whether you wish to watch a movie, review your underwater video footage or simply play some tunes from your iPod, Thorfinn has the connectivity. There is comfortable seating and a library of books and reference materials.
A bar is in this area provides everything from tea and coffee to wines and spirits at a reasonable cost.
There's a devoted dining area on 'D' deck which has ample space for 22 guests to eat in comfort. There are two chefs onboard creating meals of a mixture of local and international foods. Dietary requirements can be accounted for upon request.
Outside there is a large spa deck with an enormous 12-person Jacuzzi in which you can relax and unwind with a cold beer after a day's diving. Alternatively, should you want to top up your tan, there is a large sun deck with loungers and a great view of the surrounding ocean.
Scuba Diving onboard Thorfinn
Diving in Truk is possibly the ultimate combination of wreck and reef diving. Nowhere else in the world are you likely to find an abundance of tropical aquatic life matched by an abundance of historic WWII shipwrecks.
The Scuba Diving in Truk covers all levels of ability. Some wrecks are easily accessible. Some require advanced and technical training. The facilities on Thorfinn reflect those requirements.
The dive deck is more than adequate in size. There are two separate embarking stations (port and starboard sides) to the dive launches which pick-up/drop you at the dive sites. There are fresh towels and fresh water showers onboard the launches. And, for the photographers, dedicated rinse tubs and camera facilities.
There are two dedicated filling stations for each dive team (port and starboard) and nitrox is complimentary and well worth having. For those qualified and doing longer run-times, technical filling is available.
There are also dedicated lifting derricks and in-water, for those less confident, there are attendant dive guides.
Itineraries
While wreck are the main attraction of Truk, there is lots of aquatic life to be amazed by here too. Itineraries are typically 8 days/7 nights touring the lagoon.
Expect to budget approximately EUR2,330 for this itinerary. This equates to 291/day. However, please note that this does not include some optional extras such as rental equipment, rebreather or technical services. Please contact us for further details.
More information on this page about Palau Liveaboards.
Where does this liveaboard dive boat go?
Check out the fabulous places where this dive boat travels to.
Note: some destinations may not be listed below, please enquire for more details.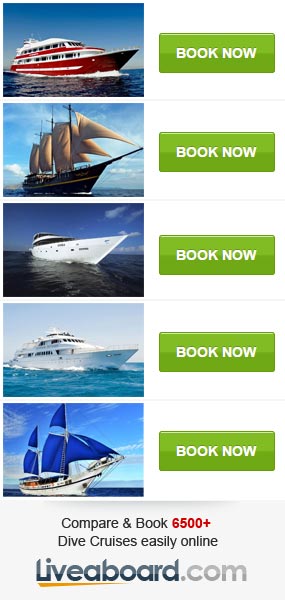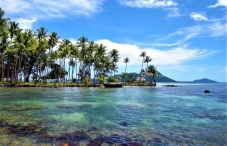 Yap for the Manta Rays or Chuuk for the shipwrecks? So hard too choose!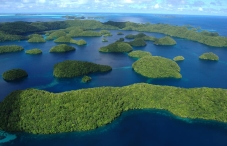 Palau is within the coral triangle and is one of the "Seven Underseas Wonders of the World".
Other Liveaboard Reviews in Micronesia & Palau & Truk Lagoon
Dive spots reviews in Micronesia & Palau & Truk Lagoon
No dive sites reviews found