Most people go SCUBA diving for pleasure or simply to get respite and recharge their batteries from tedious corporate day jobs. But above all else, SCUBA diving is an amazing way to experience the magnificence of the underwater world, especially for nature lovers.
If you absolutely love SCUBA diving and you are passionate about nature too then maybe it's time to take it to the next level. Here are some of the top jobs related to diving in the nature!
Diving Instructor Job Description
A Diving Instructor teaches people who are interested in learning how to dive either for recreational or commercial purposes. More than just teaching and training soon-to-be-divers, Dive Instructors are primarily responsible for the safety of the diving party as well. They are also in charge of the maintenance of diving equipment and when the need arises, they can also maneuver a boat and be its instant captain! Woohoo!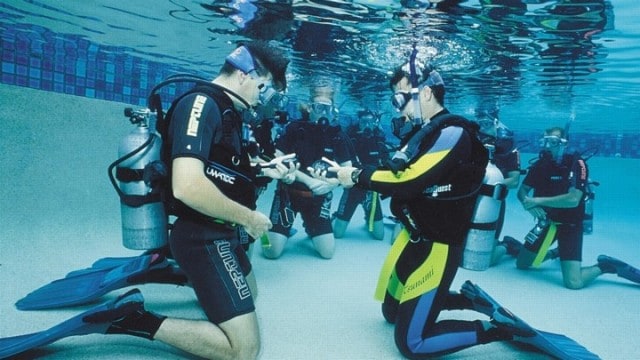 A Diving Instructor teaches his students the required various diving skills in the pool to prepare them for their open water dives.
Only Diving Instructors are allowed and authorized to teach SCUBA diving lessons and classes. Wanna join? Check out our
Diving Jobs board
!
Divemaster job description
Have you ever wanted to be an underwater tour guide? By being a Divemaster, you can lead divers around exploring a coral reef, showing them the fascinating nooks and crannies of the underwater world. One of their main roles is to help the Diving Instructor with the training and supervision of the divers. They are to assist on the different diving courses, but are strictly not allowed to teach diving classes! This awesome role is offered within many dive centers worldwide and oversee that everything always runs smoothly and as planned.

Divemasters assist the Diving Instructor in trainings and diving classes.
Underwater Photographer
"A picture paints a thousand words" is indeed truer than ever. If you are bedazzled by underwater flora and fauna and taking pictures is right up your alley, then maybe, being an Underwater Photographer is what you are dreaming of! Unleash your creativity and imagination together with your good technical understanding of photography. Their photography is not only useful for portraits but also for reports, publications, projects, exhibits and the likes.

Underwater photographer makes pictures more appealing to the viewers by selecting the perfect angles and choosing the right illumination for photos.
Wayne Levin is an American Underwater Photographer, who spent his career photographing the mysterious underwater world.
Marine Biologist
If swimming along marine organisms and studying them gives you an adrenaline rush then maybe you are destined to be a Marine Biologist! The potential surprises to be found in the career world of Marine Biology are endless. They can teach and work as consultants, laboratory technicians and researchers. As research scientists, they dive to learn about the relationship between different reef organisms and the status of marine habitats and environment.

The Line Intercept Transect (LIT) methods is one of the survey methods used by Marine Biologists to determine the condition and status of the coral reef and its resources.
Aquarium Diver
Want to dive and interact with marine animals? Well, you don't need to go to the beach to do so. Just be an Aquarium Diver instead! They take care of the animals by preparing food and feeding the marine animals underwater. They also observe and monitor the animals in their tanks to check for any problems or illnesses arising. They make sure that tanks are kept clean and regularly maintained. Sometimes, Aquarium divers also entertain, interact and answer the questions of students and other visitors. Fun and interactive!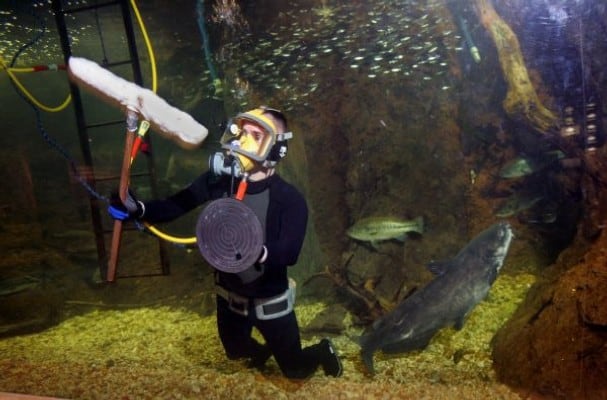 Aside from feeding the animals, one of the Aquarium Diver's most important tasks is to keep the aquarium/tank clean and well maintained.
Each diving job is different and might give you the adventure and inspiration you've been looking for. They can create an "out-of-this-world" experience and possibly give you a new appreciation for SCUBA diving. We say, go for it!
Related Posts