Chris Dai is telling us about his Galapagos Island, Ecuador June 2013 diving trip. He has been a SCUBA diver for the last 8 years, and has started shooting pictures underwater 3 years ago. Based in Singapore, he has been diving around the South East Asia, including Pulau Sipadan of East Malaysia, Bali and Manado of Indonesia and also various dive sites of the Philippines. If you wish also to publish your article, contact me.
Hi Divers.
Ever since I picked up diving 8 yrs ago… it has been my dream to dive with the hundreds of hammerheads and to witness one of the world's greatest wildlife migration. This June, I finally had the privilege to dive the Galapagos on Liveaboard, one of the world heritage sites and here is a brief trip report to share my experience.
10th June – Monday
Arrived at San Cristabal after flying for 30 hrs transiting at London, Madrid and Guayaquil. At the San Cristabal, you will need to pay 100usd for the marine park fee upon the entering Galapagos. After that, our guides picked us up at the airport and transfer all the LOB guests to the jetty to board the cruise.
The sea lions were just lying everywhere near the Jetty!! Having seeing this sight, we certainly cant wait for what lies ahead of us in terms of the diving. Its a gd thing to note that water temp ranges from 18 – 26 degree celsius depends on various conditions, thus a 7mm wetsuit and hood will be enough to keep you comfortable. We had a checkout dive to test our equipment and weights to ensure we are properly weighted. They also offer 3 compulsory safety equipment for free – SBM, a signaling device and a GPS locator. Apparently its a marine park rule due to the harsh diving conditions. We set sail throughout the night.
12th June – Tuesday
The 2nd day includes 2 morning dives at Punta Carrion. Vis 5 – 10m. Consider these two dives as "practice dives" to get use to the cold water and the weighting. Nothing much other then a couple of 1.5m white tip sharks, a devil ray, a couple of green turtles and some small school of fishes. Diving here is also very different from SEA cos there are no colorful corals at Galapagos.
Did a land tour at North Seymour. In my opinion, one of the main highlights of the trip. We had close encounter with the sea lions, blue foot boobies, land iguana and many other large birds. We set sail for Wolf Island after the land tour which will take the whole night.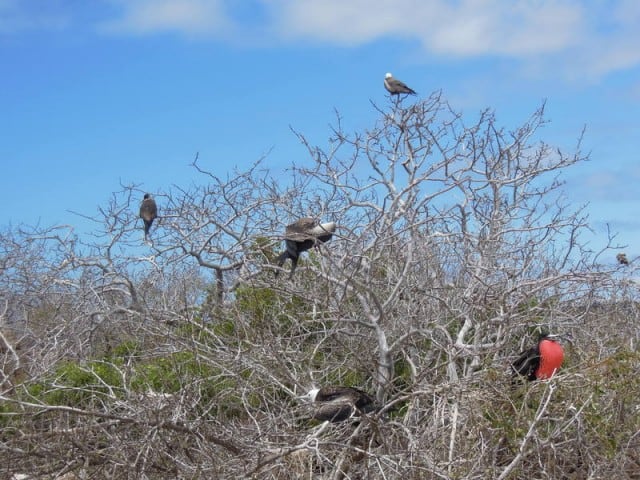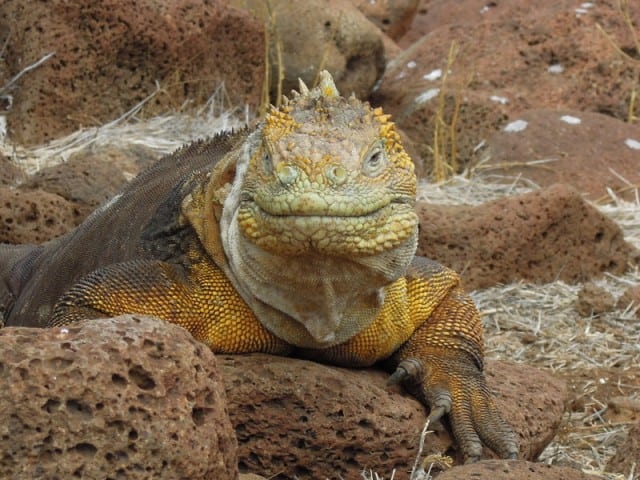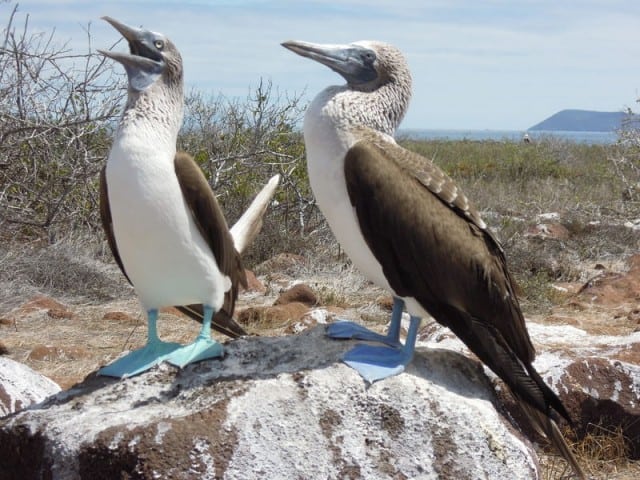 13th June – Wed
4 dives at Wolf Island. Main highlight of the trip – the Hammerheads!! 2 main sites here namely the Shark Bay and Landslide. Conditions are really rough both underwater and on surface. However, diving here can be pretty straightforward as well. Find yourself a spot and simple see all the action unfold in front of you. Hundreds of schooling hammerheads, eagle rays, galapagos sharks and silky sharks just everywhere and there is no need to find, as they are just there! Simply amazing! The only unfortunate thing was that vis was rather bad and pictures and video are extremely difficult to take. Some pictures here from Wolf Island.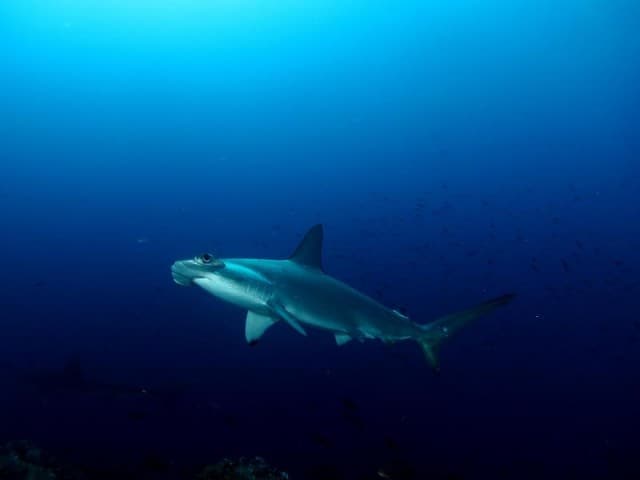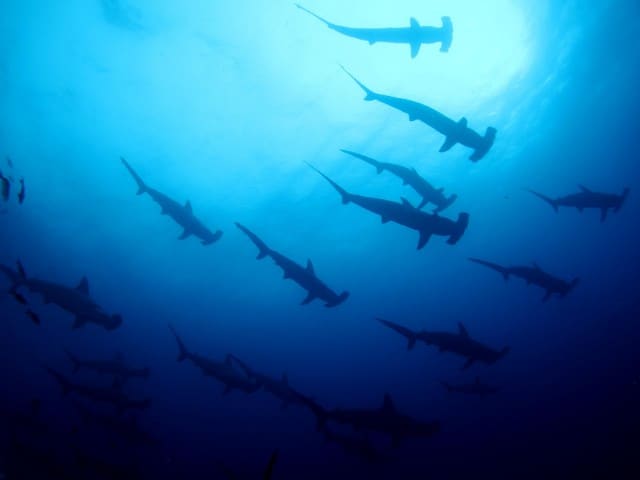 14th – Thurs
2 Dives at Wolf Island. Same conditions with even lower vis. Taking a good picture with the school was simply too tough for my S95 and my skills.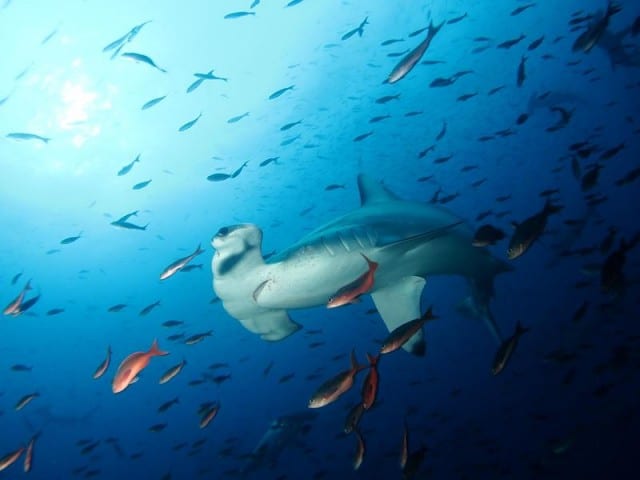 Set sail for Darwin Island. The famous island which named after Charles Darwin. 2 dives at the Darwin's Arch. Apart from the strong current… a very easy site. Just fin hard to the "platform" at 16m and wait for the action. Mostly same as Wolf Island but there is a huge chance for whale shark between Aug – Dec. As its not in season, we can only hope for the best. No whale sharks but the sharks are larger than Wolf Island in our opinion.
I was very unlucky at the 2nd dive at Darwin as i scratched my fisheye lens. :'(
15th June – Friday
4 dives at Darwin. Lady Luck was on my side during the 2nd dive as we finally spotted a 5m baby whale shark! However, one of the divers grabbed the fin and tried to ride on the whale shark which caused the shark to escape quickly. Of cos… he was reprimanded by the guides openly in front of all the crew and guests.
After lunch, we dive again and hope that the whale shark will return. What surprise us was the appearance of another 7m shark. It circled among us for abt 5 mins and this is the best shot i managed with my damaged lens.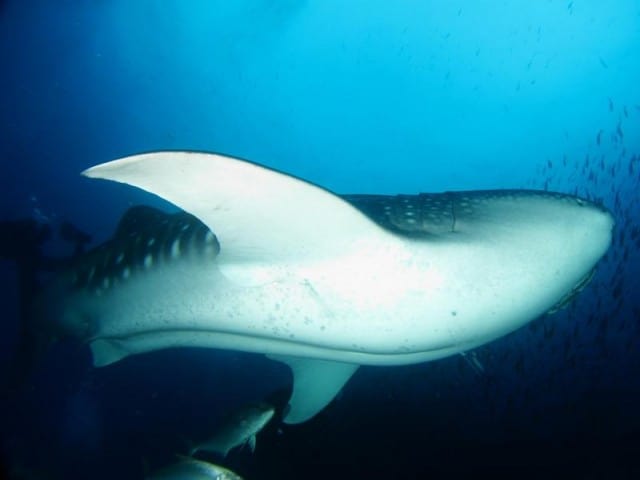 No whale shark for our last dive at Darwin however, we were "ambushed" by these curious silky sharks during our safety stop.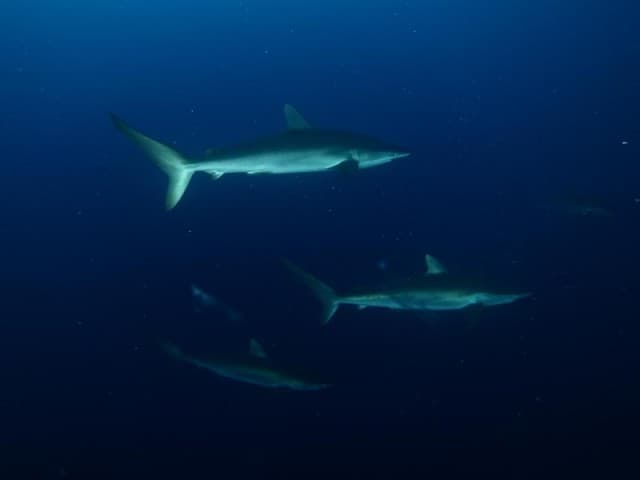 We return to Wolf Island overnight for another 3 dives.
16th June – Sat
3 dives at Wolf Island. Even lower vis on this day and the water temperature reduce to 21 degree celsius. Given the bad vis and damaged lens, i simply enjoy the experience of diving with the school of hammerheads, instead of looking at them through the LCD screen.

We set sail overnight to return to the main island.
17th June – Sun
Last diving day. 2 morning dives at Cousin Rock. 5m vis with greenish water. Best chance for macro stuff, however, the 18 degree water doesnt help and I surfaced after a short 30min dive without shooting much. I even dropped out the 2nd dive as i simply cannot tahan the cold.

In the noon, we finally landed at Santa Cruz for our 2nd land tour to see the Giant Tortoises. After that, we headed to the town for some OTOT activities and shopping.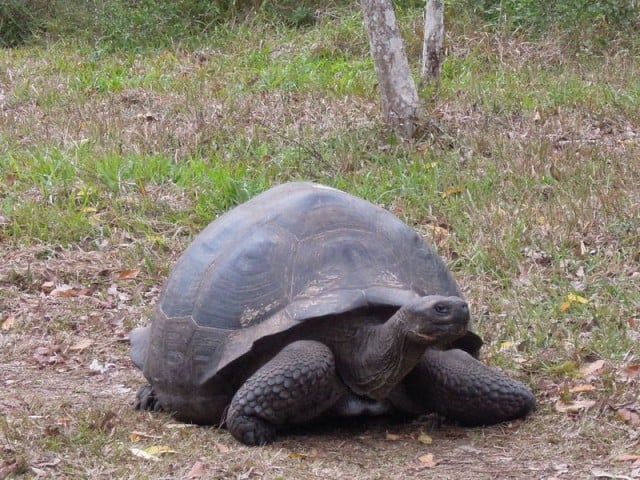 18th June – Monday
Check out from hotel at Santa Cruz and returned to Singapore.
Galapagos Island is truly an amazing place, both underwater and on land. The diving is challenging with alot of surge and current but the worth the effort. I believed no other place on earth offers year around schooling hammerheads and other sharks. Not to forget about the occasional playful sea lions and dolphins which will check the divers out while doing safety stop. Its a pity that the LOB itinerary which i chosen is the shortest amount all (7d7n), thus we missed out the sites to dive with the endangered Galapagos Penguins and Marine Iguana. Worth to save up and go again 3-5yrs later?


:).
Its been a long post and i will stop here. Thanks for reading!
Related Posts