If you have been to Bohol Island before, please share your experiences, ideas and feedback (Hotel, Excursions, General Feeling,…) in the comments section below, by doing so you will help fellow travellers to plan their next trip

Bohol is a magnificent tropical Island located in Central Visayas in Philippines. It is the second main tourist destination in the country after Boracay. Bohol Island is also the main scuba diving destination in the Phillipines and has excellent diving opportunities to offer.
The Island is really beautiful and features white sandy beaches with coconut trees and crystal clear water on the shore and lush jungle, rice terrasses and waterfalls in the interior. In addition the Chocolate Hills and the discovery of the Tarsier a very small primate are also main tourist attractions.
In this page you will find practical information to plan a scuba diving trip to Bohol Island:
Where to stay?
I usually use this website to book in advance my hotels in Bohol Island as they usually have the lowest rates I find. I like it because it's free to cancel and change the dates.
There is a wide range of accommodation available around Bohol. You can find anything from very basic dorms and rooms for budget travellers to beautiful and luxurious beach resorts (and everything in between!). Room prices varie depending on the season. During Christmas, New Year's Eve and Easter week it is best to book well in advance as prices tend to increase at these times.
Most of the places to stay are located around Tagbilaran wich is the main city but there are also isolated resorts on some very pristine beaches.
Activities and excursions in Bohol Island
Bohol is primarily a diving destination. However there are also many things to do if you travel with non-divers. The Island is very famous for two things, the Chocolate Hills and the Tarsier, the second smallest primate on Earth!
So you can for example:
Have a day trip to the famous Chocolate Hills.
Explore the Tarsier sanctuary to observe this cute and tiny primates
Island hopping to discover some of the finest beach of the Phillipines like the Virgin Island.
Enjoy a good massage and spa
Enjoy a Snorkelling day tour to some of the best spots around the archipelago.
Just relax on the fine beaches
Best time to visit Bohol Island
Tourist Season and Weather
There are 3 seasons in Bohol:
From November to April, it is the Northeast Monsoon but it is usually short rains and then a sunny day ;-). The weather during this period is great with not too hot temperatures around 28°C.
From May to July, it is the hottest time with high humidity. You can expect an average of 32°C.
From August to October, it is the Southwest Monsoon with a mix of sunny and rainy days.
Hot Tip:
If you want to see Dolphins, the best time to see them is from March to June.
Health and Safety
If you are planning an upcoming dive trip or travelling to Bohol Island, it is a really good idea to invest in travel insurance for scuba diving, because you never know what could happen and when you might need it (because accidents do happen!). I recommend this diving insurance as they offer worldwide coverage and focus on providing scuba divers a quality insurance and medical assistance service.
Where is Bohol Island located in the world?
Bohol is the largest island of the Bohol Archipelago counting 75 other smaller Islands. It is located Southeast of Cebu Island in the Central Visayas.
See the map below.
Bohol Map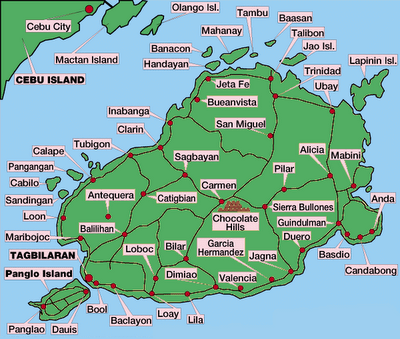 Photo credit: http://www.flickr.com/photos/didierbaertschiger/5000171025/
How to get to Bohol Island?
You have several options to reach Bohol Island.
Plane:
You have to fly from Manila or from Cebu City to Tagbilaran City, the Bohol Airport. There are daily flights with Philippines Airlines, Cebu Pacific or Asian Spirit. If you come from abroad and you want to avoid going to Manila, you can also fly directly to Cebu City airport and take the ferry boat to Tagbilaran City.
Boat:
There are numerous boats going to Bohol several times a day. It is a cheaper way to get to the Island than the plane. There are direct ferry connections to Cebu, Manila, Dipolog and Dunamguete. Most of the ferries stop at the Tagbilaran City Pier. If you are restricted by a short amount of travel time, you can take a Fastcraft from Cebu to get you there faster.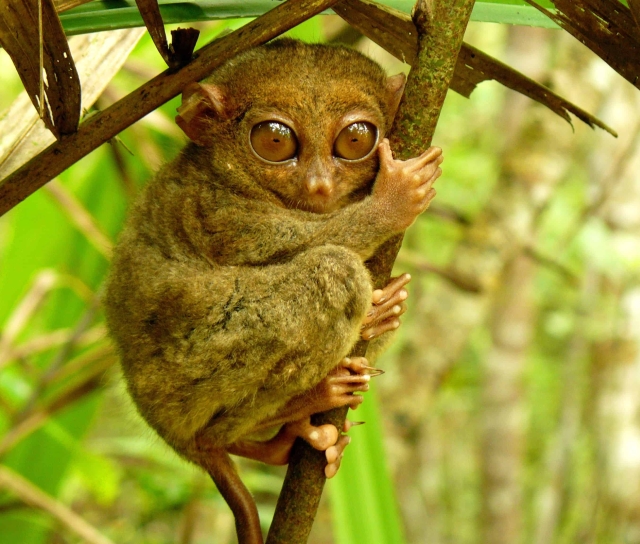 Getting Around
You can easily travel around Bohol by bus. If you need a bit more comfort, you could also rent a car with driver in one of the many travel agencies. Another option is to take the taxi but this can become expensive if you use it for long trips. For short rides within the cities, it is cheaper to take a tricycle.
If you want to visit the nearby isolated Islands you can charter a boat for the day to take you to explore the best beaches snorkelling spots.
Bohol Island Photos
Scuba diving
You will find all information about sea life, best time to visit, top dive spots, etc. in our review: Bohol Island Diving

Diving Reviews for this region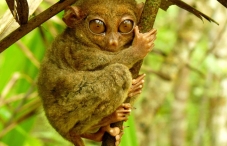 Some of the best scuba diving in the Philippines! Great wall dives, Coral, Macro Pictures opportunities and Reef Sharks.
Liveaboard Reviews in Bohol Island
Diving resorts in this area
Cruise ship Reviews in Bohol Island