If you have been to Coron, Palawan before, please share your experiences, ideas and feedback (Hotel, Excursions, General Feeling,…) in the comments section below, by doing so you will help fellow travellers to plan their next trip

Coron Island is located in Palawan in Philippines. It is one of the best places in the world for wreck diving. In 1944 several Japanese supply and war ships were bombed and sunk by an Americain Air attack during World War II.
Coron Island is very beautiful with fine beaches and superb scenery surrounded by limestone cliffs. This destination is only popular among divers so it is very quiet, perfect if you want to avoid the very well-known (ie crowded!) areas.
In this page you will find practical information to plan a scuba diving trip to Coron, Palawan:
Where to stay?
I usually use this website to book in advance my hotels in Coron, Palawan as they usually have the lowest rates I find. I like it because it's free to cancel and change the dates.
You have several options on where to stay in Coron. You can either stay directly in Coron city where there are hotels, lodges and diving resorts. You can also sleep in nearby isolated islands in one of the lodges or resorts. Camping is also possible on several deserted islands.
Room Prices depend greatly if you want AC or Fan Room and Hot water or not.
Photo credit: http://www.flickr.com/photos/haundreis/3334509179/
Activities and excursions in Coron, Palawan
Coron is a pure diving destination with diving or snorkelling as its main attraction. However there are still interesting things to do around. You can for example:
Island Hopping for a snorkelling day tour.
Visit the Maquinit Hot Spring, perfect to realx after diving!
Trek in the Jungle or to Mt.Tapyas for a superb view of the nearby Islands.
Kayak around the magnificent mangroves in Kingfisher Park.
Go to see the Kayangan Lake and Barracuda Lake for great pictures opportunities
Enjoy Kayaking at Twin Lagoon
Relax on Banol Beach
Best time to visit Coron, Palawan
Tourist Season and Weather
There are 2 main seasons in Coron:
The Dry Season runs from October to mid-June with hot and dry weather.
The Rainy season runs from mid-June to September with daily short but heavy rains.
There can be Typhoons from June to October but they usually don't hit directly Coron.
Photo credit: http://www.flickr.com/photos/hsnuhow/6062011583/
Health and Safety
If you are planning an upcoming dive trip or travelling to Coron, Palawan, it is a really good idea to invest in travel insurance for scuba diving, because you never know what could happen and when you might need it (because accidents do happen!). I recommend this diving insurance as they offer worldwide coverage and focus on providing scuba divers a quality insurance and medical assistance service.
Where is Coron, Palawan located in the world?
Coron is the name of the main town in Busuanga Island located in Palawan area. It is also the name of the Island just offshore of the city, famous for its shipwrecks.
See the map below.
Coron Map
How to get to Coron, Palawan?
There are 2 ways to reach Coron.
Plane:
You have to fly from Manila to Busuanga airport, Palawan. You can take Cebu Pacific Air, Zest Air or PAL Express. From Busuanga aiport, you take a jeepney for about one hour to reach Coron Town. The ride cost about P150 per person.
Ferry Boat:
From Manila you can take the SuperFerry. It goes once a week to Puerto Princesa and stops off at Coron on the way. Departures are every Friday at 4:15pm and you arrive in Coron the day after at 5:30 am (about 12 hours). You can get back to Manial by the same way.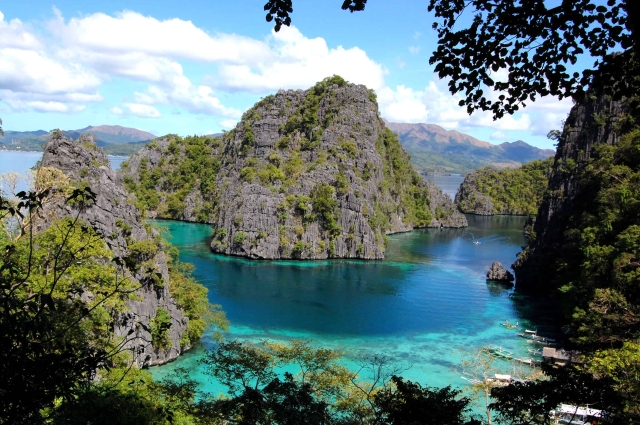 Getting Around
Coron is a small town. You can walk or take a Tricycle (P7 per trip). Another option is to rent a scooter.
If you want to discover nearby islands you can hire a boat for about P1250 per day with the driver.
Coron, Palawan Photos
Scuba diving
You will find all information about sea life, best time to visit, top dive spots, etc. in our review: Coron, Palawan Diving

Diving Reviews for this region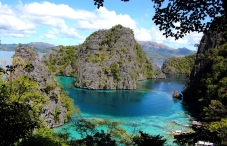 One of the Best places in the World for Wreck Diving!!! Also very interesting lake diving all within a superb tropical scenery setting... ahh bliss!
Liveaboard Reviews in Coron, Palawan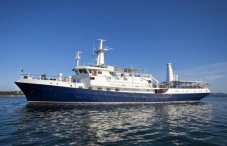 MV Discovery Palawan is one of the titul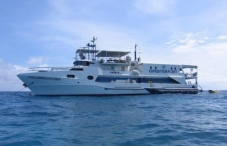 The Stella Maris Explorer is a 36 meters
Diving resorts in this area
Cruise ship Reviews in Coron, Palawan