If you have been to Croatia before, please share your experiences, ideas and feedback (Hotel, Excursions, General Feeling,…) in the comments section below, by doing so you will help fellow travellers to plan their next trip


Croatia appears as the new trending travel destination for many tourist, even though it has been a popular by the past, from the early 2000. The country offers outstanding beach vacations as well as historical and cultural experiences.Many of the tourist destinations have ancient town centers, and the nature lovers will enjoy the many national parks.
In this page you will find practical information to plan a scuba diving trip to Croatia:
Croatia Photos
Where to stay?
While known to Europeans as a good vacation destination for many years, it is just now starting to get wider recognition. There are dozens of outstanding destinations within Croatia, and here are a few of them:
Dubrovnik: The most popular destination within Croatia. The old town is one of the most popular features as is it great to walk around and take stunning pictures!  Also, there are many resorts with private beaches as well as a great deal of public beaches. Plus, there is a variety of day trips which you could do from Dubrovnik.
Zagreb is a wonderful city featuring an interesting upper and lower town. The sights are best viewed on foot and complimented by a few stops for a coffee as the town is known for it's excellent coffee! The city has excellent transportation connections, making it a favorite holiday weekend destination.
Any coastal town is a great place where to stay in Croatia if you plan on roaming around a lot and visit more than one national park. Commuting is fairly easy, and in high season there will be plenty of organised tour buses taking you to the different national parks.
Blogger input // Zadar, or the smaller towns nearby (zoom on a map!) are a great place to base yourself, especially if renting a car or planning to do a few bus excursions. Indeed, you'll easily reach both Krka and Plitvice National Parks from there, as well as Sibenik, another UNESCO heritage site. Plus, the offshore islands from Zadar, including the Otok's archipelago are stunning! Definitely worth a day or two!
Istria is the northern region of Croatia and includes a number of small towns and resorts that are a delight to visit. Think quaint and authentic.
Blogger input // The area is the largest peninsula of the Adriatic Sea and includes Pula – a great spot to fly in/out from with cheap airlines – and Rovinj – a town too charming to be described… a must see! There's much more, and the beaches are just amazing all over the Istria region!
Hvar Island has become a jet setter destination, but is still affordable for the rest of us. Plus, all the nearby islands have some great beaches.
In term of types of accommodations, Croatia has options for every budget and level of service.
Hotels: Most hotels in Croatia carry the international star ratings from 1 to 5, however, in many cases they are self appointed. As such you will find no 1 star and very few 2 star. The 5 Star hotels do seem appropriately listed. Many of the smaller hotels are members of the Association of Family and Small Hotels of Croatia website.
Private Accommodations: Roughly similar to a bed and breakfast, however, you will find some self catered apartments and villas. These are highly regulated and given a star rating. The system goes from one to four stars, at the accommodations they will be displayed on a blue sign with the number of stars. These are normally listed with travel agencies and have websites for direct bookings as well.
Private rooms, called soba/sobe: Croatia has the soba (room) or sobe (rooms) in private homes. These will be located with the families, consider it a home stay. Most of the time you will find them by walking around the street looking for a place card in a window with the word soba or sobe on it. The quality will vary so look before you commit. You will often find family members at bus or train stations and ferry terminals offering them.
Campgrounds: There are over 300 registered campsites in the country. About 90 percent are on the coast and islands, many are beachfront. Campsites are rated with a star system from 1 to 4. Visit the Croatian Camping Union website for a listing.

FKK campgrounds (Naturalist) are common in Croatia. Croatia has the most of any European country.

Youth Hostels – The Croatian Youth Hostels Association (www.hfhs.hr) has a network of youth hostels
Activities and excursions in Croatia
Croatia is a very interesting country to visit to people with a wide variety of interest. Indeed, there is much to see and do, including a number of UNESCO World Heritage Sites.
The Old Town of Dubrovnik is a "must see" place for those interested in history. The town is actually a UNESCO World Heritage Sites, and is definitely a lovely place to hang around a few days!
The many waterfall national parks of Croatia will take at least a few days off your schedule! For example, Plitvice Lakes National Park is a natural wonderland, and also a UNESCO World Heritage Sites. Le parc national de Krka, situé tout près de Sibenik, est aussi un incontournable!
View this post on Instagram
Cruising the islands of Croatia is also a great way to see the country. In fact, there are over 1,000 islands laying not far ashore from the mainland. You can either do some island hopping from the different towns you visit on the coast, or board an adventure cruise in Croatia.
The crystal clear water of Croatia's beaches is a huge draw to many! It's beautiful, wild and natural. Plus, most beaches are great for a little snorkeling time! That being said, you should know that you find any of the fine white sand beaches of Cuba in Croatia, as beaches are mostly rocky. The locals have found a way around it and either bring a chair, rent one or bring a little fold-able mat which you can buy from any grocery store!
Best time to visit Croatia
Climate wise, Croatia is a four-season destination to travel to. The peak tourist season is mostly the summer months of July and August. Also, the spring months of May and June or the fall, from September to October are considered as shoulder season. In fact, it's a great time to visit Croatia, away from the crowds and with most summer activities still great to do! a great value. Plus, the prices are often cheaper, both for accommodations and attractions!
Health and Safety
Health care in Croatia is considered mostly as good as in the other European nations. The country's government health care system is called HZZO, meaning a serie of Croatian words that most us wouldn't know how to pronounce! Basically, it is the Croatian Health Insurance Fund.
In most clinic and hospitals they will accept the European Health Insurance Card (EHIC). However, not all medical facilities accept it, so it's best to ask before getting treated, in non-emergency situations of course. If you do not have a EHIC, then you should get travel insurance.
If you are planning an upcoming dive trip or travelling to Croatia, it is a really good idea to invest in travel insurance for scuba diving, because you never know what could happen and when you might need it (because accidents do happen!). I recommend this diving insurance as they offer worldwide coverage and focus on providing scuba divers a quality insurance and medical assistance service.
Where is Croatia located in the world?
The Republic of Croatia is a country at the crossroads of Central and Southeast Europe, on the Adriatic Sea. The country is surrounded by Hungary to the northeast, Slovenia to the northwest, Serbia to the east, Bosnia-Herzegovina and Montenegro to the southeast. Plus, the long coastline of Croatia dives right into the majestic Adriatic Sea.
How to get to Croatia?
Croatia is quite easy to reach from major European, and even some international, destinations. Indeed, the country has eight international airports, plus one that has some seasonal international flights.
First, the very main entry points to travel to Croatia are Zagreb, if heading inland, Dubrovnik, to the far south, and Split, which is more centrally located. Smaller airports that have frequent flights from lots of countries include Pula, Zadar and Rijeka.
Furthermore, you can reach Croatia from Italy through a ferry. In fact, these are often budget traveler's first choices as you can get an overnight transfer, making you save a night of accommodation!
Finally, if you are coming in Croatia from the north or the east, taking a bus or a train might be a great idea. This also applies if traveling to Croatia from it's southern neighbors such as Montenegro.
Do I need a visa for Croatia?
The Republic of Croatia supports the European Union's Common Visa Policy allowing EU/EEA citizens to enter with just identification cards. Plus, citizens from any country that hold a valid Schengen document, or a national visa/permit for Bulgaria, Cyprus, or Romania, can enter Croatia with no further document needed.
Otherwise, the same usual travel rule applies as to be in possession of a passport valid for a minimum of 3 months beyond the intended period of stay for all international, non-UE citizens.
Make sure you always get the latest, up-to-date information from the official source, in this case, on the Foreign Affairs website.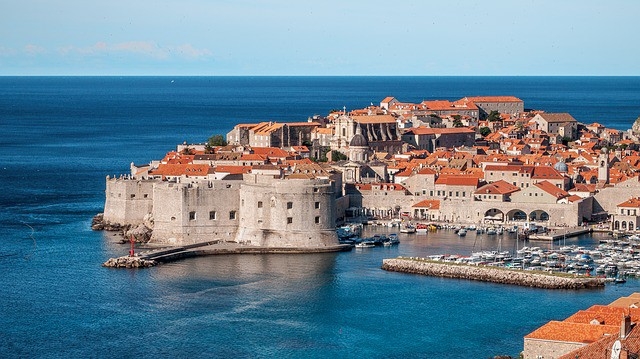 Getting Around
Most of the destinations like cities and towns in Croatia are not no big and simply charming to walk around. Plus, in bigger cities such as Split you will find a great network of buses that will also reach smaller towns outside the city limits. Also, taxi services and Ubers are found in most places.
As to get between the coastal and inland cities, a bus will be your best option, unless you take a car rental. Driving in Croatia is generally safe, with great signalization on the roads and major toll highways getting you between towns and to the national parks.
Many visitors head to the islands so air transportation will work for a few, but you will more likely find yourself on a ferry. The mainland ports of Zadar, Split, Rijeka and Dubrovnik are the ones most used. Jadrolinija, which is government owned, is the largest operator of ferries and catamarans that run between Croatia's islands. There are some privately owned ferry companies as well, from which you can buy tickets right at the different harbors.
If you are looking for a new tourist destination that can offer beaches, island hopping, hiking,scuba diving and cultural significance, then consider Croatia.
Scuba diving
You will find all information about sea life, best time to visit, top dive spots, etc. in our review: Croatia Diving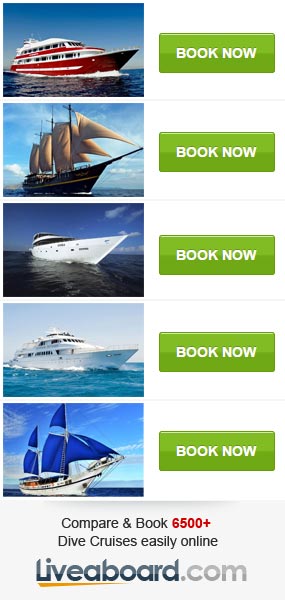 Diving Reviews for this region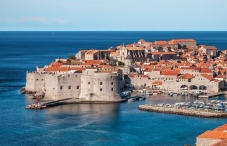 A great selection of caves, caverns, reefs, wrecks and much more awaits you.
Liveaboard Reviews in Croatia
Cruise ship Reviews in Croatia