If you have been to Hawaii before, please share your experiences, ideas and feedback (Hotel, Excursions, General Feeling,…) in the comments section below, by doing so you will help fellow travellers to plan their next trip

Hawaii is a place of dreams. From volcanic mountains, to the lush jungles, the perfect beaches, and not forgetting the great Pacific Ocean… Hawaii attracts tourist from around the world. Geographically and politically, Hawaii is located far in the pacific ocean, so it's not part of North America, and it's the last state that was admitted into the United States.
The Hawaiian Islands (Hawaiian: Mokupuni o Hawaii) are an archipelago in the North Pacific Ocean, consisting of eight major islands, several atolls, numerous smaller islets, and seamounts. Indeed, the archipelago extends to about 1,500 miles (2,400 kilometers) from the island of Hawaii in the south to the northernmost Kure Atoll.
At the southeastern end of the archipelago, the eight main islands are—in order from northwest to southeast:  Niihau, Kauai, Oahu, Molokai, Lānai, Kahoolawe, Maui, and the Island of Hawaii. The last is the largest island in the group; it is often called the "Big Island" or "Hawaii Island" to avoid confusion with the state or archipelago. The archipelago is geographically and ethnologically part of the Polynesian sub-region of Oceania.
Formerly the group was known to Europeans and Americans as the "Sandwich Islands", a name chosen by James Cook in honor of the then First Lord of the Admiralty John Montagu, 4th Earl of Sandwich. The contemporary name is derived from the name of the largest island, Hawaii Island.
In this page you will find practical information to plan a scuba diving trip to Hawaii:
Hawaii Photos
Where to stay?
Visitors to the islands normally choose one of the islands for their vacation time. Since Honolulu has the widest range of air connections and is an easy transfer to the other islands, guest not staying on Oahu, will often plan to spend a few days there before their return flight.
Oahu: Oahu is the most popular destination for tourists It attracts about twice as many visitors as Maui each year. It is the third largest Hawaiian island and home to the capital, Honolulu.
Maui: Maui, often called the Valley Isle, is the second largest of the Hawaiian islands. Maui is favored for its mountain ranges and valleys. It is the second most popular tourist destination in the state.
Hawaii : Also known as the Big Island, Hawaii is not only the largest of the Hawaiian islands, it is also the largest island in the United States. It is the third most visited island by tourists each year. When visiting the Big Island, you'll want to see the Kau desert, Puna Fern Forest, Maunaloa volcanoes, Kealakekua Bay and Hawaii Volcanoes National Park.
Kauai: Kauai is the fourth largest of the Hawaiian islands, as well as the fourth most visited by tourists. Its tropical climate, waterfalls and lush vegetation gives the island the nickname of the "Garden Island". If you're planning a trip to Kauai, you'll want to visit Waimea Canyon, Hanalei Bay and Poipu Beach.
Activities and excursions in Hawaii
Hawaii is known for its warm climate and abundance of attractions both natural and man made.
USS Arizona and Pearl Harbor: Visit the place that brought the United States into World War Two.
Submarine tour: Take a tour of what Hawaii is really about, the ocean. These tourist submarines take you to depths experienced by Advanced certified scuba divers, 100 feet/30 meters.
Beaches and Water Sports: Hawaii is well know for the magnificent beaches found around the islands. Snorkeling and scuba diving are common activities. Parasailing and jet skies are also very popular.
Whale Watching: It has been estimate by marine scientists that two-thirds of the North Pacific humpback whale population can be found in Hawaiian waters from December through May. They come to breed, calve and nurse their young. After spending the summer in the Gulf of Alaska they travel the 3,000 miles to Hawaii in less than two month.
A luau and hula: A Luau (Hawaiian: lūʻau) is a traditional Hawaiian party or feast that is usually accompanied by entertainment. It may feature food such as poi, Kalua pig, poke, lomi salmon, opihi, haupia and beer, and entertainment such as traditional Hawaiian music and hula. The Hula is a traditional dance know the world over. It can be performed as a modern Hula using more main stream music and dancing or as a traditional hula with chants and traditional music. Both styles encompasses Hawaiian culture.
Visit a volcano: There are three active volcanoes in Hawaii. Hawaii Volcanoes National Park is Hawaii's #1 visitor attraction. This 377-square mile park on Hawaii Island is a living museum where visitors can witness the power of Hawaii's volcanoes in surprisingly intimate ways. You'll feel great mana, or spiritual power, here as you hike along rocky trails and desolate deserts that in time will flourish and thrive with new life.
Hiking: Much of Hawaii is park land and nature trails abound. Enjoy a day away from the big cities and step back in time.
Best time to visit Hawaii
As you can tell from the chart above, the temperature is not much of an issue of when to travel to Hawaii. Indeed, Hawaii makes great vacations pretty much all year round. If you follow the link to the weather site, you will see other charts that show rain and winds. Still these are not extreme to the point where they will ruin your vacation.
If you have flexibility in your schedule then mid April to end of May or early August to end of October are the best times considering weather, crowds, and costs. The weather is good but the crowds are less than the months in between. This is before and after the school's summer breaks in North America. This shoulder season has good hotel rates as the hotels are preparing for the peak season, however, the rooms are not full.
Health and Safety
Hawaii has an exceptional level of health care. There are a number of both large and smaller hospitals across the state. In case of a true emergency dial 911.
Emergency rooms can be very expensive, and for non life threatening conditions, the wait can be long. You will find some doctors that accept walk-in clients for less than emergency room requirements. Finding a doctor that accepts walk-ins might be difficult for a tourist, however, there are other options:
Retail clinics: There are a number of walk-in clinics that are located within retail stores or malls. Minuteclinics is a division of CVS/pharmacy, which is one of the largest pharmacy chains in the United States. They have over 800 clinics in the US with 6 located in Hawaii. These are normally staff with Nurse Practitioners (NP). NPs are Advanced Practical Registered Nurses who have additional responsibilities for administering patient care. In Hawaii they have "full practice authority" which means they do not need to be supervised by a doctor. They can prescribe medication, examine patients, diagnose illnesses, and provide treatment, much like physicians do. These clinics aim to provide routine care. Great if you are just not feeling well.
Urgent Care: An Urgent Care facility provides a wider range of services than the retail clinics and doctor offices. However, they are not designed to care for life and death situations. An urgent care facility will generally have x-ray equipment, an in-house lab and electrocardiogram — abbreviated as EKG or ECG – available. The facility will have a doctor and possibly NPs. Urgent care is an important aspect of medical care in the United States today and is becoming more wide spread. They generally offer extended hours compared to doctor offices offering evening and week end hours. You will also find some offering 24 hour a day service.
Knowing when to go to an emergency room is important. Urgent care centers are not equipped for certain medical conditions. Here are examples of care that should be received from emergency rooms:
Loss of Consciousness
Labor and birthing
Uncontrollable Bleeding
Heart Attack or Chest Pain
Stroke
Being a State of the United States the health care level within Hawaii is very high. However, so are the prices. It is very important that you insure that your health insurance will cover you and get additional travel insurance if it does not. For scuba divers there is a hyperbolic chamber in Honolulu.
If you are planning an upcoming dive trip or travelling to Hawaii, it is a really good idea to invest in travel insurance for scuba diving, because you never know what could happen and when you might need it (because accidents do happen!). I recommend this diving insurance as they offer worldwide coverage and focus on providing scuba divers a quality insurance and medical assistance service.
Where is Hawaii located in the world?
While Hawaii is part of the United States, it is a chain of islands located about 3,200 kilometers (2,000 miles) from the continental United States, out in the middle of the Pacific Ocean.
How to get to Hawaii?
The State of Hawaii has five major international airports and five minor domestic airports. The international airports are:
Honolulu International Airport, Oahu (HNL) : Officially called Daniel K. Inouye International Airport (HNL) most people still call it Honolulu International. Over 30 international airlines fly to Honolulu. Most of these airlines have daily flights. There are departures daily non-stop flights from HNL to Anchorage, Atlanta, Belllingham, Brisbane, Calgary, Chicago, Dallas-Fort Worth, Denver, Guam, Haneda, Houston, Incheon, Kansai, Las Vegas, Los Angeles, Manila, Melbourne, Nagoya, Narita, Newark, Oakland, Pago Pago, Phoenix, Portland, Sacramento, Salt Lake City, San Diego, San Francisco, San Jose, Seattle-Tacoma, Seoul, Sydney and Vancouver.
Kahului Airport, Maui (OGG): Located on the island of Maui the Kahului Airport is the second busiest in the State of Hawaii. It is served by 10 international airlines.
Kona International Airport at Keahole, Hawaii Island (KOA): Officially the Ellison Onizuka Kona International Airport, it is located on the west side of the Island of Hawaii. It is served by three major international airlines with flights to the US and Canada. There are also two inter-island airlines.
Hilo International Airport, Hawaii Island (ITO): Located at the city of Hilo on the big Island, Hilo has limited international service provided by United Airlines.
Lihue Airport, Kauai (LIH): Considered by many as one of the most picturesque airports and landings in the world. Four international airlines provide service from the US and Canada.
Do I need a visa for Hawaii?
Most tourist coming to the US will need a visa.
Nationals of the following countries are eligible to enter the USA under the Visa Waiver Program. They must however apply online with the Electronic System for Travel Authorization (ESTA)
Citizens of Canada are free to enter the US, and Hawaii, with a passport, when travelling by air.
Nationals of other countries must apply for a visa. The US State department has an online program to identify visa requirements.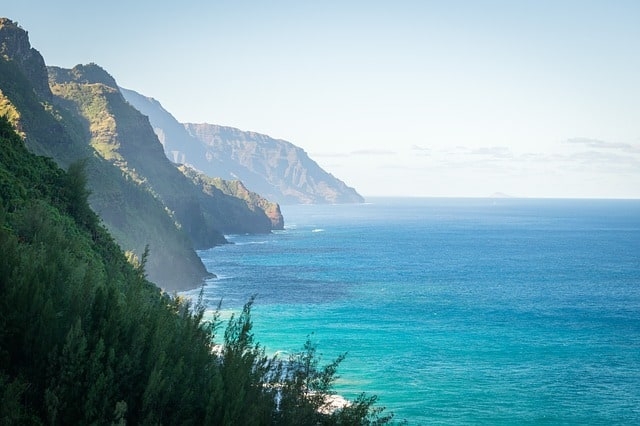 Getting Around
Getting around between the major islands is almost exclusively done by aircraft. Tourist who are not taking organized tours most often rent a car for sightseeing and for just getting around. The different cities do have both general public transportation and tourist dedicated buses. Taxi are commonly found. The ride sharing services Uber and Lyft are also becoming a frequent mode of transportation used by guest.
Hawaii is a dream destination for millions of people. Many find themselves saying it is a once in a life time opportunity, but then find themselves returning many times over once they do experience it.
Scuba diving
You will find all information about sea life, best time to visit, top dive spots, etc. in our review: Hawaii Diving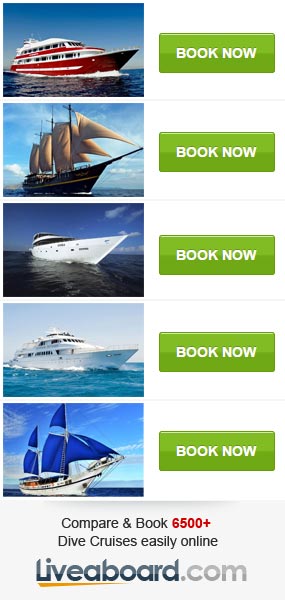 Diving Reviews for this region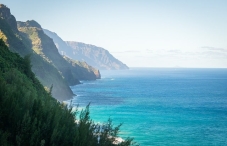 The tropical island paradise of Hawaii extends to the surrounding waters offering divers untold excitement.
Liveaboard Reviews in Hawaii
Cruise ship Reviews in Hawaii