Guest post by Claire from Remote & Afloat
In 2017 I made a life-changing decision to embark on an epic journey around South East Asia, in search of some of the world's richest coral reefs. At the heart of my trip was Indonesia, where I spent the best part of two and a half years on an underwater adventure exploring Indonesia's top dive sites. This inspired me to launch my own ocean jewelry collection which gives a portion of its profits back to coral reef conservation.
My expedition proved that this country truly is a scuba diver's dream, but as a keen freediver and snorkeler, I also discovered that there are many amazing snorkel opportunities and excellent dive sites for snorkeling in Indonesia too. If you're an adventurous snorkeler looking to go beyond the house reef, here are 5 of my favorite dive sites for snorkeling in Indonesia.
1 – Batu Bolong, Komodo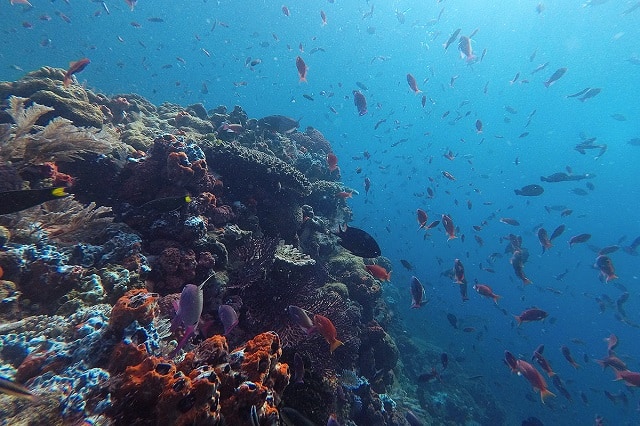 Batu Bolong was my very first taste of snorkeling in Indonesia. The site is located in the middle of Komodo National Park, roughly 3 hours by boat from the town of Labuan Bajo. By arranging a basic liveaboard with a local guide directly from the harbor, I was able to visit this isolated dive site.
On first impressions, I was a bit skeptical, as Batu Balong is nothing more than a tiny outcrop of rock sitting in the middle of the ocean. However, Batu Balong is one of the most famous dive sites in Indonesia and I was about to find out why. This dizzying dive site is nicknamed the 'washing machine' due to its strong up and down currents, which bring health and abundance to the reef. On its topside, snorkelers can admire layer upon layer of colorful hard corals and thousands of orange anthias fish.
Life literally explodes from this never-ending pinnacle reef, which gravitates deep into the ocean, making Batu Bolong an excellent dive site for freedivers. Aside from its variety of reef fish, pelagics such as black and white tip sharks, mantas, and even dolphins can be spotted here.
About Batu Bolong:
Depth: 1-70m
Coral: Excellent
Fish life: Excellent
Current: Strong
Experience: Advanced
Entry: Boat
2 – Lekuan, Bunaken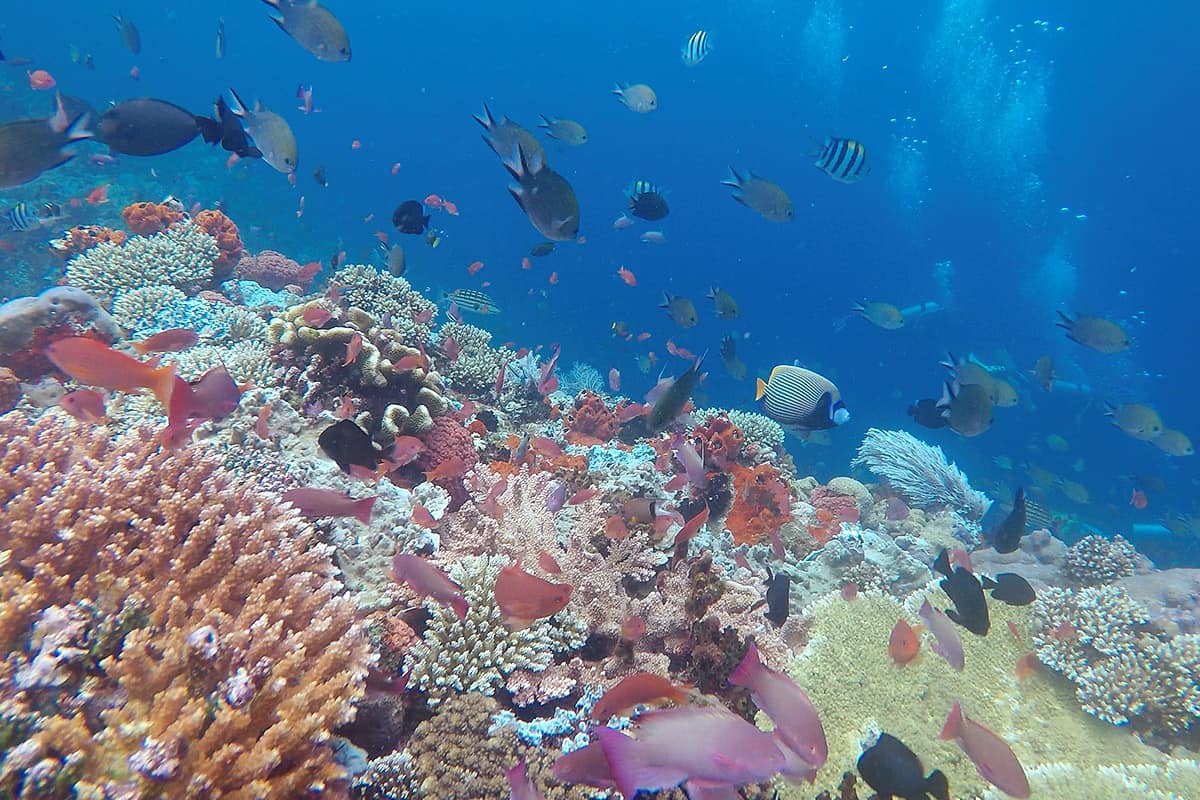 After Komodo, my travels took me to North Sulawesi, specifically Bunaken Marine Park. With its laid back vibes and not much else to do except snorkel and dive, the island of Bunaken is a low-key choice for scuba divers and snorkelers in the know.
I spent several weeks exploring the marine park here and found my favorite spot just a few kilometers from Bunaken's shores. This arc-shaped reef spans the southwest side of Bunaken Island and is so large that it is split into 4 individual dive sites: Lekuan I, II, Pygmy and III.
I chartered a traditional outrigger boat with a willing fisherman from nearby Liang Beach to reach all 4 spots and found these dive sites to be impressive on all levels, offering fantastic visibility, healthy corals, schooling fish, even macro!
Between Lekuan II and III the reef drops into a vertical wall, which disappears dramatically into the blue. This freediving spectacle is topped with overhangs and seafans, black corals and sponges. Attention to detail reveals nudibranchs and porcelain crabs hiding in the corals, but be sure to keep an eye on the blue for passing sharks, hawksbill turtles and eagle rays.
Although Lekuan is exposed to the ocean, the currents here are manageable and only really noticeable along the corners of the reef, disappearing almost as quickly as they came.
About Lekuan :
Depth: 1-40m
Coral: Excellent
Fish life: Excellent
Current: Mild to Medium
Experience: Beginner
Entry: Boat
3 – Citrus Ridge, Raja Ampat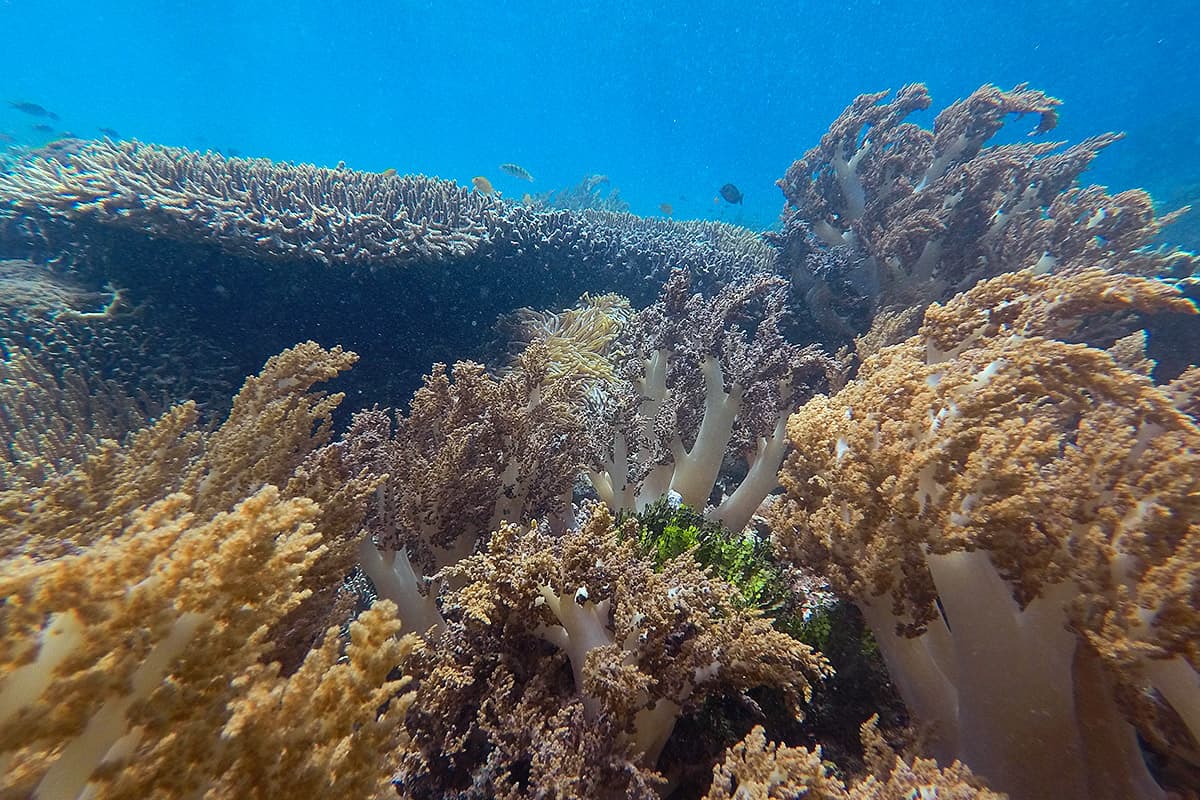 For me, Raja Ampat easily offers some of the best snorkeling in the world. I spent almost 8 months here, after getting completely hooked on its mesmerizing coral reefs and pristine biodiversity. Although I cannot fault the scuba diving opportunities in this region, there is something incredibly special about Raja Ampat snorkeling, and the mysterious Citrus Ridge is no exception.
Situated in the remote northwest of the Raja Ampat regency, this intriguing coral reef structure can be found meandering along a channel of water, which snakes its way through the mangroves. Fringing corals cling to opposing landmasses, creating a protected haven for soft corals and sea creatures to thrive. By following the drop-off from an uninhabited Robinson Crusoe style beach, you're almost instantly met with swaying corals in pastel colors amongst sponges and sea fans adorning the sandy floor of this dive site.
As the reef declines into a deep channel of water, an exhilarating swim across 'the ridge' leads to more treasure. Just at the tip of the opposite island, there is a bounty of coral species and an unbelievable mix of fish life including families of feeding bumpheads, schooling jacks, trevally and fusiliers. A highlight for me was spotting my first wobbegong shark swimming from one table coral to another.
With excellent visibility and some of the best corals at 5-10 meters, Citrus Ridge is perfect for freediving but be aware of its strong currents. Water and waves funnel into the channel from the open ocean causing a surge; therefore confident swimming skills are advised.
About Citrus Ridge :
Depth: 3-20m
Coral: Excellent
Fish life: Excellent
Current: Medium to Strong
Experience: Intermediate
Entry: Shore or boat
4 – Liberty Wreck, Tulamben
Bali became a bit of a base for me throughout my travels and I spent nearly 3 months in the northeast of the island exploring its volcanic waters, diving and snorkeling every day. I found some of the best snorkeling in Bali in Tulamben, specifically at the USAT Liberty Wreck, which is the most famous wreck dive in Indonesia.
The Liberty is a whopping 120 meters in length and is truly impressive. Immersed in 1963, every inch bursts with biodiversity. At its shallowest, the ship sits at around 5 meters, which is perfect for snorkeling. However, if you're a confident apnea freediver and can hold your breath long enough, exploring its deep caverns, dark spaces and coral coated walls should definitely not be missed.
Soft corals, sponges, gorgonian fans and anemones sweep across the ships decomposing edges, attracting a wealth of fish life including eels, bumpheads, triggerfish, napoleon wrasse, groupers, sweetlips, butterfly fish and even turtles. Despite this being one of Bali's most popular dive sites, the scuba divers down below do not obscure the view from above, as they are usually hiding in the ship.

About Liberty Wreck:
Depth: 5-30m
Coral: Excellent
Fish life: Excellent
Current: Mild
Experience: Beginner
Entry: Shore
5 – Manta Sandy, Raja Ampat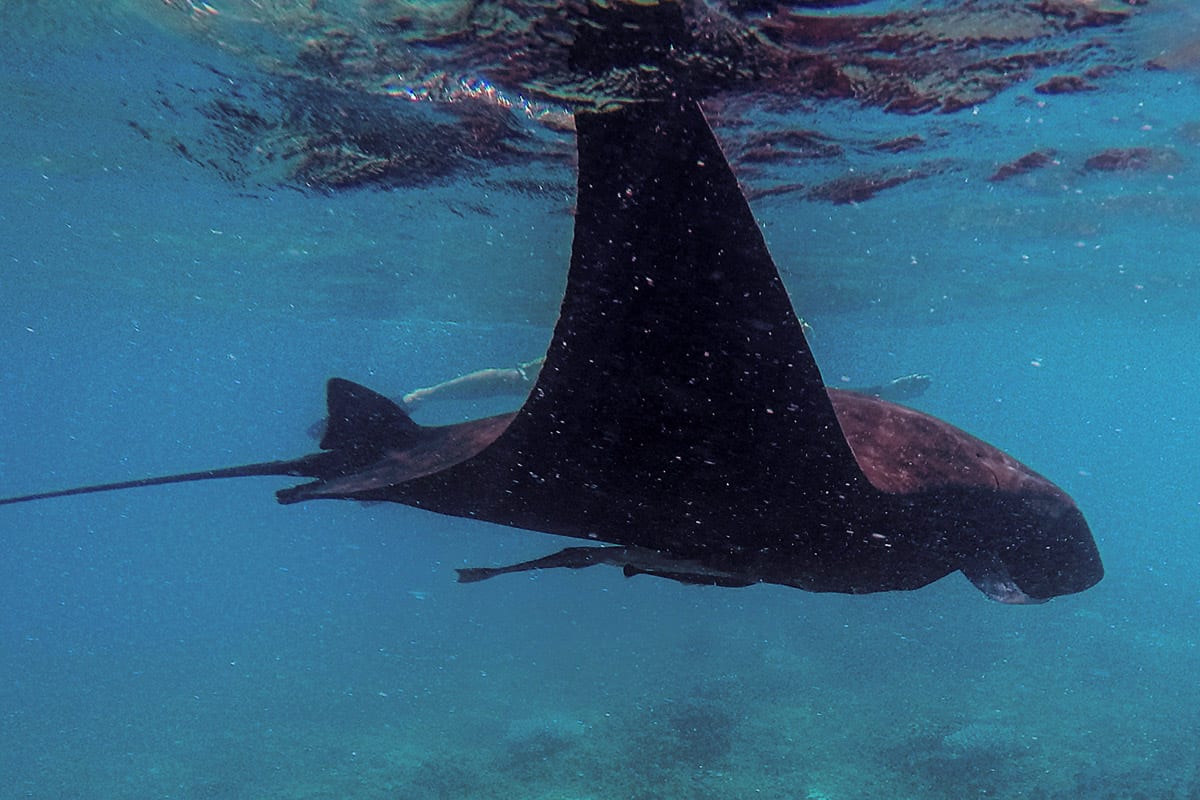 There are almost too many great Raja Ampat snorkeling spots to mention, but this legendary cleaning station made it onto my list, as it is one of the best dive sites for snorkeling in Indonesia if you want to spot manta rays! Manta Sandy's seabed lies at around 20 meters, just off the island of Arborek. It is here that scuba divers will kneel and wait on the bottom for a magical performance to begin.
Often appearing without warning, like stealth bombers cutting through the blue, countless rays circle gracefully in unison to feed and clean at Manta Sandy. From the top, snorkelers are able to experience the mantas at an entirely different viewpoint. Rising to the surface, these friendly reef mantas allow snorkelers to swim alongside them in a very intimate manner, swooping playfully up and down.
It is an experience not to be missed and definitely a highlight of any Raja Ampat trip, especially from November onwards when the mantas arrive and stay until March to feed in the plankton rich waters. Outside these months there is less guaranteed siting's, however one can never predict nature!
About Manta Sandy:
Depth: 5-20m
Coral: Fair
Fish life: Excellent
Current: Mild to Medium
Experience: Intermediate
Entry: Boat
Is Indonesia the best snorkeling in the world?
My experience of diving and snorkeling in Indonesia clearly demonstrates that this country encompasses some of the very best snorkeling in Asia, if not the world. Whether you're crazy for corals or a big fish lover, there really something for everybody. It is hard to fault such pristine reefs overflowing with biodiversity!
Guest Author Bio
Claire Ullah is the co-founder of travel blog Remote and Afloat and the ocean jewelry brand Citrus Reef. Her combined passion for travel, snorkeling, and diving has taken her on a unique journey to some of the world's richest coral reefs and remote tropical islands. Follow Claire as she charts her experiences both over and under the water.
Related Posts