Sea life
Amazing fishes & life!
Current
None or Light current
Visiblity
Am I dreaming?! 30m+!
Level Advanced Divers
Dive depth Normal diving depth, 10-25m
The Marsa Alam Dolphin House also called the Sha'ab Samadai Reef is a popular and famous dive site of Marsa Alam. It is an offshore reef with a lagoon where a pod of Spinner Dolphins live.
It is possible to go Swimming and Snorkelling with the Dolphins. It is really one of the few places in the world where you can meet them in such great conditions. The day trips to Sha'ab Samadai can be organized from Marsa Alam by local dive operators. Many Liveaboards exploring the South Red Sea also visit Samadai Reef.
Undeniably one of the best diving spots in Marsa Alam, Egypt. The Dolphin House is the perfect spot for those who love to catch a glimpse of dolphins frolicking underwater!
However, the Dolphins are not always there and even if you have the chance to spot them they usually won't stay long around you as they swim very fast!
In addition the Marsa Alam Dolphin House offers great dive sites with good visibility, wonderful coral and a great reef life. You will have to choose between wonderful swim-throughs, beautiful drop-offs and several pinnacles with great coral formations. The spot generally has good and easy conditions and is suitable for all level of divers.
Another Great spot to swim with Dolphins is located further South in the Fury Shoals Reef and is called the Dolphin Reef (Sataya Reef).
This location is a Reef.
You can dive Dolphin House (Sha'ab Samadai Reef) all year long. Access: from the Shore. See the map of Dolphin House (Sha'ab Samadai Reef) on the right for the exact location.
Fishes you may spot while diving Dolphin House (Sha'ab Samadai Reef)
Dolphin
... and more fishes & sea life, Spinner Dolphin

Photos
previous
Dolphin and scuba diver side by side...

Clown fishes waiting in front of their blue anemone house

Blacktip Shark patrolling the crystal clear water... EPIC photo!

Huge Hammerhead Shark patrolling the reef in French Polynesia

Beautiful & Colorful Mandarin Fish

Yellow Seahorse in Lembeh Strait

Photo by Agnes Tjandranegara

Lion Fish swimming in crystal clear water

Photo by Agnes Tjandranegara

Busy With Fishes

Photo by Matthieu Billaud
next
Diving Reviews for this region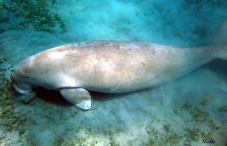 Excellent Scuba Diving with great chances of spotting Dolphins, Dugongs, Oceanic Whitetip Sharks and Hammerhead Sharks. Access to famous dive sites of Elphinstone Reef and Abu Dabbab! Very Good Visibility.
Liveaboard Reviews in Marsa Alam
Dive spots reviews in Marsa Alam
Diving centers in Marsa Alam