Sea life
WOW! Once in a lifetime experience!
Visiblity
Am I dreaming?! 30m+!
Level Advanced Divers
Dive depth Deep diving, 25-40m
Daedalus Reef offers some of the Best Diving in the Red Sea! It is an offshore reef located 80km East of Marsa Alam. It features pristine hard and soft coral and an amazing marine life. Here you can see various species of oceanic sharks like the curious Oceanic Whitetip Shark, Schooling Hammerhead Sharks as well as Grey Reef Sharks and even the very rare Tresher Shark if you are lucky!
Most of the dives on Daedalus Reef are drift dives along amazing deep walls covered by superb coral. In addition to the Sharks, you can also encounter various pelagic fishes such as the Giant Trevally or the Dogtooth Tuna and even Manta Rays can be spotted! The Daedalus Reef is located within a Marine Park which combined with its remote location, really is the most pristine dive site around Egypt and the Red Sea.
Hammerhead Sharks are frequently seen patrolling in the 500m wide circular Daedalus reef. While at the southern part of its reef, divers should expect the presence of Thresher Sharks!
You will need to be an experienced diver to go there as the current is often very strong and the reef is in Open Sea with great depths. The Daedalus Reef is only reachable by Liveaboard. On the same trip you can also visit the excellent dive sites of the Brothers and Elphinstone reef. The Best places to get the Liveaboard to visit this part of the Red Sea are Marsa Alam and Hurghada.
I usually use this website to book in advance my liveaboards in the Red Sea as they usually have the lowest rates I find. I like it because they have an easy booking system.
This location is a Reef. This is great place for spotting and
diving with Sharks
!
You can dive Daedalus Reef all year long. Access: from the Shore. See the map of Daedalus Reef on the right for the exact location.
Fishes you may spot while diving Daedalus Reef
Fusilier

Giant Trevally

Hammerhead Shark

Manta Ray

Napoleon Wrasse

Turtle
... and more fishes & sea life, Dogtooth Tuna, Grey Reef Shark, Jack, Oceanic Whitetip Shark, Silvertip Shark, Tresher Shark

Photos
previous
Yellow Seahorse in Lembeh Strait

Photo by Agnes Tjandranegara

Clown fishes waiting in front of their blue anemone house

Blacktip Shark patrolling the crystal clear water... EPIC photo!

Huge Hammerhead Shark patrolling the reef in French Polynesia

Beautiful & Colorful Mandarin Fish

Lion Fish swimming in crystal clear water

Photo by Agnes Tjandranegara

Flying Ray Manta in Bali!

Orange Nudibranch White

Photo by Agnes Tjandranegara
next
Diving Reviews for this region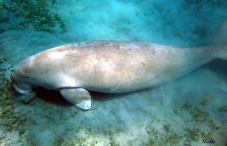 Excellent Scuba Diving with great chances of spotting Dolphins, Dugongs, Oceanic Whitetip Sharks and Hammerhead Sharks. Access to famous dive sites of Elphinstone Reef and Abu Dabbab! Very Good Visibility.
Liveaboard Reviews in Marsa Alam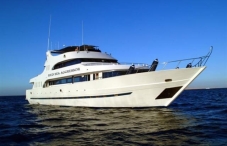 Internationally renowned liveaboard oper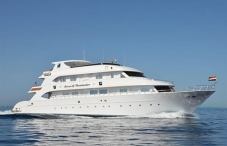 The Red Sea is a well-known diving desti
Dive spots reviews in Marsa Alam
Diving centers in Marsa Alam