Cost
Expensive, and Luxury!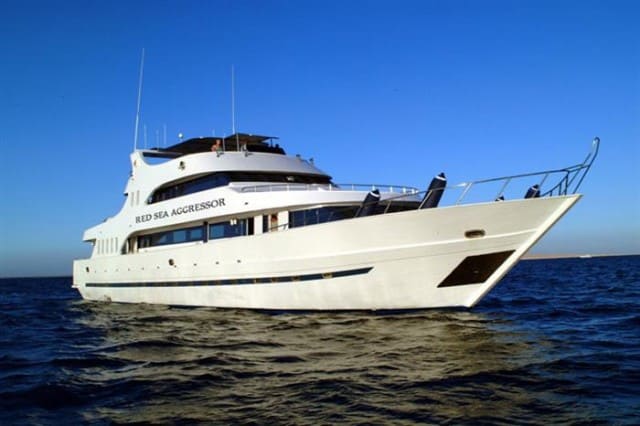 MV Red Sea Aggressor dive boat review
Internationally renowned liveaboard operator Aggressor Fleet have a luxury liveaboard vessel in the vast majority of the world's top scuba diving locations. Each is managed to their own exacting standards. The MV Red Aggressor is their offering in the legendary Red Sea which runs between Africa and Asia.
The Red Sea is said by experts to be a habitat to 1100 species of fish, 200 species of hard and soft corals and some 44 shark species. There's great variety to Red Sea dive site to satisfy new diver and old hands. To the north there are wrecks and reefs while, further south, the stunning walls and drop-offs of the Brothers Islands, Elphinstone and Daedalus can on occasion attract in large pelagic animals to their rich waters.
Red Sea Aggressor has been with the Aggressor Fleet and operating in the area since 2014. She is a modern, luxurious vessel complying with the safety requirements of the Lloyds Registry and American Bureau of Shipping standards. Red Sea Aggressor is 120ft/36.5m long and 8m in beam. This puts her in direct competition with offerings such as rival Blue Melody. Stable, quiet and sumptuous, she is the perfect way to travel between sites in the southern Red Sea.
You can check the availability and prices for this Boat here.
Cabins and Boat Layout
In common with Blue Melody, Red Sea Aggressor is able to cater to a maximum of 20 guests. She also has ample space for the crew of 12.
Depending on your budget there is a choice of either Deluxe Stateroom or the Master Stateroom. There are 7 Deluxe Staterooms and 3 Master Staterooms.
All Deluxe Staterooms are located on the lower deck. Each cabin is approximately 11' x 8' in dimension and has twin single beds, mirrored wardrobes, bath robes, towels, air-conditioned and en-suite bathroom facilities. There is a port-hole view to the surrounding ocean. There are also in-cabin TV/Media facilities should you wish to watch a movie from the comfort of your air-conditioned cabin in the evening.
Master Staterooms feature a double bed and are located either on the main deck or upper sun deck level. This makes them more airy and, for overnight cruising, slightly quieter.
The luxury continues outside the seclusion of your cabin. On the main deck here's a saloon/lounge area where comfortable sofas lure you to sit down and read a book or watch a film. And, next door, a spacious dining area where you'll be provided with a tasty combination of local and western cuisines, snacks and drinks.
Moving to upstairs on the top deck you'll find a very 2 sundecks. Relax here and enjoy the views as you cruise the blue seas and blue skies of the southern Red Sea.
There are snacks available all day. Beer and wine onboard. And, should you have special dietary requirements, the crew are happy to oblige.
Diving onboard Red Sea Aggressor
Diving in the Red Sea is the main reason for the visit and Red Sea Aggressor doesn't disappoint.
There is a powerful cascade compressor system supplying clean air and nitrox for those qualified.
Each diver has a gear locker and there are rinse tanks for sensitive equipment. If you're a photographer there is a camera table to prepare on your surface interval or strip down equipment post-dive.
The vessel has 2 diving zodiacs for pick-ups and drops where required – allowing you to get close to the reef and be safely picked up at the end of a drift dive.
Itineraries
Red Sea Aggressor dock in Port Ghalib and tours the southern Red Sea region taking in the famous dive sites. Although the itineraries may change depending on sea conditions. Check before booking.
Voyages are typically 7 days. Expect to pay around EUR1,882 for this length trip. This equates to 235/day. However, please note that this does not include some extras such as port/marine park fees, nitrox fills and equipment rental. Please contact us for further details.
Where does this liveaboard dive boat go?
Check out the fabulous places where this dive boat travels to.
Note: some destinations may not be listed below, please enquire for more details.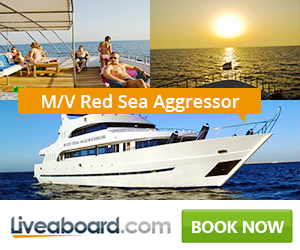 Other Liveaboard Reviews in Egypt & Red Sea & South Red Sea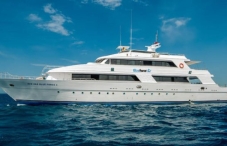 The 40 meters Blue Force 3 is a luxury l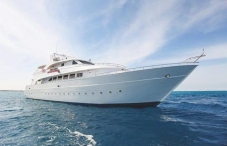 The 32 meters Red Sea Adventurer liveabo
Dive spots reviews in Egypt & Red Sea & South Red Sea