The famous Tiputa Pass at Rangiroa
The Tiputa Pass may just be one of the best diving sites in the world! This little piece of paradise is located in the Rangiroa Atoll in French Polynesia in the Tuamotu Archipelago, making it the main diving spot of Rangiroa Atoll with the amazing Avatoru Pass. This dive site is incredibly rich with many sharks, turtles, barracudas, trevally but also a large group of bottlenose dolphins living in Tiputa Pass all year long. They can be seen during the day playing among the waves of the Pass or alongside dive boats as they love "surfing" the waves of the bow. It is an amazing sight to be seen!
While you are diving, they often come to visit, either alone, in pairs or sometimes in groups. Certain dolphins are extremely friendly and even come in direct contact to be petted. While I am not really favorable to this kind of contact (to protect the dolphins), I can admit that it is hard to resist!
I will leave you to admire these few great shots of these magnificent, highly intelligent creatures: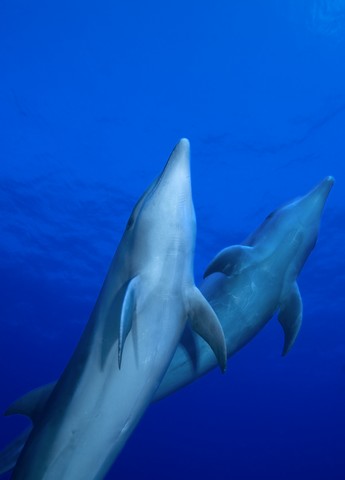 Dolphins can come close for just a few seconds and then head back into the deep blue sea or spend more time with you while you are diving. You really get the impression that these wild creatures love to play and enjoy the human contact (although this may just be an impression;-)). With their mouths naturally cheerful, it's hard not to think they are laughing at you!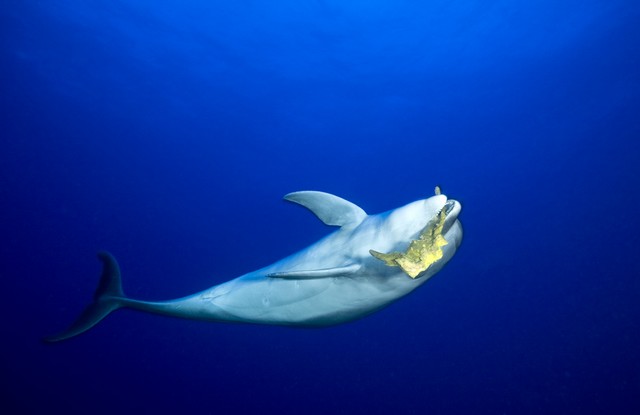 In this photo, the dolphin plays with a sponge he found on the reef… it almost looks fake but I can assure you that it is real!

Pure beauty!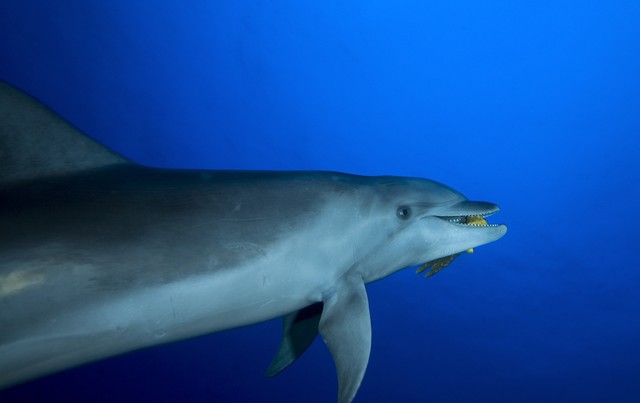 The Bottlenose dolphin (Tursiops truncatus) has impressive measurements. It measures an average of 3 meters and weighs about 300 kg! This is also I believe the largest species of dolphin.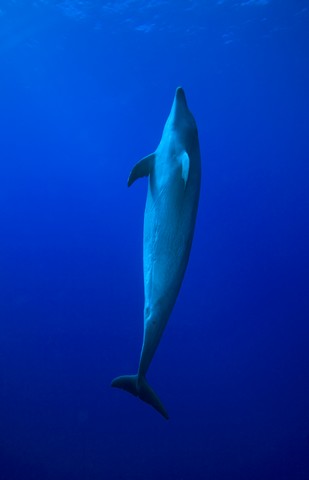 This is the same species as the famous dolphin Flipper, who we all remember as a hero of the television series.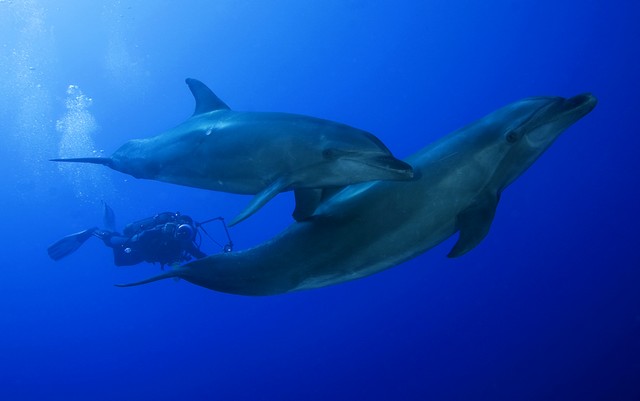 The Tiputa Pass, without doubt, is a fantastic spot for underwater photography!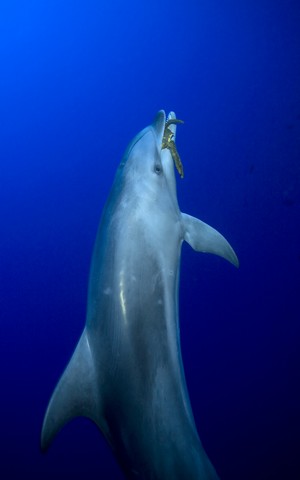 Unfortunately, during one of these dives, my underwater camera case got water inside it  (due to one grain of sand in the casing) … so instead, I present the photos of the famous photographer Yann Hubert with whom I dived the Manta Ray Club of Rangiroa, and who now has been living on the atoll of Rangiroa for 25 years (when he is not shooting photos at all 4 corners of the world!).
I hope you enjoyed this article. This is the first time I had the chance to dive with dolphins and it's really something special that I will never forget! There is a real interaction between the divers and these intelligent beings, all in a shared environment well protected by the  Tiputa Pass at Rangiroa … just amazing.
Have you ever had the chance to dive or even snorkel with dolphins? Or would this be your ultimate dream? Let us know in the comments box below.
Related Posts