First dive, the famous Tiputa Pass at Rangiroa!
Here is the story of my exceptional dives on Rangiroa Atoll in the Tuamotu Archipelago in French Polynesia. So to start this journey, first a little bit of geography. Rangiroa is here (below)!
And more precisely the Rangiroa atoll looks like this with two passes:
My good friend Robin was my diving buddy, who's been immersed in a PhD in Biology for the last 3 years in Tahiti and who spends most of his time in the lagoon … [It's a hard life I tell ya!]
Before leaving, I had been given plenty of advice from others before I embarked on my dive trip to Rangiroa about what to expect, and the words 'sharks', 'crazy currents', and 'Hammerhead shark season' remained etched in my mind … So I was quite anxious about the idea of diving in this mythical place lost in the vastness of the Pacific Ocean.
However on arrival by plane with Air Tahiti, a view like this one sure made me eager to take the plunge as soon my feet touched the ground!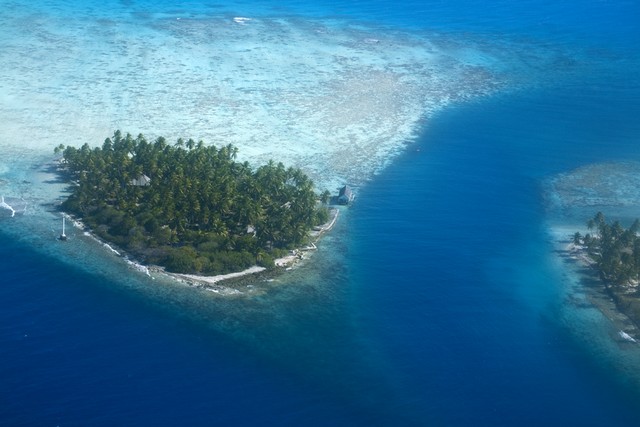 Anyways, here comes the adventure! So, we decided to dive with the Manta Ray Club that Robin already knew, as he had dived several times in the past with the famous Yves Lefebvre, founder of the Manta Ray Club and renowned international underwater photographer.
The club is conveniently located near the Tiputa Pass, one of the best diving spots in the world. It takes less than 5 minutes from the Zodiac Pass. The enormous mass of ocean water comes knocking at this point against the water content in this giant lagoon (over 100 km long!) And that creates a permanent tidal bore in the run. From the boat, we welcomed the passage of a group of Tursiop dolphins who come cavorting around the boat. There was even a baby dolphin that was struggling to keep up with his mothers acrobatic tricks. It already started well!
Finally, we were in the water (with some apprehension on my part ;-).
Rocking back and forth … and … GO!
The water was so clear that it truly took my breath away for the first few minutes with the shock of the clearness of the water! ;-). With an exceptional visibility of 60m to 100m, it is simply stunning!
Everything is amazing. The density of Pipe Fish. Schools of jacks on the hunt. A huge tornado of barracuda spiralling not far from me … for a second, I wondered if I was dreaming …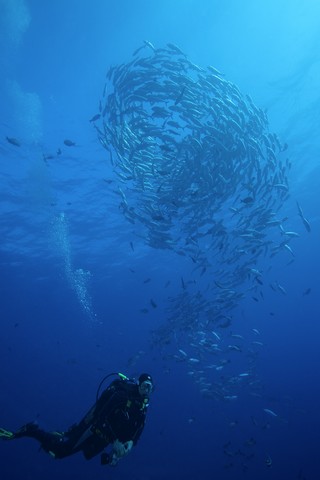 It didn't take me long to cross paths with my first Grey Shark and then… a second one… then, a third one, and at that point I stopped counting! There were dozens, and the closer we got to the entrance to the pass, the more that were present … it was really impressive to be surrounded by these beautiful creatures. And oddly no fear, no apprehension, just overwhelmed by the beauty of the moment (and maybe a bit of adrenaline! ;-).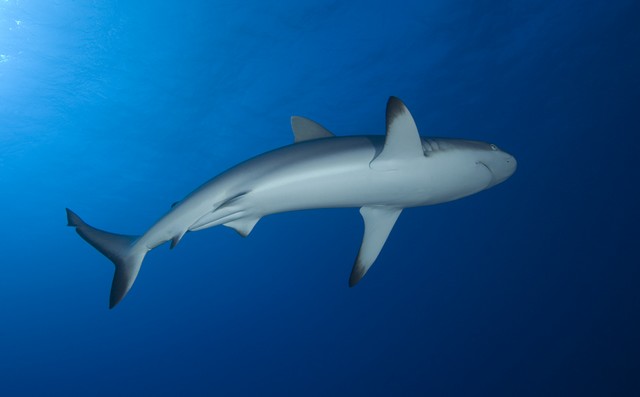 It was early in the Great Hammerheads season and I learnt that they can reach up to 7 meters in length! We therefore carefully scrutinized the deep blue that surrounded us in the hope of seeing one of these giants!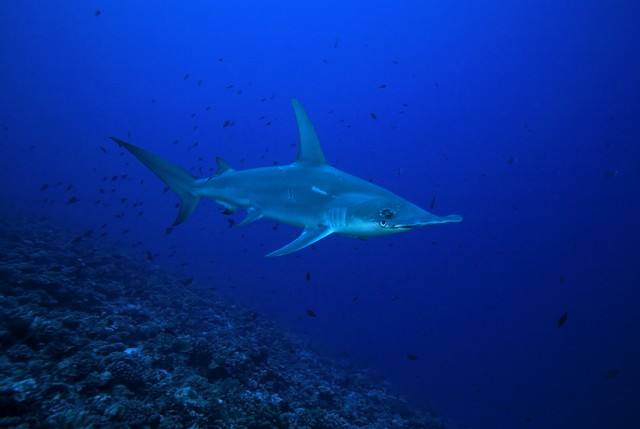 It was in this very moment that I spotted a big grey mass next to me. I turned around and I realized that this is was a huge Tursiop Dolphin, of about 3m, who came to greet us! He was soon joined by a group of his friends. Dolphins were swimming and playing all around us, passing among the divers, one minute upside down, next minute on its side, up high, down low…
One dolphin suddenly comes right up to me and begs for me touch it for a few seconds (I know it's not recommended, but who could resist?!).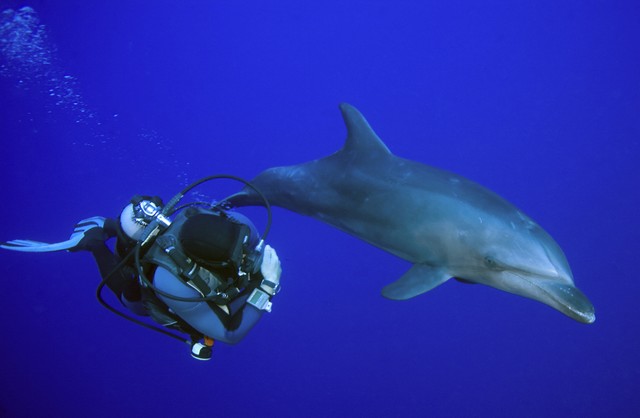 The group of dolphins actually took us, without even noticing, to the bottom (at 35m) which meant it was already time for us to ascend to the reef to make our way into the Tiputa Pass! At this point, a super friendly turtle swam by to say hi in passing.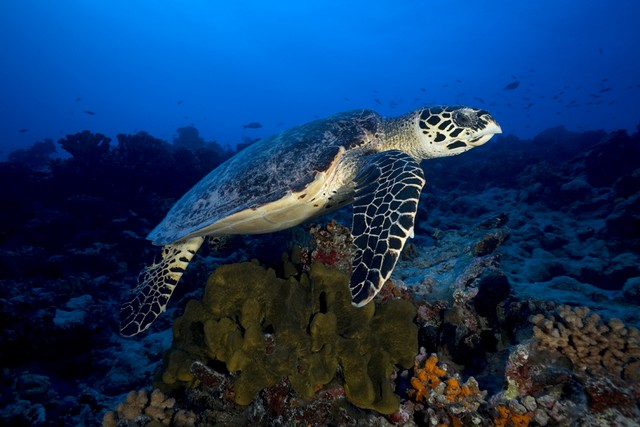 We then undertook the crossing diagonally over the course of the pass, where 30m below a hundred Grey Sharks were swirling in what looked like ballet underwater. Magical! It was at this moment that my friend Robin's regulator broke and he swallowed a big gulp of water … fortunately he did not panic and grabbed his emergency regulator but under these same conditions, the same incident with a less experienced diver could have ended seriously. We found that it was actually the plastic ring surrounding the regulator that was the problem … So, it was time to go. We did our safety stop at 5m while returning to the lagoon, moving quickly due to the strong current.
At the surface, big smiles … about what we had just seen, but also because this afternoon we shall go again!
In brief, my highlights from diving at Rangiroa :
What I liked:
Superb visibility
See lots of sharks each time you dive!
The company of friendly playful Tursiop dolphins!
Magnificent coral even if it is less beautiful than at places like Komodo Island
Where you have the feeling that you are priviledged and lucky to be diving in a place that is quite isolated at the other end of the world
What I liked less:
Ummm…
Trying to find something here… it's difficult
Maybe to not have seen a Manta Ray considering they are normally there all year long
The expensive price for diving there
A little note to finish this story:
The pictures featured in this article have been kindly donated by Yann Hubert from Raie Manta Club with who we have dived with the entire stay and who has lived in Rangiroa for 20 years. Yann Hubert is a famous underwater photographer and videographer. Among his most famous underwater images featured on the TV show on TF1 Ushuaia, as well as many documentaries including the award-winning "The 7th Heaven Grey Shark" and a wonderful book full of underwater pictures: Moana.
There you are, I hope you enjoyed my story of my first dive at Rangiroa! Please feel free to leave any comments below or if you have any questions about Rangiroa, flick me an email and I will respond as soon as possible!
Related Posts