If you have been to Mozambique before, please share your experiences, ideas and feedback (Hotel, Excursions, General Feeling,…) in the comments section below, by doing so you will help fellow travellers to plan their next trip


Mozambique is not a well-known tourist destination. However, it offers many of the same experiences that her better-known neighbors are famous for. Indeed, you will find examples of colonial architecture, perfect conditions for scuba diving, wildlife for great safaris and outstanding beaches in Mozambique.
In this page you will find practical information to plan a scuba diving trip to Mozambique:
Mozambique Photos
Where to stay?
Travelers heading to Mozambique generally fall into one of three groups. First, those that are there for the beaches and water sports. Secondly, those that are there for the culture and lastly those that seek to see the wildlife. Several locations all over Mozambique will allow you to have a great experience, and maybe combine plenty of activities!
Maputo is the Capital and a major tourist destination in itself. Besides being the transfer point between the international destinations, the city has many draws of its own. Indeed, the colonial era architecture is the best surviving examples in Africa. Also, there are plenty of great beaches in and around Maputo as well as amazing dive destinations.
The Bazaruto Archipelago is made up of six islands, located just off the coast of Mozambique. The islands are best known for their pure white beaches and crystal clear waters. Located in the Bazaruto National park the snorkeling and scuba diving is outstanding. There are also over 140 species of birds that call these islands home. Not only the scuba divers and bird lovers come here, but it is also a very popular honeymoon destination. Indeed, some resorts have isolated and romantic villas, even some with private beaches.
Quirimbas Archipelago is located near Pemba in the northern portion of the country and comprises 32 islands. Prior to 1975, when the country became independent from Portugal, only 4 of the islands were inhabited. Today many of the islands are home to high-end resorts. However, the Quirimbas Archipelago is not just for the rich. Indeed, the original inhabited four islands and some of the others have accommodations for a broad range of budgets. In addition to honeymooners, the area is favored by beach lovers, nature lovers and of course scuba divers. The Quirimbas National Park is in the southern portion of the archipelago and includes 11 of the islands.
Pemba is the capital of the province of Cabo Delgado, in the northern portion of Mozambique and lies on a peninsula in Pemba Bay. It is the jump-off point for the Quirimbas Archipelago and the Niassa Reserve. The Niassa Reserve is a nature reserve in Cabo Delgado Province and Niassa Province, Mozambique. Covering over 42,000 square kilometers (10,000,000 acres), it is the largest protected area in the country. The reserve is part of the Trans-Frontier Conservation Area and links to the Tanzanian Lukwika-Lumesule Game Reserve. Pemba is an important travel destination in its own right. The beaches are outstanding and there is excellent scuba diving.
Activities and excursions in Mozambique
There are many reasons to go to Mozambique. Here are a few things to consider either as side activities or combined to make a one of a kind vacation.
Scuba diving: With 1,535 mi (2,470 km) of Indian Ocean coastline and a number of offshore islands, scuba diving is one of the leading activities.
Beach outings: Following the same example as scuba diving, there are many outstanding destinations for the beach lover. White sand beaches are very common to find but each offers a unique experience.
Wild Life Safaris: While not as well known as in some of the neighboring countries, Mozambique shares the same opportunities to see wildlife in its natural state. There are a couple of National parks where you can experience these.
Big Game Hunting: There are some private reserves where hunting is allowed.
Bird Watching: Many rare birds can be found in the country.
Whale Watching: during migratory season, a number of whale species will make the area their home. Whale sharks are also encountered.
Best time to visit Mozambique
May to November is considered the best time to visit Mozambique. The temperatures are cooler but still very warm and there is little rain. Indeed, that's when you will get the perfect weather for the beach and scuba diving.
October to November is also a good time for whale sharks and humpback whales. while from November to January it will be rainy, with high temperatures and humidity. However, the rain does not last long. Beaches are less crowded and there are great deals all around including safaris. February and March mark the cyclone season.
Health and Safety
Mozambique has very limited medical services. Indeed, there are only seven tertiary level care hospitals and only three advanced hospitals in the country. Even the advanced hospitals care is limited and serious cases are often transported to South Africa. Thus, it is very important that your medical insurance includes evacuation expenses. Also, payment is due at time of treatment, and treatment may be denied if not paid.
Sadly, only 36% of the country's population has access to medical facilities within 30 minutes and about 50% of the population has access to an acceptable level of health care. About 30% of the population has no access to any health care. Among the top contributors to the country's disease burden are malaria, severe diarrhea, HIV/AIDS, respiratory infections, and tuberculosis. Special care is needed to protect yourself from these two illnesses, make sure you come prepared and vaccinated! 
Travel advisories suggest a "high degree of caution" and warns that serious crimes can happen at any time. While the incidence of serious crimes is less in the major cities, it still requires caution.
If you are planning an upcoming dive trip or travelling to Mozambique, it is a really good idea to invest in travel insurance for scuba diving, because you never know what could happen and when you might need it (because accidents do happen!). I recommend this diving insurance as they offer worldwide coverage and focus on providing scuba divers a quality insurance and medical assistance service.
Where is Mozambique located in the world?
Mozambique officially the Republic of Mozambique is a country in Southeast Africa bordered by the Indian Ocean to the east, Tanzania to the north and South Africa to the south. The country has 1,535 miles (2,470 km) of Indian Ocean coastline. Also, it is separated from Comoros, Mayotte, and Madagascar by the Mozambique Channel. The capital and largest city of Mozambique is Maputo.
How to get to Mozambique?
The primary international gateway in Mozambique is Maputo International Airport (MPM) located 3 kilometers (1.9 mi) northwest of the center of Maputo. Also, most of the destinations served by the airport are short-haul in Africa such as Johannesburg.
Moreover, long-haul destinations include: Turkish Airlines operating flights to Istanbul, Turkey; Qatar Airways operates flights to Doha, Qatar; and TAP Air Portugal to Lisbon, Portugal.
Do I need a visa for Mozambique?
Starting in April 2017 the government of Mozambique allows visitors to the country with a visa to obtain upon arrival. Tourist will be able to get these on arrival visas at 44 border offices in Mozambique, including Maputo International Airport, and the Port of Maputo.
As per the international norm, visitors will need proof of onward travel, a passport valid for at least 6 months beyond the intended stay and at least three blank visa pages in their passport. Also, except for the international airport which accepts credit cards, payments of any visa or entry fee must be in cash.
Please note that despite the official policy of visa on arrival, both the United States's State Department and the United Kingdom's Foreign and Commonwealth Office (FCO) have cited cases where citizens were denied a visa on arrival. Thus, both countries recommend getting a visa prior to travel to the country.
It should also be noted that if you are traveling with children from, or passing through, South Africa you must follow that countries law concerning documentation of children, even if just transiting the country.
Getting Around
Getting around Mozambique can be a challenge. First, between the major cities, air transportation is available, so that's no issue. Next, bus transportation between cities is possible, but the poor road system can make for long, even dangerous trips.
Chapas provide transportation within cities and outlying areas. These are often trucks converted for passenger use. However, minibusses and mini-vans are also becoming common. These will get you to where you want to go in the city and an inexpensive rate but may be crowded.
Mozambique might not be a tourist destination that will come to find when you first start planning a trip. When you look at what the country can offer the tourist, you may wonder why you did not think of it sooner. It is certainly someplace worthy of your consideration and your next trip.
Scuba diving
You will find all information about sea life, best time to visit, top dive spots, etc. in our review: Mozambique Diving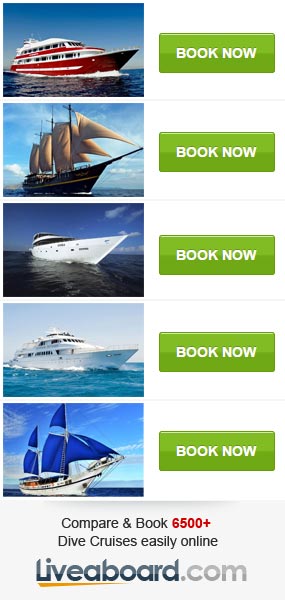 Diving Reviews for this region
Take the best of Indian Ocean diving and put it all in one location and you have Mozambique.
Liveaboard Reviews in Mozambique
Cruise ship Reviews in Mozambique