Cost
Expensive, and Luxury!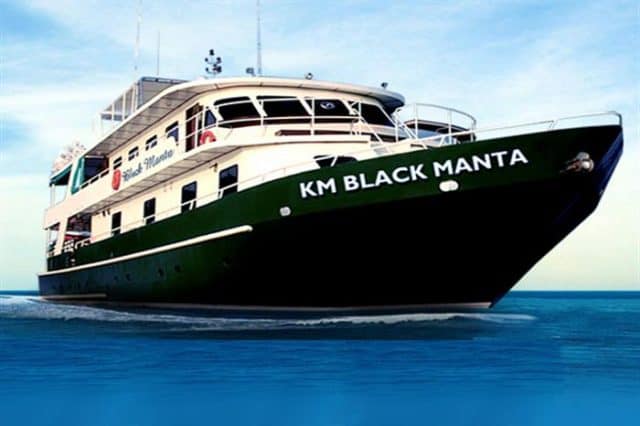 MV Black Manta Diving dive boat review
.
---
Please note…
The Black Manta has been sold and is no longer operating with the White Manta Fleet. We will update upon newer information. 
Also, White Manta has re-flagged to Indonesia, apparently running the former Black Manta routes. 
---
.
White Manta fleet operate through Asia in many of the most desirable destinations. Her fleet includes this great vessel, MV Black Manta, which spends her time cruising up and down the wonderful islands and reefs of Raja Ampat and Komodo.

Komodo and Raja Ampat are widely known in the scuba diving community as offering some of the best diving on the planet. Komodo, home to the famous Komodo Dragon, and Raja Ampat – which translates as 'Four Kings' – and is an archipelago of approximately 1,500 islands in the West Papua province of Indonesia. Raja Ampat and Komodo offer the most prolific and diverse reefs and aquatic life on the planet. More than 1,200 fish species. 600 coral species and close to 700 mollusc species. Octopus, moray eels, cuttlefish, turtles, jackfish, dolphins, emperor angelfish, groupers, goatfish, sweetlips, scorpionfish, frogfish, pipefish and lionfish are all here. Other marine life includes invertebrates such as sea fans, sponges, soft corals, feather stars and an abundance of colourful, exquisite nudibranchs. Raja Ampat is a diver's dream. The diving can be more challenging and it's recommended divers have a few dives logged before visiting.
 The vessel itself was built originally in 2006 but has been through regular updates and evolutions to maintain her high standard. 32m in length and 7.2m in beam her obvious competitor is MV Ambai. Similar to her competitors, Black Manta has the complete range of safety and emergency equipment. Radar, radio, life vests, first aid, GPS, fire alarms and a crew trained in first aid are just some of the features. Twin 500hp motors make short work of transfers between islands and she has a freshwater maker onboard for showers and toilets.
You can check the availability and prices for this Boat here.
Cabins and Boat Layout
The Black Manta has 10 guests cabins.
The first option is a standard twin cabin. This has twin single beds, air-conditioning and a single wash basin. The standard cabin doesn't have an ensuite bathroom.
The remaining cabins from #3 to #10 have either a twin single or double bed options, depending on your preference. Each cabin has air-conditioning and ensuite bathroom facilities.
Outside during the days you'll find a camera room and charging stations for your gadgets, torches and cameras to ensure you're ready to take some stunning shots in water.
The vessel has a comfortably (5m x 7m) sized lounge/salon area where you can sit in air-conditioned luxury, read, relax or watch a film on the entertainment system including huge plasma TV.
If you're more of a sun-worshipper, take some time to relax outside and bronze yourself on the sundeck or outdoors relaxing area. Or, if you're too excited to sit and chill, other activities are available – go snorkeling or perhaps have a massage.
Food is a delight for your taste buds; a combination of local and western cuisine. And, with complimentary snacks, tea and coffee thoughout the day you're unlikely to lose weight during your time on Black Manta!
Diving onboard Black Manta
All diving is conducted from the diving tenders to allow you the optimum drop point for each dive. 3 dive tenders or 'chase boats' accompany the main vessel and coordinate for diver pick-ups and drops.
Nitrox is available on board and highly recommended for repetitive diving. Alternatively, should you wish to further your diving education while onboard, courses are available with the instructors for a small supplement.
The vessel also boasts tech/rebreather support.
Itineraries
There are a choice of different itineraries; Raja Ampat or Komoda– depending on season. Choose your voyage carefully.
Expect to pay around EUR1,572 for a 6 day/5 night trip. This equates to EUR269/day, making her marginally competitive for the region. Please note that this does not include some extras such as port/marine park fees, equipment rental, alcoholic drinks and crew tips. Please contact us for further details.
Where does this liveaboard dive boat go?
Check out the fabulous places where this dive boat travels to.
Note: some destinations may not be listed below, please enquire for more details.

Other Liveaboard Reviews in Indonesia & Komodo Island & Raja Ampat
Dive spots reviews in Indonesia & Komodo Island & Raja Ampat