Cost
Expensive, and Luxury!
MV Nortada dive boat review
For a more bespoke, intimate and personal experience of the world famous Galapagos Islands, the MV Nortada, operated by Rolf Wittmer Turismo, is the logical choice. Less cabins, less guest and a more private experience.
If you're one of those divers seeking larger, pelagic marine life, the Galapagos is probably the best place to dive on the planet. In 1835 the Galapagos Islands were made famous by Charles Darwin and his legendary voyages onboard the HMS Beagle which acted as a catalyst for his world-shattering 'On The Origin Of Species' work; the Galapagos islands have an amazing legacy to the natural world. Due to their relatively isolated location 20% of the life on the islands is unique and not found elsewhere on the planet. The islands are a crucially important centre for scientific research. There's the opportunity to see huge pelagic life such as hammerhead sharks, silky sharks and whale sharks here. Or, on land (and sometimes in the sea!), to see iguanas and penguins – as in the video clip below.
Nortada was originally built in France by Guy Couach, this wonderful vessel has been extensively re-imagined to make a home for 8 lucky divers to tour the Galapagos Islands. She is 25.9m long, 5.4m in beam and cruises effortlessly at 12 knots courtesy of her Cummins engines – slicing through the waves to take you to your destination. Rolf Wittmer Turismo, who have over 30 years of local experience, had the vessel refurbished in 2014. The diving operations are managed by Galapagos Tip Top Dive & Training Facility who, offer up to 20 dives a week – claimed to be more than any other vessel operating in the area.
You can check the availability and prices for this Boat here.
Cabins and Boat Layout
In contrast to some of the competition such as Galapagos Aggressor III and Galapagos Master, Nortada has berths for just 8 passengers, two divemasters and the boat crew.
The four passenger cabins are all located on the lower deck. Each of the cabins has en-suite bathroom facilties and storage for personal belongings. The beds are two twin single beds with an upper single bunk. All cabins are air conditioned.
Making your way upstairs to the main deck there is a salon area. Again, air-conditioned for your comfort, here you may choose to relax with a book or a cold drink. Adjacent to that is the dining area complete with entertainment system.
There is also an outdoor seating area where you may unwind and take in the stunning views. Or, sun yourself upstairs on the sun deck.
You'll be well fed about Nortada with a combination of local and western dishes and, when the diving is completed, alcoholic drinks are also available onboard.
Diving onboard Nortada
Diving is the priority of the voyage and you won't be disappointed. The diving deck/platform has large benches and plenty of storage for all your diving equipment.
There are outside fresh water showers and rinse tanks for ensuring your various toys and gadgets remain salt-free.
The diving itself takes place from one of two 5m long inflatable boats. 4 divers plus guide on each. Each is powered by a 25hp outboard engine and will take you to the optimum point to make your entry.
Due to the challenging nature of diving these waters, every diver is provided with Nautilus Lifeline with GPS, dive alert and a DSMB.
The boat is fully equipped for technical divers wishing to maximise their bottom time. So, whether you're a recreational Nitrox diver, Trimix diver or CCR diver – they have the technology to facilitate your experience.
The boat is available to be chartered to request depending on the purpose of your diving.
Itineraries
The itineraries are typically 7 days and aim to take in the very best diving available subject to conditions.
Expect to pay around EUR3,743 for this length trip. This equates to 467/day. However, please note that this does not include some extras such as port/marine park fees, crew tips, alcoholic drinks and equipment rental. Please contact us for further details.
Where does this liveaboard dive boat go?
Check out the fabulous places where this dive boat travels to.
Note: some destinations may not be listed below, please enquire for more details.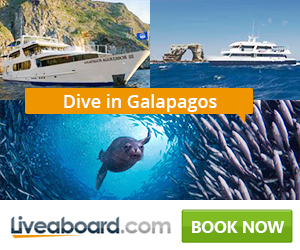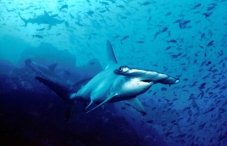 Wolf Island and it's neighbor Darwin Island are the highlight of any Galapagos Islands Liveaboard.
Other Liveaboard Reviews in Galapagos
Dive spots reviews in Galapagos
No dive sites reviews found