If you have been to Thailand before, please share your experiences, ideas and feedback (Hotel, Excursions, General Feeling,…) in the comments section below, by doing so you will help fellow travellers to plan their next trip

Thailand is renowned for its beautiful beaches and amazing dive sites. The country offers some of the best diving in the world with the famous Similan islands and many other amazing spots like Koh Phi Phi and Koh Lanta islands in the Andaman sea.
Thailand has also become a huge diving school with tourists from all over the world coming to Ko Tao to take scuba diving courses.
Photo Credit: http://www.flickr.com/photos/archer10/3696750357/
The country is really amazing and it is no wonder why it attracts so many travellers from all corners of the globe. A trip to Thailand offers its visitors fine beaches, stunning island life, incredible reefs, nice food and fascinating culture under a warm tropical climate.
Thailand has many advantages when choosing where to dive next:
Cheap flights to Bangkok or Phuket from all over the world
Great tourist infrastructure
Very welcoming and famously friendly Thai people
English widely spoken
Great range of accommodation
Cheap destination to travel
Very safe place
Year round diving destination
Due to its popularity, destinations in Thailand can sometimes be a bit packed with tourists, such as in Phuket for example, so it is not really the ideal place if you're avoiding the hoardes of tourists. However there are still many fine deserted islands and very nice places if you wish to discover them.
In this page you will find practical information to plan a scuba diving trip to Thailand:
Where to stay?
I usually use this website to book in advance my hotels in Thailand as they usually have the lowest rates I find. I like it because it's free to cancel and change the dates.
Thailand offers a wide range of accommodation for all styles. You can find budget hostels, basic guesthouses and backpacker style beach bungalows. It will cost you about 100-500 baht per room per night depending on the location and season and even less in a dorm room.
In the mid range you can have a comfortable hotel for a very affordable price. It ranges from 500-1000 baht a night per person. Thailand has also superb high end resorts with private spas and luxury facilities.
Room rates tend to double during high season (December to February). On the contrary, during the low season (generally the monsoon season…) you can bargain and get a luxurious room for a very low price

Generally speaking, Thailand is a cheap destination to travel.
Best time to visit Thailand
The climate is tropical all around the country. That means hot and humid weather all year round. Indeed, most of the country is covered with tropical rain forest. During the monsoon, there is heavy rainfall but they usually don't last more than 2 hours. Rainy days occur but are not common.
Average Temperature ranges between 25°C and 32°C
Clothing:
You will just need light clothes and a light sweatshirt if you plan on heading to the mountains. If you visit temples, respect the culture and dress appropriately (it is better to wear a trouser than shorts). Women travellers should also wear clothes that hide their shoulders and knees when visiting sacred places. On the beaches however, the rules are much more relaxed and you can wear what you like.
Health and Safety
There are no vaccinations required apart from Yellow Fever for those travellers arriving from a yellow-fever-infected area in Africa or the Americas (not recommended otherwise).
Malaria is not really a problem if you stay in touristic places but rural areas may put you at risk, so don't forget mosquito repellent and take precautions! Throughout Thailand, there is also a risk of Dengue fever and as with malaria, the best protection is prevention of mosquito bites.
Tap water is usually not drinkable; buy bottled water as these are very inexpensive. It is better to come prepared with a first aid kit, containing medications such as painkillers, anti-diarrhea pills, etc.
Thailand is a very safe country to travel in. Just be careful of pickpockets in big cities, scams and theft in night buses. Be also extra careful when driving a motorbike or a car as circulation can be erratic and road rules may not exist. Avoid any prostitution or drug problems too.
Photo Credit: http://www.flickr.com/photos/mikebehnken/5867291280/
If you are planning an upcoming dive trip or travelling to Thailand, it is a really good idea to invest in travel insurance for scuba diving, because you never know what could happen and when you might need it (because accidents do happen!). I recommend this diving insurance as they offer worldwide coverage and focus on providing scuba divers a quality insurance and medical assistance service.
Where is Thailand located in the world?
Thailand is located in South East Asia.
See the map below.
Thailand Map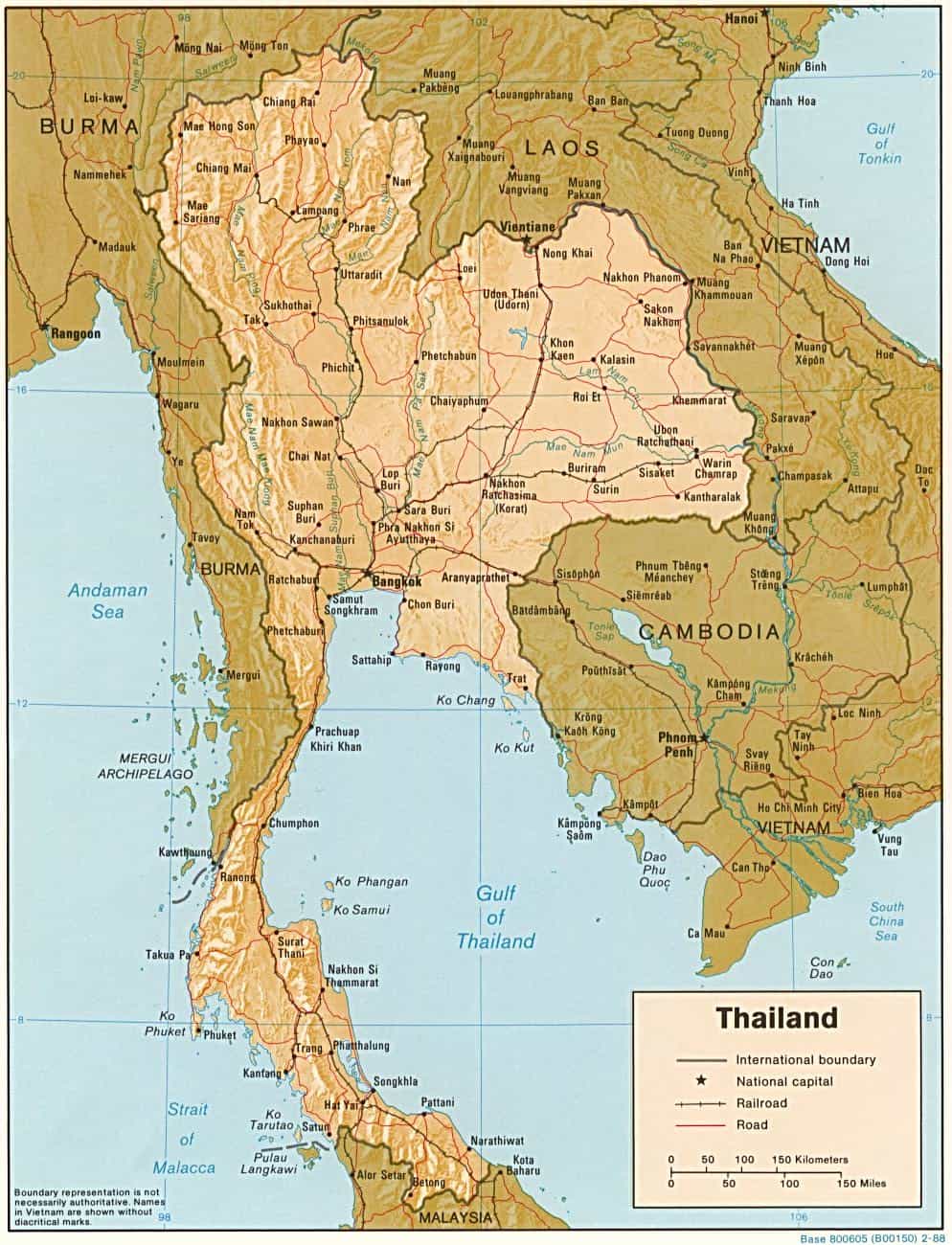 How to get to Thailand?
Plane
The best way to get to Thailand is by Plane. You will find many cheap flights to Bangkok (Suvarnabhumi Airport) or Phuket international airports (lots of cheap flights from Europe). Chiang Mai International airport has also many flights to other South East Asia main cities. Koh Samui has a small international airport too.
Flying to Phuket airport is a great choice if you plan to spend your holidays on the Andaman Sea. If you are travelling from Australia, Qantas airways have many flights to Bangkok.
The national company in Thailand is the reputable Thai Airways International. There are also many budget airlines like Air Asia and Bangkok Airways.
Hot tip
During the high season from December to March, flights to and from Bangkok can be fully booked and prices increase dramatically. So book your plane tickets in advance if you plan to travel during this period.
Other
If you are already in Malaysia, Laos or Cambodia, you can reach Thailand by bus or train.
You can also reach Phuket by ferry from Padang in Indonesia during the high season from November to May.
See the specific destination pages for more information on how to reach them.
Do I need a visa for Thailand?
If you are from most European countries, Asia, USA, or Australia/NZ, you do not need a visa beforehand if you come for tourism for less than 30 days. Your passport must be valid for at least 6 months after your date of arrival and with at least one full blank page.
For other countries, visa on arrival is available. However for small countries like city-states it is recommended to request a visa in advance in the nearest Thai embassy.
Officials may also ask you to present proof of your return ticket when entering the country. If you want to stay more than 30 days, you should apply for a 60 days tourist visa in a Thai embassy or consulate before your trip.
Photo Credit: http://www.flickr.com/photos/archer10/3727234003/
Getting Around
Thailand is very easy to get around. You will find many trains and direct buses connecting the main tourist attractions.
From Bangkok to the Andaman Sea area (Phuket and Krabi region)
Plane
Flying is the easiest and fastest way to get there. Phuket and Krabi both have International airports. The most well-known and reliable airlines within Thailand are Air Asia, Thai Airways and Bangkok airways.
Bus
From Bangkok, there are daily buses leaving to Phuket and Krabi. The journey is quite long about 12 hours but generally cheaper than the plane. It may be better to take a night bus. Be careful of your belongings as many travellers have reported thefts.
Train
As well as the bus, you also have daily trains leaving from Bangkok. Travel time is about 12 hours + 5 hours of bus. The train can be a good local way of transportation and you will see super landscapes of lush tropical jungle during your trip.
From Bangkok to Ko Tao and Koh Samui
The ferry boats to the Islands are departing from Chumphon. To reach this city, you can either take a bus or a train. From the train station, you will have to take another 1 hour bus to get you to the ferry terminal.
You can also take a direct flight to Koh Samui and then take a speed boat to Ko Tao.
All tickets can be purchased in local travel agencies. Plane tickets can also be purchased online. See the specific destination pages for more information on how to reach them.
Thailand Photos
previous
Porcupine Fish Sea Urchin

Crocodile Fish Huge Creature

White Orange Shaped Nudibranch

Amazing Looking Creature Diving
next
Scuba diving
You will find all information about sea life, best time to visit, top dive spots, etc. in our review: Thailand Diving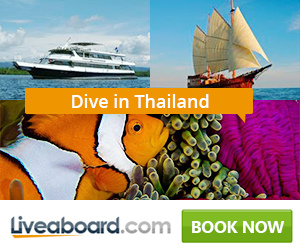 Diving Reviews for this region
Liveaboard Reviews in Thailand
Diving resorts in this area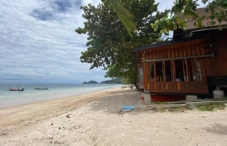 The Island Dive Club is located right on
Davy Jones Locker's is a dive school loc
Cruise ship Reviews in Thailand