If you have been to Tanzania before, please share your experiences, ideas and feedback (Hotel, Excursions, General Feeling,…) in the comments section below, by doing so you will help fellow travellers to plan their next trip

To the wildlife enthusiastic, mention the Serengeti National Park and their eyes will light up with pure joy. Saying Mount Kilimanjaro will have the same impact on mountaineers and trekkers. Indeed, Tanzania is known for many things, but do most scuba divers know about scuba diving in Tanzania? Some might not know about it, and some might even start to drool over the mention of Zanzibar, which is country's great scuba diving spot!
Tanzania is home to many natural wonders and any outdoor enthusiastic traveler will find loads of activities to enjoy!
In this page you will find practical information to plan a scuba diving trip to Tanzania:
Tanzania Photos
Where to stay?
The options of where you will stay will be influenced by what you want to do. Here are some general hints:
Dar es Salaam: Most tourists arrive here and immediately depart for different locations. Which is a shame as the largest city in Tanzania has much to offer the visitor in way of museums, historical sites, beaches and local markets.
Mount Kilimanjaro is one of the major attractions of the country. Even if you do not plan to spend a week climbing the mountain, it is a great area to visit.
Serengeti National Park is where most of the tourist taking safaris will head.
Mbeya is located on the southern plains allowing easy access to the Uwanda Game Reserve and Kitulo National Park. The Uwanda Game Reserve is known for smaller wildlife such as the rare Puku antelopes, Spiral-Horned Antelopes, Albino Giraffes, and unusually-Stripped Zebra. Other animals found in large numbers are Topi, Roan Antelopes, Greater Kudu, Eland, Reedbuck, Normal Giraffes, Elephants, Impala, and Hippopotamus. The highest density of crocodiles in Tanzania is found in Lake Rukwa. Bird watchers will find over 400 species of birds. Kitulo National Park has few large animals, what it does have is over 450 species of flowers including 45 types of orchids. Butterflies are also here in abundance. When in full bloom is it overwhelming.
Zanzibar is an archipelago among which you will find the two main islands, Unguja and Pemba, as well as around 40 smaller islands! Zanzibar was once an important trading port. Thus, historical sites from the 19th century can be found on the archipelago. Plus, the islands offer great scuba diving. Plus, the secluded resorts and the great beaches attract honeymooners and beach lovers.
Mafia Island is a "secret" destination that is still little developed, has excellent scuba diving and perfect pristine beaches. It's part of Zanzibar, but some people separate it and call it the Mafia Archipelago has it comes with a few neighboring islands.
Activities and excursions in Tanzania
There are many different things to do in Tanzania depending on your interest. To make the best of your time there, consider activities you might not otherwise do.
Safaris are one of the leading activities in this part of Africa and Tanzania has some of the best locations to live this unique experience. The Serengeti National Park is in the path of the annual migration of over 1.5 million white-bearded wildebeest and 250,000 zebra. The Ngorongoro Crater is also a prime destination. While these are the two best known and most visited safari locations, there are other national parks that deserve a visit. While the northern safaris are the most popular, many believe that the safaris in the southern parks give a more natural experience.
Mountain trekking to Mount Kilimanjaro is not for the faint of heart! Indeed, this is a major activity which have to prepare for before heading to the country. It takes about a week to get to the top and back depending on the route selected. The trek itself is not that hard but 50% of the people do not make it to the top. Those that fail do so often because of altitude sickness. The slower and longer routes have the highest level of finishing. These treks are expensive as you have to count the park fees, which takes over $800 off your budget from the start! Add in the guide and porters to carry your equipment and food and you will see why a $2,000 to $4,000 a person price is the average.
Culture tours: There are over 120 different ethnic groups within the country and a number of different tour options that allow you to visit some of these group in remote areas.
A train ride in Africa? The Tanzania & Zambia Railway Authority runs express trains between Mbeya and Dar es Salaam, taking 22 hours. The entire route is between Kapiri Mposhi, and Dar es Salaam, taking two nights. If Mbeya and Dar es Salaam are on your travel itinerary, consider taking the train. It will take you through some beautiful countryside. A 1st class sleeper car will cost around $30 and onboard, meals cost around $2.
Scuba diving in Tanzania is actually great! Mostly focused on Zanzibar, you will find outstanding diving opportunities there!
Beaches! The last but not least, as the Indian Ocean's coastline and the Zanzibar archipelago both offer outstanding, clear blue and white sand kind of beaches.
Best time to visit Tanzania
As Tanzania means different things to different tourist, it's hard to say that there is a 'best time" to visit. Basically, the country has 2 seasons, known as the dry season and the wet season. Yet, for some travelers, the wet season might be just as interesting, if not more! Let's look into this!
The dry season runs from about June to October. The dry season is best for wildlife safari as the vegetation is thinner and animals concentrate around fewer watering holes.
November to May marks the wet season, which has some advantage in itself! Indeed, it's the low season, which means few tourists and lower rates for accommodations and tours. Also, the northern safari parks are less affected by the season change, and its the best season for bird watching in Tanzania! Also, not that March to May is the worse wet season period.

The wet season can cause beach lovers and scuba divers to be disappointed. Downpours can be last for extended periods and underwater visibility can be poor.
Health and Safety
Healthcare for visiting tourist may be difficult to find and maybe at standards below what you may expect. Always read the travel advisories from the relevant authority of your country. They will be your best source of information as to what precautions to take, vaccines to have, etc. They will also inform you of any serious health or safety threats you should be aware of when planning a stay in a foreign country.
As a matter of fact, many western countries have travel advisories suggesting increased caution while in the country, citing high crime rates and the targeting of tourist.
If you are planning an upcoming dive trip or travelling to Tanzania, it is a really good idea to invest in travel insurance for scuba diving, because you never know what could happen and when you might need it (because accidents do happen!). I recommend this diving insurance as they offer worldwide coverage and focus on providing scuba divers a quality insurance and medical assistance service.
Where is Tanzania located in the world?
Tanzania, officially the United Republic of Tanzania, is a sovereign state in eastern Africa, within the African Great Lakes region. It borders Kenya and Uganda to the north; Rwanda, Burundi, and the Democratic Republic of the Congo to the west; Zambia, Malawi, and Mozambique to the south; and the Indian Ocean to the east. Mount Kilimanjaro, Africa's highest mountain, is in north-eastern Tanzania. Also, the country includes the offshore Zanzibar islands.
How to get to Tanzania?
Getting to Tanzania from most countries is fairly easy. Indeed, there are four international gateways into Tanzania:
Julius Nyerere International Airport (DAR) also called Dar es Salaam International Airport
Songwe International Airport which will change its name to Mbeya International Airport (The airport does not have an IATA code but is often referred to as MBI the code for the nearby unpaved Mbeya Airport)
Abeid Amani Karume International Airport (ZNZ) also known as Zanzibar International Airport
Kilimanjaro International Airport (KIA)
The Julius Nyerere International Airport is the largest and has the most flights. Many airlines have flights to other African locations, to the Middle East and into Europe from Tanzania. Also, there are over 140 airports and airstrips within the country but not many have daily/routine flights scheduled. Also, there are about 100 privately owned airstrips.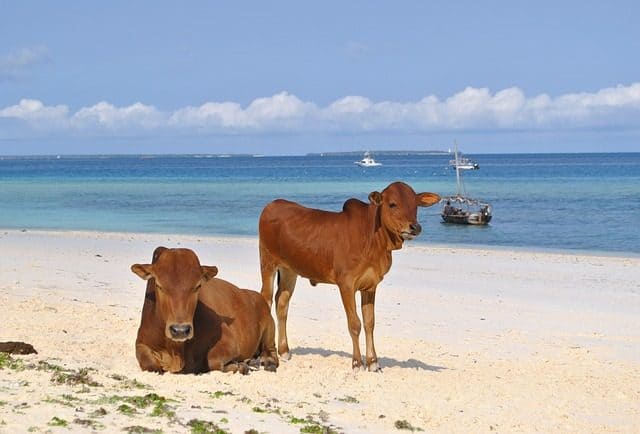 Do I need a visa for Tanzania?
Immigration Services Department of Tanzania requires a visa for most visitors to enter the country. Indeed, depending on nationality, some visitors may not need a visa, some will require a visa, while some will even need a referral visa.
You can find the specifications and requirements that apply to your nationality by visiting the website of the relevant authority. In this case, the Embassy of the United Republic of Tanzania.
Also, the general rules of travel apply to Tanzania. So, for all visas, the traveler's passport must remain valid for 6 months from the departure date and a proof of onward travel is required. Plus, if you are coming from a yellow fever area, even ifs only by transiting through, you must have proof of vaccination against yellow fever.
Also, please note that there are 23 points of entry into Tanzania, but only a few major gateways that may grant you a visa on arrival if your nationality allows. Again, check on the Embassy's website to find out which entry points are good and which are not. If you enter by way of any country not listed with the Embassy, you will need to get a visa prior to your arrival. Zanzibar is a part of the United Republic of Tanzania, however, upon arrival even from the Tanzania mainland you will process through passport control.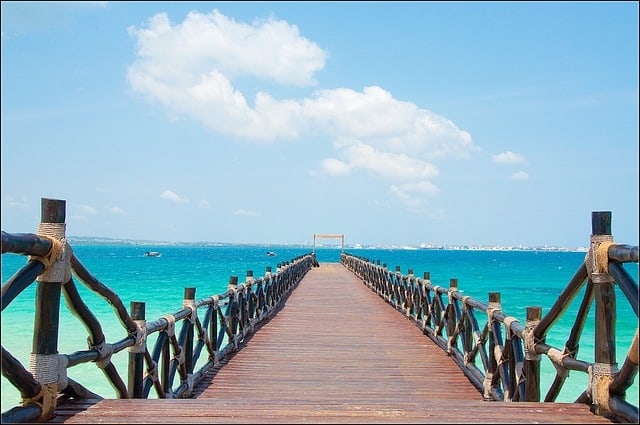 Getting Around
While the distances involved in traveling around Tanzania are not as great as other nearby countries, traveling by air is a good option for some destinations. Also, modern air-conditioned buses are also available between cities, however, roads can be a bit challenging!
Moreover, some train service is available and self-drive, with a 4×4 vehicle, is also an option even though not recommended for first-time visitors. Plus, the transportation within major cities is fairly easy with minibusses, called Dala-Dalas, that are the most common means of travel.
If you are a scuba diver, large animal lover, bird watcher or trekker, then you should really take a close look at Tanzania. While overshadowed by its neighbors, the African country may offer you something that is better.
Scuba diving
You will find all information about sea life, best time to visit, top dive spots, etc. in our review: Tanzania Diving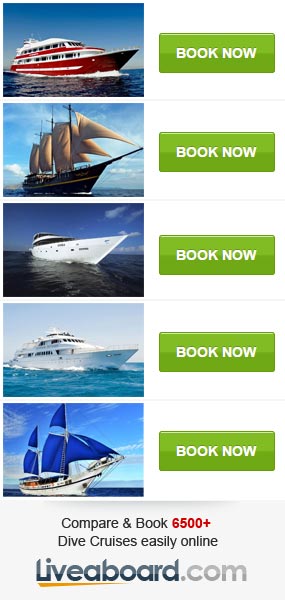 Diving Reviews for this region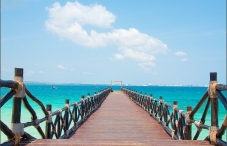 The Zanzibar Archipelago is the primary scuba diving destination in Tanzania. offering some of the best diving in the Indian Ocean.
Liveaboard Reviews in Tanzania
Cruise ship Reviews in Tanzania