If you have been to Nusa Penida / Nusa Lembongan before, please share your experiences, ideas and feedback (Hotel, Excursions, General Feeling,…) in the comments section below, by doing so you will help fellow travellers to plan their next trip

Nusa Penida, Lembongan and Ceningan forms a group of three islands on the South East coast of Bali. Nusa Lembongan is the only inhabited island of the three and it is a great destination to spend a few relaxing days (but if you are looking to party, you should be heading South!).
Photo Credit: http://www.flickr.com/photos/jmhullot/3930997046/
People tend to say that Nusa Lembongan is like Bali twenty years ago! There is a very chilled out atmosphere that feels so far away from the Kuta madness. Nusa Lembongan is also famous for its seaweed culture on the beach which is very interesting to observe. There are also some good surfing spots around the coastlines for those looking to catch a wave. Nusa Lembongan offers just a few dive sites but very good ones! Most of the dive sites are actually located around Nusa Penida.
Nusa Penida is the largest of the three islands. It offers terrific diving opportunities among the best diving in Bali. The island is very scenic with limestone cliffs that plunge into the waters. Diving there is really something special. However most of the dives are drift dives and are not suitable for inexperienced divers. See our diving section for more information. Nusa Penida is famous for the Manta Point dive site and for the Mola Mola often seen in Crystal Bay. This is one of the best places in the world to observe the gentle giants!
Nusa Ceningan offers no accommodation and no diving sites.
In this page you will find practical information to plan a scuba diving trip to Nusa Penida / Nusa Lembongan:
Nusa Penida / Nusa Lembongan Photos
Where to stay?
I usually use this website to book in advance my hotels in Nusa Penida / Nusa Lembongan as they usually have the lowest rates I find. I like it because it's free to cancel and change the dates.
There are many places to stay in Nusa Lembongan with basic guesthouses very cheap. You can usually get a room for a fair price without booking but as you are landing on an island it is better to book in advance during the high season (Summer and December, January). There are also comfortable Hotels and Diving Resorts.
Health and Safety
If you are planning an upcoming dive trip or travelling to Nusa Penida / Nusa Lembongan, it is a really good idea to invest in travel insurance for scuba diving, because you never know what could happen and when you might need it (because accidents do happen!). I recommend this diving insurance as they offer worldwide coverage and focus on providing scuba divers a quality insurance and medical assistance service.
Where is Nusa Penida / Nusa Lembongan located in the world?
Nusa Penida and Nusa Penida are located on the Southeast coast of Bali a few kilometres away from Sanur.
See the map below.
Lembongan Map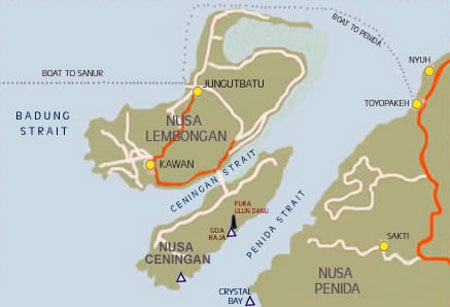 How to get to Nusa Penida / Nusa Lembongan?
You can go to Nusa Lembongan from Sanur by the public ferry or by private fast boat.
Photo Credit: http://www.flickr.com/photos/jedavillabali/5083031792/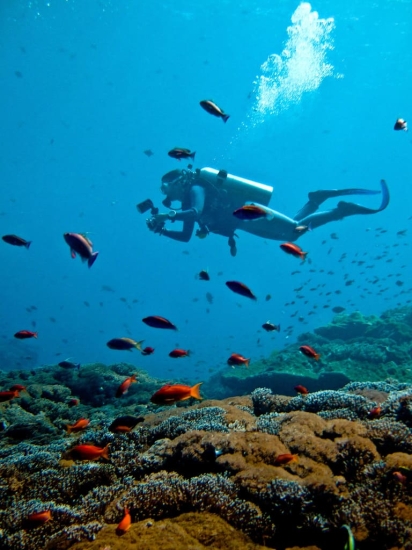 Scuba diving
You will find all information about sea life, best time to visit, top dive spots, etc. in our review: Nusa Penida / Nusa Lembongan Diving

Diving Reviews for this region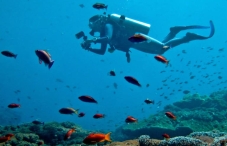 One of the best spots in the world to see the rare Mola Mola and the graceful Manta Rays! Big fishes and action with lots of sharks. Very good Visibility and stunning Coral.
Liveaboard Reviews in Nusa Penida / Nusa Lembongan
Cruise ship Reviews in Nusa Penida / Nusa Lembongan